Positives and negatives: Fulham 0-1 Manchester United
Written by Cameron Ramsey on 5th November 2023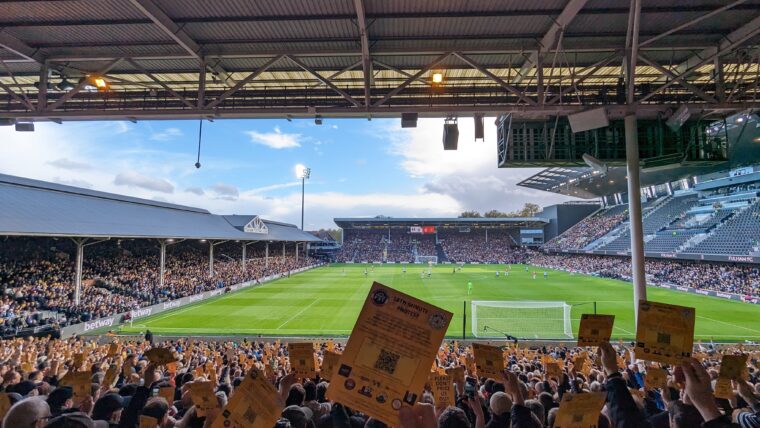 We lost in the worst way possible and Cam's had to relive it all over again. If he had to, then so do you. Sorry.
Early kick-offs generally go against the grain, or so they should do. Erik Ten Hag's Manchester United were in a state of disrepair before their visit to the Cottage on Saturday lunchtime and they were definitely there for the taking. It's rumoured United's boss has lost the dressing room, losing today probably would've been the final nail in the coffin, just after spooky szn, for the Dutchman but he has been spared, and I don't know – or even care – if that's a good thing.
Yellow cards were held aloft on 18 minutes by the majority of those in attendance, a symbol of discontent amongst the fan base regarding the embarrassingly high ticket prices and I'd say, all things considered, it was received well by the masses. Thank you to those who participated.
We deserved more than a defeat, we were very good value heading into the final ten minutes but we lost momentum, our foothold slipped and we have to put things right, somehow, against Aston Villa. That is a tall, tall ask but we have to expect a reaction, we can't let these losses grind us down so next weekend on Remembrance Sunday, we have to retaliate.
Positives
Alex's expressive outing
Gotta admit, Alex Iwobi is going to be a lot of fun to watch this season. Nutmegs aplenty, lightening-fast footwork, even a willingness to retreat and contest, the Nigeria international was our brightest performer against United and from now on, I expect his name to be within the starting XI. Fielded alongside Joao Palhinha, Iwobi had the license to express himself and with mazy runs and a decent understanding on the ball, his presence was felt and long may his inclusions continue.
The summer signing's adaptability is going to be a massive plus for Silva this season. He can play out wide, as and eight or a ten, no matter where he's placed on the pitch he applies himself and his work ethic is bold. There's imagination in his game, it may not have paid dividends but he is going to be a very useful catalyst because he is such a unique midfield operator.
He enabled Fulham to gain territory, he didn't hod the ball to an extend where he'd play us into trouble, but he was evasive when he had to wriggle out of tight spaces and I appreciate the difference in quality and inclination he provides. Alex is happy to contribute in whatever way he can and that is something we can all abide.
Negatives
Another sickening ending
It happened again and it had to be that rodent-faced little tosser. For the game's entirety, Fulham's defending was stubborn, it wasn't always pleasing on the eye but we had enough to stunt United. That is until extra time, at least. We were a matter of minutes away from recording a well-earned draw against the weakest United side in decades, if I'm being honest, I'd have been fairly annoyed we only gained a point out of 'em but to chuck it down the swanny, to crawl away with nothing, you best believe I'm pissed and I'm one thousand percent sure the feeling's mutual between every single one of us.
Our defenders need a crash course in hoofing the fucking thing into the Thames. We panicked as United overloaded our penalty area, clearances were hacked at in desperation and play pinballed into Bruno Fernandes's path, even with bodies between he and goal, you knew he was going to find a way to wreck a suitable, albeit toothless, Fulham display. Garnacho did it last season and the most dislikeable footballer on the face of the earth did it a year later, another sickening ending to join all the previous gut-wrenching endings we've had to suffer at the point-pilfering hands of the wanky Red Devils.
We haven't a prayer when we face the 'Big 6', or whatever it's classed as nowadays. We aren't driven enough to cause major upsets, against sides we should be beating we're very good value but when we encounter sides that have world-renowned reputation and status, we're far too passive and we allowed United to turn the screw when we should've been lumping it upfield to preserve a draw.
Fulham shirts stood off, Ratboy had a pop, three quarters of the Putney End erupted and with that, nerves snapped both on and off the pitch. Tempers frayed, a small pocket of virgin infiltrates were ejected by the scruff from the bottom of H5 for showing their uncloaked joy in United's late winner and while I don't usually condone volatility, the actions of those around me were completely justified. The ticketing structure, the pricing, the accessibility it grants opposing fans factors directly into the protest and to the lads that got to those arrogant arsehats before any attentive *ahem* steward did: good on you, and carry on.
No such thing as firepower
The January transfer window cannot come soon enough. For all the good Rodrigo Muniz did midweek and indeed on Saturday, the squeezing, the secure hold-up play, Fulham are still so unresponsive in the final third and even when Silva shoved both Carlos Vinicius and Raul Jimenez up top, a four-four-fookin-two, there's still no such thing as firepower and it has to be addressed as soon as January rolls around, it's torturous.
We can't continue to rely on holding midfielders to bail us out. Even from our attacking midfielders and our wingers, we need so much more from everyone on the offensive because whenever we found ourselves in front of the target, we froze in the headlights, linen defecated, and before long we have to fabricate a pair of knackers. United have without question the shittest 'keeper in the league and we barely muddied his palms, Harry Wilson forced him sideways with a swirling effort but that was quite literally it.
Willian shifted in-field and struck wide, Andreas Pereira faded in areas he should be testing and probing, free-kicks were shanked into H4, multiple corners were strewn on a heap of misguided set-pieces that came and went without a whimper, there's serious work to do at Motspur Park in the coming week because we're failing to fashion convincing goal scoring opportunities and in the Premier League, if we aren't bulging the back of the net, we are going to wilt.
Netting three against a heavily rotated Ipswich Town doesn't suggest otherwise. Jimenez's contract has to be terminated, Vinicius decided he wasn't going to leave the ground without focusing on defenders, rather than the ball, United fielded Jonny Evans and Harry Maguire and as averagely wank they both are, their afternoons were comfortable, routine, because we haven't the personnel to punish and inflict pain and anguish. Only upon ourselves, it seems, and I'm just about done.
Our attackers, who are paid a small fortune to not bother each week, have to fix up. We've gone from being an eye-catching, problematic outfit to being vastly understaffed and ill-equipped at the business end of the pitch and can anybody guess why? The answer's hidden in plain sight, and we all know what it is.