Why Saturday's ticket price protest matters
Written by Sammy James on 2nd November 2023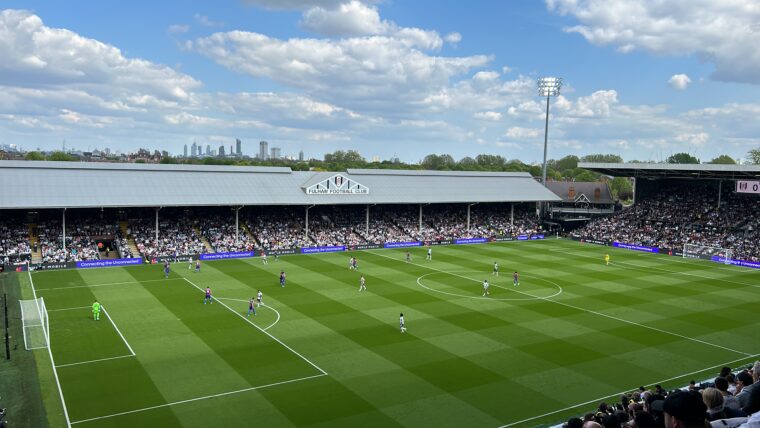 Sammy looks at Saturday's ticket price protest and why the FFC fanbase should come together to support it.
On Saturday, it's the joint ticket price protest arranged by the Fulham Supporters Trust in conjunction with the Fulham Lillies.
The plan is for a meet-up in Bishops Park from 11am, a photocall at approx 11.30am, and then for yellow cards (shown below) to be held up on 18 minutes around Craven Cottage.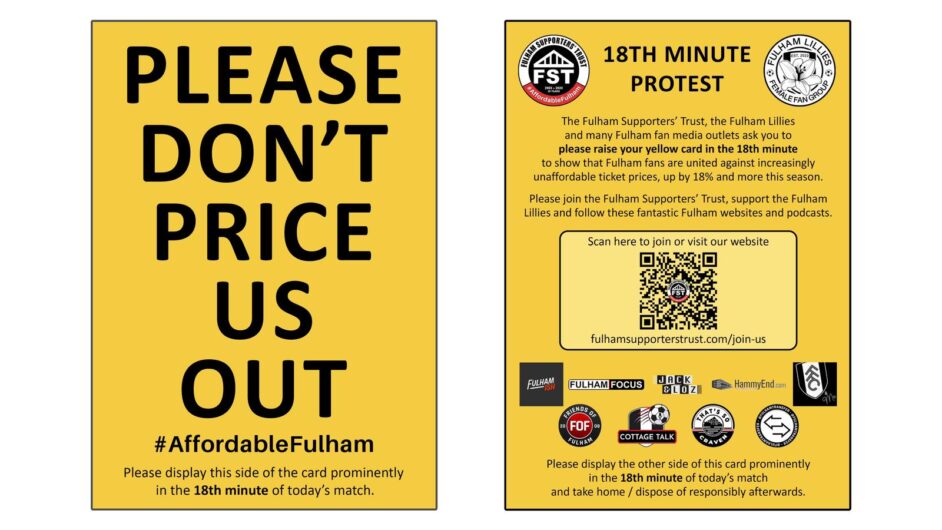 This article isn't about trying to persuade you that what the club is doing is wrong, the joint statement by the trust released worded that perfectly, and is worth reading.
If you don't think, by now, that having the most expensive match day tickets in the country is obscene or that the club's policy of pricing out regular fans in favour of taking cash from opposition fans and neutrals is unacceptable behaviour from a 'custodian', then ultimately I don't think you'll ever be convinced.
I wanted to write about how this is a watershed moment for fans of this brilliant and beautiful football club. We sometimes get an unfair rep from the outside for being 'posh Tories' and passionless, but I think all of us who go to Fulham regularly know that's untrue.
Despite where we play our football, this is a fanbase full of everyday people who work hard in the week and enjoy spending their well earned time and money following this club across the country.
The Manchester United game protest is a baby step. I've seen criticism that holding up a yellow card won't make a dent in what the Khans think. Personally, I disagree. Reputation is something the Khans and the club care deeply about. Not amongst us fans, we're committed and bought in for life, but amongst the wider public.
Reputation is one of the reasons the Khans bought Fulham. Therefore the idea of a widespread protest, even if it is just a visual one at this stage, hardly helps the positive image they're trying to portray.
Do I think suddenly Fulham will see the error of their ways and slash £30 off the price of a ticket because of Saturday? No, of course not. Do I think having an active supporter base that isn't afraid to speak up when wronged a good thing? Yes I do.
This isn't just as simple as 'reduce the ticket prices'. It's about encouraging Fulham to make decisions that put loyal fans first. There are ways in which the club can have its cake and eat it here. Ways in which they could reward loyal fans whilst also getting some extra dollars out of visitors to London who just want to watch a Premier League football match.
However it will take a change in priorities by those in charge at the club. A state of mind that asks the question, "how do we reward loyalty and grow the overall fanbase?" before asking "how do we get more short-term cash?"
I want to see Fulham grow, I want the Cottage to be louder, I want us to take bigger away days allocations. I want Fulham supporting friends who don't live in London or have kids or whatever to occasionally be able to go to a game without draining their bank account.
Recently, the Tottenham Hotspur Supporters Trust, who have been similarly been complaining about ticket prices at their new ground have convinced higher-ups at Spurs to undertake a "long term ticketing review" of the club's ticketing policy, speaking with supporters about their demands and wishes.
I honestly think that if the supporter base on Saturday aligns on this, a similar outcome might be possible at Fulham. The club need to understand who they're hurting and listen to fans about the potential solutions. They need to talk directly to people like Grace, who sent this brilliant email to our podcast the other week.
An email from Grace in our latest podcast pic.twitter.com/3Dmz6lZuta

— Fulhamish (@FulhamishPod) October 22, 2023
The only way it will work is if we all support it and it's up to each of us to go a little bit out of our ways to make the collective point known. The FST volunteers have put in the hard yards to organise the logistics, lobby the club and print the leaflets – now it's up to us to deliver the message.
I really hope that on Saturday, we can put the internal squabbling regarding how/what/where/why the protest should be done and unite for something that, if successful, should benefit us all.
The FST are on the hunt for volunteers on Saturday to hand out the yellow card leaflets. If you're available to help, contact them or arrive on the day next to the Tea House at Bishops Park at around 11am, and members of the FST board will be on hand to point you in the right direction.