Who should be our first-choice full-back pairing?
Written by Macsen Morgan on 18th October 2023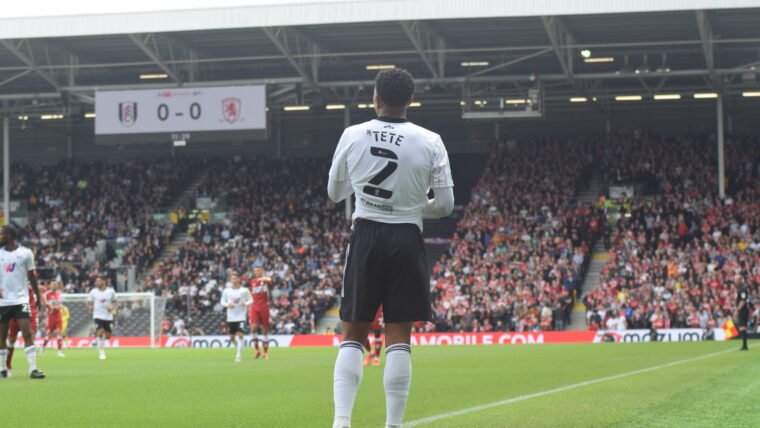 Macsen Morgan looks at the strengths and the weaknesses of the full-backs in our first-team squad.
After a year of almost always having to depend on Jedi and Kenny, the arrival of Timothy Castange and Fode Ballo-Toure means that not only do we have plenty of depth, but questions are being asked about what combinations might work best this term. 
Antonee Robinson 
Jedi is our longest serving full-back. He's has been at the club since 2020 when he joined for a mere £3m from Wigan Athletic. The American international has been a consistent starter for almost three seasons. His outstanding quality is obviously his pace, but he's a contributor to both the attacking and defending sides of the pitch. His pace allows him to recover the ball quickly and cover from the relative lack of pace that Ream and Diop have. 
In terms of his attacking qualities, Robinson links well with Willian or whoever else is playing on that left flank as well as putting in a lot of crosses into the box – he hit 134 of them last season. However, there are some points of improvement when it comes to the quality of his crosses and his general end product from his attacking contributions as he only notched one assist and didn't get a single goal last season. 
Kenny Tete
Tete was one of our outstanding performers last season and had one of the best one-on-one records in the league for a large portion of it. The Dutchman might not have the rapid pace of Robinson, but his attacking output is still there as he assisted five goals last season and was one of the clubs best defenders. 
Kenny has shown himself to be slightly prone to injury though, missing 20 games in the last two full seasons. His injury this term has allowed Castagne to come in and impress. Tete also lacks in the attacking department, as he does not take on his defender or make penetrating runs that often compared to other full-backs.
Timothy Castagne
The Belgian international defender arrived at Fulham for £20m in the summer from relegated Leicester, and he's found himself a regular starter almost immediately due to Kenny Tete's injury where he has impressed many with his defensive attributes as well as his attacking ones. 
Castagne is able to play on both sides but is much more comfortable on his right, meaning that although he could be competing with Jedi, he's more likely going to be battling it out with Kenny Tete. Both players share very similar profiles, with Castagne just edging his teammate physically. The arrival of someone else who can replicate the performances of Kenny Tete when he's injured can only be a good thing. 
Fode Ballo-Toure
The competition for Antonee Robinson is Senegalese loanee Fode Ballo-Toure, another pacey wing-back. Ballo-Toure is an attacking focused player who is able to float in accurate crosses using both of his feet as well as beat players and create chances in and around the block. His defending attributes are good as well as he can use his pace to track back and stop counter attacks, he is comfortable making tackles and is not afraid of a physical duel. His one-one-one defending could improve however as he can get beaten in these situations. He's also very aggressive to the point of sometimes giving away pointless fouls. In spite of all of these potential negatives, he's a very capable player with experience in Europe's top five leagues 
Conclusion 
A theme that I find running through both of our new signings are the striking similarities between the new and the old. Whether it's the pace of Robinson and Ballo-Toure or the defensive playstyle that Castagne and Tete share, they are all designed to fit into a system and to be interchangeable. In spite of this, I think that the full-back partnership should be what Marco Silva has played in the last few games, Castange and Robinson. Castagne just edges out Tete in the defensive area while still maintaining a similar level of attacking contribution.