Positives and negatives: Fulham 3-1 Sheffield United
Written by Cameron Ramsey on 8th October 2023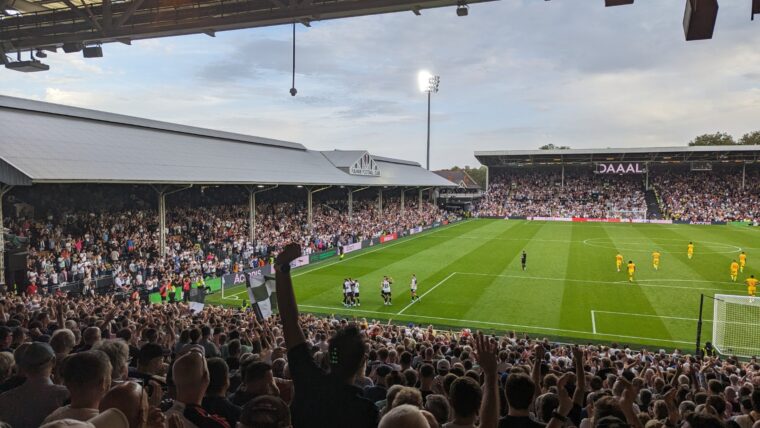 Fulham bounced back in the right way following Monday's flattening loss, they always do, and Cam has all the the juicy (and unfortunately gory) details from our third dub of the campaign. Get in.
This was a game we simply had to win. Paul Heckingbottom's Sheffield United were yet to win in the Premier League this season, they were rock bottom with only a single point to boot and after an eventful second half that comprised four goals, they remain rooted to the foot of the table and they are in very real trouble.
Fulham's free flowing football was drip fed gradually into proceedings, Marco Silva will be delighted that his men compounded the Blades' seventh loss of the season with a two-goal cushion but you can bet your bottom dollar that he'll want even more from them once Premier League matters resume on the 23rd. So, we're nestled nicely within the middle of the pack, eleven points to our credit, all is well and we'll see you in a few weeks at the toilet seat stadium that sells upside down beers with funny names.
Positives
Game of redemption
Monday evening's loss against Chelsea was dejecting, it was a performance devoid of substance for Fulham and heading into Saturday's clash with Sheffield, a game that was billed as a must-win, tough questions needed clear answers. We were frigid in front of the target in our previous outings, blaming fingers singled out Raul Jimenez for his deficiencies in front of the target but there were many mitigating factors that had to be addressed.
Silva's team selection had been scrutinised, we were passive and uninspired in weeks gone by and as the team sheet was released an hour before kick off, optimism grew within the fan base. Carlos Vinicius would start up top, Alex Iwobi would gain his first start for his new club at Harrison Reed's expense and Bobby De Cordova-Reid would also return to the XI in Harry Wilson's place. The opening 45 minutes were tentative, a drawn out stoppage in play for a horrific injury stemmed the tempo for both sides and as the lads departed the field at half-time, there was very little reason to be upbeat or encouraged.
The squad had been switched up, we'd players involved that could single-handedly alter the narrative themselves but as it was under the lights at the beginning of the week, everything was in front of the Blades and barring Willian's strike that was beaten away by Wes Foderingham, the Whites were prosaic and predictable in their build-up play and we didn't do our dominance justice. Silva's side have been accused of being far too safe, the dreaded term 'Parkerball' had slowly trickled its way into conversation as the fan base tried to make sense of our unresponsiveness although after the break, our focus shifted for the better.
Something had to be done, anything less than three points would be a failure and we were proactive in our pursuit of the spoils. Stiff passing combinations were swapped out for dynamic, direct sieges and the sequence which led to our opener – which we'll explore further momentarily – was synchronised sexiness. Sweeping, pinpoint, the Whites had found their mojo and while we were pegged back, heads didn't drop and our objective didn't change. Certain introductions midway through the second half enabled us to hold territory, Sheffield weren't able to resist and as we notched our second of the afternoon, we knew we had them right where we wanted them to be all along.
The Whites were wholly convincing as a collective, each individual upheld their personal standards to the highest degree and we knew that we had to grab another goal to truly kill the visitors off. We couldn't allow them to regroup and the sense of relief that surged through the home terraces as our third sealed the dub once and for all was so satisfying. At long last, we'd managed to tally more than a solitary goal, we'd rallied and retaliated as Sheffield briefly levelled things up and as we've two extremely tricky fixtures up next on the road at Tottenham Hotspur and Brighton and Hove Albion, attaining maximum points was essential.
We're only eight games into the campaign, there'll be plenty of subplots as the schedule deepens however this was a win that separated us from the nailed-on relegation candidates in this division. We and the Blades are not the same, we found resolve in moments of discomfort, whereas our guests laboured to fully establish themselves. We are a team they would've fancied themselves to beat, make no mistake, but we weren't to be taken lightly and we certainly shouldn't be underestimated. This is a terrific result, a game of redemption that has to be used as a springboard once the international break's run its course.
Bobby's cool opener
Coolness and calmness personified, Decordova-Reid was a stand-out star on the right side of Fulham's attacking regiment and though he isn't selected week in, week out, he shouldn't be slept on. Willing and able to ball out in a range of roles, BDR caused multiple issues for Luke Thomas out wide, he often dragged the left-back into inverted positions, which allowed Thomas Castagne to advance on the overlap and his general output in possession was both progressive and preserving. He carried the ball observantly, his nimble footwork got him out of troublesome scenarios and his poise in front of the target, one-on-one, was exemplary.
Meeting Andreas Pereira's sculpted pass, the Jamaica international understood that time was of the essence as Foderingham neared but he wasn't to be pressured. He played chicken with the onrushing 'keeper, he ran the risk of being a fraction too late although the lift and placement on his effort was that of a striker in his absolute element. Pick that one out of the bottom left. Bobby called Foderingham's bluff, we haven't been ruthless enough in the scoring department beforehand but our resident utility expert diverted the opener with aplomb, and given he was a constant threat, he should definitely be in contention for another appearance from the off in north London.
Willi woke up
I, like many others, was thoroughly pissed off with Willian's attitude and body language in our previous outing but as vindication's the flavour of the matchday, the Brazilian was back to his bamboozling in this weekend's encounter. He stung palms, he fizzed crackers off uprights and his opportunism and sharpness as he drilled the definite winner into the bottom right was instinctive. It isn't a common occurrence but at one point or another, we've all cried for Willi to wake up and stand to attention, however there was nothing limp or lifeless about his input, not this time.
The 35-year-old was animated, he regularly flaunted his trademark shift and strike and in additional time, his perseverance paid off and his 2023/24 net busting account is now officially open. We'll never tire of the winger's sudden turn of pace, the scurrying motion as he winds up his right, and the feared expressions on the faces of goalkeepers across the country as he spanks it beyond their reach. He's off the mark, that will do wonders, and a happy, enthusiastic Willian is bad, bad news for opposing fullbacks and stoppers. We expect excellence from Willian because he is a specialist of his trade and in the final third on this occasion, he stamped his approval and signed off the job in style.
Tom's scuffing great
How can a scuffed scoop that was eventually attributed as an own goal appear so deliberate? Only Tom Cairney, the architect, can claim it was all part of the plan and if he actually told you so, you'd believe him. Getting in on the action in the 71st minute, Cairney automatically engineered control and command in the centre of the park, his intelligence and spatial awareness cannot be taught and as he propelled possession from flank to flank, he always made himself available to receive and I am completely on board with the shoot on sight policy he adopted for our second of the afternoon.
As TC's posture shaped for a long range pop, a goal was virtually guaranteed, regardless of how it eventually found its way into the back of the net. The trajectory was oddly spectacular, Cairney only deals in tender that thrills and he is well worth the extortionate entrance fee. Off the bench this season, Tom's influence has been noticeable and I just feel that he could be the missing link between our midfield and attack.
We were much, much tighter on the ball once he was fielded, he isn't a Pereira that will press and squeeze with intensity but truthfully, he offers an initiative that Andreas simply can't replicate. Cairney's improvisation urges his teammates to think outside of the box in order to, well, get within it but he also incorporates a tested structure, he can smoothly flit between planned choreography and off the cuff impulsiveness, either way, he was the brainchild of our resurgence in the closing stages.
I'm just gonna come out and say it: Cairney shouldn't be on the bench at Spurs, he should be on that pitch from kick-off. He's still got it, he's a heaped tablespoon of Dijon bloody mustard, he's a game changer that has to be granted the opportunity to pull strings early on. Argue with your nan's budgie.
Vini's eager outing
Oh yes, that's more like it. The contrast between Carlos Vinicius's input and Jimenez's is clear and visible because the Brazilian striker's involvement was top drawer. Named in the starting line-up ahead of the Mexican, Vinicius had a chance to imprint himself upon Silva's system and he didn't disappoint. His presence in the final third bothered Sheffield's centre-halves, he was stronger than Auston Trusty while screening possession, he was smarter than Anel Ahmedhodzic with his movement and he was first to virtually every ball in the air.
The Brazilian striker was aware, as our focal point he recognised that he had to lead the charge and his pressing was relentless. His athleticism is greater than Jimenez's, he isn't gifted with searing pace but he kept up with the rhythm of our attacking phases and his ingenuity whilst being marked closely brought our first goal of the afternoon.
Sliding Pereira into an advantageous position with a swivel of the hips, Vini had unlocked the Blades defensive line supremely, it was similar to his assist at the Amex last season and if he continues to conduct himself with the eagerness he showed before he was replaced by Rodrigo Muniz, I've no reservations about him being our preferred number nine. Plaudits were rightly earned, and long may his promising form continue. Less of the petulant elbowing though, chap.
Negatives
Basham's horrific leg break
Nobody ever wants to see what happened to Chris Basham become a reality. Breakages like that, sickeningly, are career enders and the innocuous manner in which the Sheffield defender's leg buckled and split was brutal and cruel. Players that suffer catastrophic injuries such as Basham's seldom recover properly, I am no doctor or physician but tendons and ligaments would've almost certainly been severed and at 35, I doubt he'll play again and if he does, it surely won't be in the Premier League.
Of course, I hope Chris rehabilitates without complications although the seriousness of the break suggests the road ahead is going to be both physically and mentally taxing. From a Fulham perspective, to add a positive inflection on disaster, Tim Ream's attentiveness was utterly commendable. He reassured Basham, remaining as still as possible was vital and Ream talked him through excruciating pain until gas, air and medics arrived. Tim's a true leader, and his welfare duties obviously don't stop at his teammates. Good on him.
Diop hobbled off
The visitors levelled it up as Issa Diop pulled up and as he hobbled off the pitch and down the tunnel with the help of staff, we can only hope the suspected fracture on the top of his foot isn't too drastic. It won't be anywhere near Basham's ordeal, although we can't have central defenders being side lined for prolonged periods, not when we're attempting to form essential partnerships. By all accounts, though, the Frenchman will be indisposed for four to six weeks.
From where I was sat in H5, it looked as though he was unintentionally stamped on, Sheffield capitalised and they took advantage. We were compromised because Diop physically couldn't continue and that's at no detriment to his defensive colleagues. I'm not even going to rubbish Antonee Robinson, it was a difficult ball to clear safely and the American was excellent otherwise. A bag of frozen peas probably won't sort this one but let's hope he gets back on the training field as soon as possible. Rest up, Issa!