Who will step up to replace Mitrovic's goals?
4th October 2023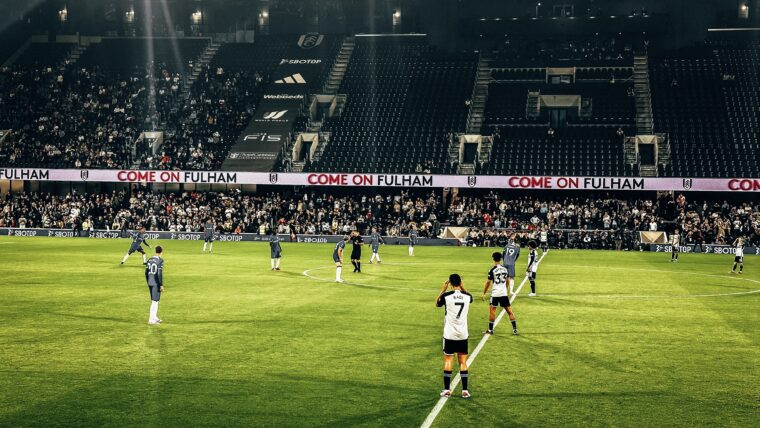 The loss of maverick striker Mitrovic was never going to be easy. Not only did he score 109 goals in 190 league appearances, but Silva's attacking system at Fulham was largely designed around the Serbian's strengths.
Although this presents Silva with an opportunity to change the team's style of play away from an over reliance on one striker, a shortage of goals is a serious worry.
Fulham were noticeably less threatening in attack last season in the eight games when the talismanic striker was banned for his push on referee Chris Kavanagh. A lack of clinical edge in a Mitrovic-less Fulham has continued to be evident at the start of the new campaign.
Concerning numbers
Fulham found the net 55 times in the 2022/23 season, averaging 1.44 goals per game. But in the first seven games of this season have only yielded five goals, with 0.71 goals a game, a goalscoring rate of less than half of last year. Even last season's lowest scorers, Wolves, scored at a rate of 0.81 a game. The three relegated sides, Leicester, Leeds, and Southampton had a combined average of 1.14 goals a game.
These poor attacking returns are because Mitrovic has not been adequately replaced. Raul Jimenez is a recognisable name, but the Mexican has understandably not been able to perform at a high-level since his life-threatening head injury. He is yet to score, with the exception of a penalty in the shoot-out against Spurs in the EFL Cup. Carlos Vinicius has shown promise, but neither he nor Rodrigo Muniz have ever shown the consistent quality to justify a starting berth in the Fulham side.
So, with our strikers appearing unlikely to match the 14 goal haul of Mitrovic from last season, even combined, who else can we rely on to replace his goals?
Our biggest hopes
Willian
Willian is likely to be an important source of goals this year. The Brazilian winger scored five in the league last season, four more than during his season-long stint at Arsenal two years ago. His goals made him the club's joint second top scorer on our first season back in the Premier League. Despite turning 35 in August, Saudi sides and Forest were vying for his signature this summer. Thankfully he has stayed at the Cottage and he will have to up his recent performances to become a crucial contributor to Fulham's goal tally this year.
Andreas Pereira
Another former Brazilian international, Pereira has already scored a superb goal at the Emirates this season. He notched four goals in his debut season for Fulham, double the number he bagged in his entire eight-year stay at Manchester United. He expertly dispatched a penalty away at the Etihad last November, and without Mitrovic on penalty-duty, Pereira may be afforded further opportunities from the spot. The set-piece expert has proven he can score against the top teams, and now needs to do so with greater consistency.
Bobby De Cordova-Reid
BDR was the club's top scorer in the 2020/21 season, and out of the current squad his Fulham goalscoring record is only bettered by Tom Cairney. The Jamaican international is highly versatile, and despite his capabilities up top, he has spent most of Fulham career on the right wing. If Jimenez cannot find his goalscoring boots, De Cordova-Reid's involvement will be even more essential.
Who will hopefully add a few
Alex Iwobi
The Nigerian international has showed some attacking promise in his first few appearances in white. But finishing is not his forte. He has come from an equally poor attacking side, and only scored six goals in four years at Goodison Park. About three to four goals would be a positive return for the Nigerian this season.
Joao Palhinha
Few predicted our star midfielder would sign a new contract in West London after his move to Bayern Munich broke down on transfer deadline day. His defensive work is lauded but Palhinha does also have an excellent strike in his locker. His long-range finishes against Leeds and Forest were highlights of last season's campaign, and he added a last-minute equaliser against Arsenal in August to his collection. He will score a few goals this year but as a central midfielder he cannot be expected to be relied upon up top.
Adama Traore
The Spanish forward has blistering pace and is an exciting addition to the squad. But his lack of end product has been a consistent feature of his game both in the Premier League and during his time at Barcelona. If he finally improves in front of goal, then he could be a serious asset this season.
Harry Wilson
Wilson only scored two goals for Fulham last year. However, a knee injury kept him out of the beginning of the campaign, and he only played a full 90 minutes once. With more minutes the Welshman should boost Silva's attacking hopes.
Who we can't rely on
Harrison Reed
Reed was excellent last year as he chipped in with three league goals. There were even calls from Fulham fans for Southgate to call him up to the England squad. Reed is stronger in defence, and it's highly unlikely he will be able to reach his 2022/23 tally.
Tom Cairney
The club captain is the highest scoring current player at the club. But most of these goals have come in the championship. Cairney scored twice last year, with both coming in a dominant 5-3 performance over Leicester. Although he is adored at the Cottage Cairney has never been able to produce great goalscoring returns in the Premier League and can't be relied on to step up in Mitrovic's absence.
Any other options
Our defence has started the season much stronger than the attack and they can also help at the other end of the pitch. Ream has scored away at the Champions, and Diop looks threatening from set pieces, having scored six times in the league for West Ham. Hopefully academy players will be able to step up if needed. Luke Harris looks the most likely.
Fulham's defence looks solid enough to stave off any serious worry of relegation. But it is hugely disappointing to have regressed in attack despite receiving £50m from Mitrovic's Al-Hilal transfer alone. Willian, Pereira, and De Cordova-Reid will have to add at least four or five goals each to our misfiring striker's tallies to make a top-half finish a realistic possibility.
It's puzzling that Tony Khan did not add further attacking reinforcement in summer besides Jimenez, Iwobi, and Traore, none of whom are consistently scoring. Another striker will be essential in the January transfer window to match the successes of last season.