Positives and negatives: Fulham 1-0 Luton Town
Written by Cameron Ramsey on 17th September 2023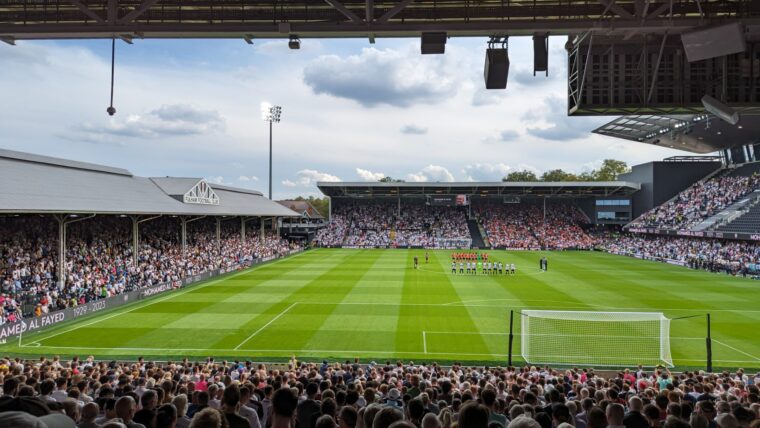 A hard-earned victory in the splendour of SW6 in mid-September, happily picked apart by Cam Ramsey. Grand.
Our second win of the 2023/24 season wasn't a belter, it wasn't one that'll live long in the memory, but it was paramount. We have to gain three points from destined basement boys like Luton Town, no disrespect, that is literally what they are and no matter how you spin it, we got the job done and that's the bottom line.
We commemorated the passing of club saviour Mohamed Al Fayed, we were silenced for the tragic deaths in both Morocco and Libya, a toll in its thousands – it's just a shame the grubbiest fan base in existence couldn't cooperate. These knuckle draggers are cluttering up the joint and I sincerely hope that they set a new top-flight low, because their supporters dragged them down to the pits.
Anyway, that's one shitheap out of the way, and up next is a short trip to Selhurst Park. The joys. We're yet to have found momentum, obviously as we're only five weeks in, but let's use this victory as a platform to really push on and against Crystal Palace, we've got no excuses. It'll be tight, unpredictable, although I'm hankering for another 3-0-er and as we're good value on the road, there's every chance that could be the case. Get up!
Positives
Banana skin: swerved
A first victory at the Cottage, a clean sheet to boot and a potential banana skin of a fixture swerved as Marco Silva celebrated his 100th game in the dugout. Luton probably looked upon their visit to the capital with optimism, the possibility of racking up their first Premier League points against a Fulham side that hadn't quite found their feet would've been their ultimate focus and to their credit, their stubborn resilience was commendable.
Rob Edwards's Hatters aren't blessed with true top-flight talent but they graft, they're unified and while the Whites monopolised the game with 78% possession – the greatest amount of time spent on the ball in the Premier League since records began – the visitors fashioned what were arguably the better opportunities and we were actually fortunate not to have been a few goals down before we eventually broke the deadlock.
It doesn't matter how you win, and given Luton's desire to frustrate, this single-goal victory is oh-so satisfying. Perhaps we tried to be a little too intricate in our attacking sequences, cute flicks and Cruyffs were often intercepted within heavy congestion but we continued to chisel away at our guests' rigid shape and that's testament to our collective determination in testing circumstances, too.
It wasn't an attractive spectacle; Luton's typical grit made for a physically sapping encounter and we had to ensure that weren't led astray. A team as antagonising as Luton could've manipulated the mental battle, they set out to ruffle feathers but we remained disciplined, our sense of purpose was constant and we now also know so much more about ourselves than we did beforehand.
You don't have to secure dubs at a canter, synchronised, flawless football isn't always the ideal method and it's proven that Silva's side rise to the challenge more often than not. We can discount expected defeats at Manchester City or humbling home losses against Brentford because at the Emirates, and indeed on Saturday afternoon, Fulham didn't relent. They were determined to pick up maximum points, it was non-negotiable, and that is a characteristic which is hugely necessary at the highest level, and not all teams have it either.
Vini's instant impact
Like many, I am still unsold on our striking options following the transfer window's closure, but returning to first-team matters, Carlos Vinicius's game-changing impact was instant and while he could've bagged a brace, his efforts were very well received. We've three recognised strikers at our disposal, Vinicius, Raul Jimenez and Rodrigo Muniz. Of that trio, there isn't an outright favourite or a consistent goal-getter however Vini's form is promising and as Jimenez hasn't opened his account, should the Brazilian start ahead of the Mexican?
Within three minutes, upon his first outing for the Whites, Vini's opportunism paid off and his animation contrasted Raul's. That's four goals and an assist in his last six appearances for the Whites, we cannot be sure why he wasn't selected by Silva in our opening fixtures but honestly, Carlos surely deserves the nod and I fully expect him to lead the line at Selhurst Park next weekend. His winning contribution was a proper striker's finish, alive and energised in the danger area as any number nine should be and that alone is enough to warrant a spot in the matchday XI.
Castagne's first 90 of many
Adaptability is a prominent feature of Timothy Castagne's make-up and while he's a recognised right-back by trade, the Belgium international was fielded at left-back upon his full debut for his new club and he was excellent. It wasn't unnatural to Castagne, he appeared to be quite comfortable on the opposite flank and he dealt with a fleet-footed Issa Kabore without hesitancy, by hook or crook.
Ready to support his teammates wherever required, the 27-year-old bombed it up and down his channel to both instigate and infiltrate in equal measure. He's a balanced defender, a tidy distributor and he isn't afraid to hurl himself into combat either. In Antonee Robinson's sudden absence, the former Leicester City utility specialist deputised to a complimentary standard and his aptitude across a range of roles is going to be advantageous as the schedule hots up. Castagne can cover a number of positions, from right-back to right-wing, and as injuries will almost certainly blight the squad at some point, we'll be able to plug the gaps with a tried and tested expert, not an inexperienced stand-in.
I like what "Timmy Chestnuts" brought to the jamboree. As first impressions go, his was intriguing because while he's viewed to be a rotational option behind Jedi and indeed Kenny Tete, he's definitely skilled enough to muscle in on the starting string and this will be his first 90 of many. That's undeniable. He's streets ahead of Kevin Mbabu and Layvin Kurzawa for that matter, we've credible defensive depth and Timothy's capable of competing in multiple capacities.
Iwobi's enlivened initiation
Another summer signing that introduced himself to CC for the first time was Alex Iwobi and again, his initiation was one that spoke volumes. In the same way Castagne can function in varying positions, Iwobi is the midfield equivalent and as he replaced a slightly bruised Harrison Reed in the 62nd minute, his liveliness in the centre of the park was pronounced.
The 20-odd million pound addition was a terrific mediator between attack and defence, in advanced areas his movement and attention to detail was constructive and if possession was overturned by Luton, his willingness to recover and disrupt was also effective. Gravitating to the run of play, always ready to retrieve and rotate, the Nigeria international enlivened our approach play and he is going to be an influence throughout the campaign.
We have bolstered the ranks with Everton's undisputed talisman. For once, we have poached a top, top player from a Premier League rival and I'm frothing to see what he can conjure up in the coming weeks. He's going to be a big, big problem for opponents, his interchangeability is a gift, not just a bonus and at 27 years old, working under a manager he genuinely respects, he's going to stamp his mark and he's going to stake a claim.
If we're going to deploy him centrally, he has to be untethered because if he's granted the freedom to roam, he'll cause a ruckus. This is the conundrum, though: who do we drop? Do we swap Alex for Andreas Pereira? Do we partner him with Joao Palhinha at Harrison's expense? Do we let him loose out wide and if so, who's making way? It's a headache but truthfully, it's one we can appreciate.
Business as usual for Joao
Fresh from putting pen to paper on a shock contract renewal (presumably at gunpoint, as his helmet of a brother would have you believe), Palhinha got back to business in black and white with a performance worth its weight in gold – or eighty million quid if Bayern Munich's asking – and as if we didn't know so already, the wantaway midfield showcased precisely why he's being stalked by crazed Bavarians with a fetish for deadline day tardiness.
Putting the past few weeks behind him, the 28-year-old wasted no time on setting the record straight and up against Luton's midfielders, bless 'em, J-Pally's presiding rule was unshakable. He was maniacal, opposing ball carriers braced themselves as he charged at pace and, as ever, nothing or nobody survived in his unforgiving company.
As an opponent, entering the middle third of the pitch must be like treading through classified military minefields when Palhinha's present. Players depart proceedings with PTSD, Marvelous Nakamba and Sambi Lokonga will need counselling because every time they even glanced in the ball's general direction, the Portuguese battering ram had them seeing stars, and he was one of them.
If he simply wishes to knuckle down, to commit 100% as he's promised, I will not begrudge Joao. There is a pecking order, Bayern are an institute that demands titles; they're perennial Champions League contenders and if they'd have sparked a dialogue with Fulham earlier in the window, I've no doubt that he'd be lining up at the Allianz Arena right now. He isn't, though, and as we lap up another Man of the Match outing, loaded with clinical challenges, hard knocks and 25-yard shit whistlers, little, insignificant Fulham will continue to reap the benefits from Joao's world-class input.
Negatives
Awaiting Raul's reignition
Returning from a fruitful international break with Mexico in which he dispatched three goals in two games, Jimenez was named as our lone ranger up top and as much as I want him to succeed, as good as he is under the surface, he has to dust the cobwebs off at club level. I don't want this to be misconstrued, all I want is for Raul to reignite and when he does, it'll be a weight off everyone's shoulders, not just his.
Service from wide areas wasn't up to scratch, which didn't help the 32-year-old's cause, and as he was swarmed by Luton's sitting defenders, Raul's outing was distinctly ordinary and the only moment of note was a botched attempt at an overhead kick (which I rate, strangely). He was decent on the ball, he wasn't a passenger by any means, but as he's intended to be our main scoring source, he has to dig deeper and he has to master his demons which are evidently still at large.
We didn't really play to his strengths, I get that, we tend to neglect direct routes for complexity and in the first half in particular, even when we swung crosses into the mix, they were either undercooked or overhit. At the moment, Jimenez is still acclimatizing to new demands but his primary responsibilities as a striker haven't altered, it's simply a matter of when and where for him. What he needs is a goal like Vini's, a routine, bread and butter prod from close range but annoyingly for him against the Hatters, he was rarely where he needed to be and that is something only he can rectify.