Player ratings: Fulham 1-0 Luton Town
Written by George Rossiter on 16th September 2023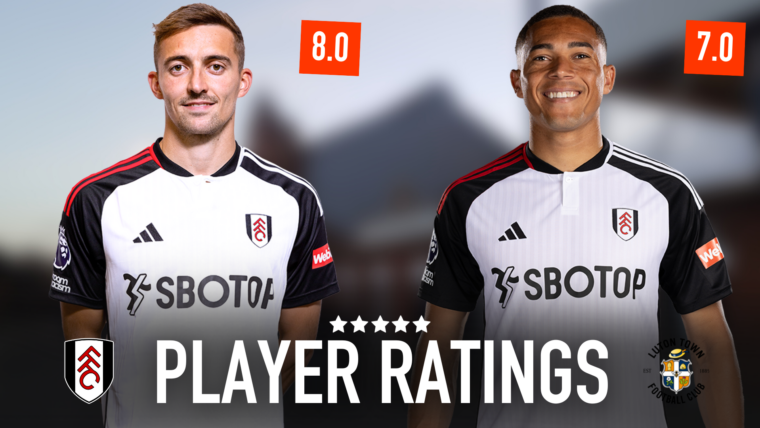 George Rossiter is back with the player ratings.
The Whites returned to Premier League duty with a fairly comfortable home win over Rob Edwards' Luton. Despite the narrow margin of victory, Fulham's 78% possession was a club record in the Premier League era and it always felt as though the three points would be ours. On the day the Cottage paid its respects to the recently departed Mohamed Al-Fayed, the players on the pitch and the fans in the stands did the great man proud, who knows how far off this level we would be without him.
Bernd Leno
Sometimes goalkeepers have games like this which are so hard to judge because they have nothing to do for the most part. Bar an early second half save from Amari'I Bell, which hardly strained the German, Leno had one of the quieter games a Fulham keeper could have wished for. It's only really the goalkeeper position where you can do nothing and be free of criticism, it truly is the most unique and sometimes lonely position on the pitch. 6/10.
Kenny Tete
Tete came closest of any Fulham player to opening the scoring in the first half, a glancing header from a corner drifting just over Kaminski's crossbar. Throughout the game, Tete seemed reluctant to cross the ball early, perhaps due to the absence of a certain Serbian striker, perhaps due to every one of our attacking players being surrounded by two or three Luton counterparts. Not much to do defensively, so overall a fairly solid showing, nothing special. 6.5/10.
Issa Diop
Diop often allowed Luton's forwards a little too much room on the ball when Luton found ways to counter during a game where Fulham dominated the ball. Also, his passing often looked a little off, with a number of passes being strangely overhit. One nearly resulted in an Iwobi handball that could've seen our goal chalked off, another nearly caused Leno all sort of issues. For the most part, Diop was fine, but it wasn't a reassuring performance. 6/10.
Tim Ream
Ream, on the other hand, was much more reassuring. Some claimed he was slow on the ball in the first half, but against a very defensive Luton side he had to be patient playing from the back. 138 passes completed from a possible 145, 20 going into the final third, shows just how important the American is in building from the back. Consistent, composed, that's our captain. 7/10.
Timothy Castagne
A really promising full debut for the Belgian, who showed off his well known versatility by filling in at left back for Antonee Robinson, who was out with a muscular injury. Castagne wasn't afraid to get into promising attacking positions and was constantly involved in our attacking build-up play down the left, often offering more than just the overlap Jedi seems to possess. No real faults defensively, and nice to see a player instantly adapt to a system. 8/10 – Man of the match.
Joao Palhinha
Suck it up Bayern Munich Fan Page or any other Bayern fan on social media, Palhinha is here and he's here to stay, in his Cottage. That was not the performance of a player who is going to sulk for months to force a move. His recovery challenge on the speedy Brown early on was the first big sign that, on the pitch, some things never change with Joao Palhinha. He consistently showed for the ball as Fulham dominated possession and his long diagonal passing was on point, including a beauty late on to the right hand side that nearly resulted in a Fulham goal. 8/10.
Harrison Reed
One key aspect of Reed's game since moving into one of Marco Silva's 8 positions is the spaces he gets into. I have always maintained that when playing alongside Tete and Wilson down the right, this is when Reed excels best with such traits. Everyone at the club must be delighted the 'Ginger Iniesta' has signed a new deal, for all the Palhinha's of this world, you need a Harrison Reed. 7/10.
Andreas Pereira
An irritatingly anonymous showing. When you've got all of the ball against a team with ten men behind the ball, you look to your creator to show for the ball and to do something with it. Pereira did neither and there were times when you wouldn't notice he was on the pitch. He presses well, he takes a mean set piece, but it's rare he takes a game by the scruff of the neck and makes it his own, something we'll need more of now our main talisman has left. 5/10.
Harry Wilson
Just a bit meh again to be honest. I don't think Wilson's started the season awfully but so much was expected with his strong ending to last season and he's yet to show that spark this season. It'll come, I'm sure of it, but he's just not been effective on the ball at all. Rarely is he playing that killer pass or cutting inside and shooting on his left foot. Again, Luton's defensive setup needs mentioning here, but it's still deflating to not see Wilson at his best. 5.5/10.
Willian
Another forward who is yet to get going this year. Maybe that should be a wider concern, who knows? Especially in the opening 45, the Brazilian was rarely taking on Luton's full backs with pace and for the first time in a Fulham shirt, potentially started to look his age. Thankfully he did pick out one quality delivery that resulted in the game's only goal. Similarly to Wilson, I'm sure the best is yet to come with Willian this year. 6/10.
Raul Jimenez
I'll probably sound like a broken record here but again it was disappointing to see a forward player struggle to make the difference in the final third when Fulham had so much of the ball. It's not particularly sustainable for a forward's best efforts each week to come in the form of a potential goal of the season attempt, but Jimenez did indeed attempt another overhead kick this weekend, the closest he got to scoring all things considered. Vinicius' goal may put Raul's place in the side under threat. 6/10.
Substitutes
Alex Iwobi
Subbed on after 62 minutes for Harrison Reed
His energy gave a huge boost to Fulham's attacks and he showed quick feet on a number of occasions in the final third to help Fulham create opportunities as gaps started to form in the Luton backline. Another promising full debut. 7/10.
Carlos Vinicius
Subbed on after 62 minutes for Raul Jimenez
Who would have known that a striker who knows the system and filled in admirably a number of times last season could have scored the winning goal? The lack of minutes Vinicius has seen thus far this year is ridiculous and a slight slap in the face for his efforts over the last 12 months, nice to see him on the scoresheet here, he was a breath of fresh air. 7/10.
Tom Cairney
Subbed on after 81 minutes for Andreas Pereira
After an international break that left Cairney with potential injury issues and £900 invoices to pay for a new windscreen, it was good to see the skipper fit and ready to play. 6/10.
Bobby De Cordova-Reid
Subbed on after 81 minutes for Harry Wilson
Created more than Wilson did in 80 minutes in the space of 10, mainly due to Luton pushing for an equaliser. A positive impact off the bench, nonetheless. 6.5/10.
Calvin Bassey, subbed on after 90+1 minutes for Willian, subbed on too late to be fairly rated.