Positives and negatives: Manchester City 5-1 Fulham
Written by Cameron Ramsey on 2nd September 2023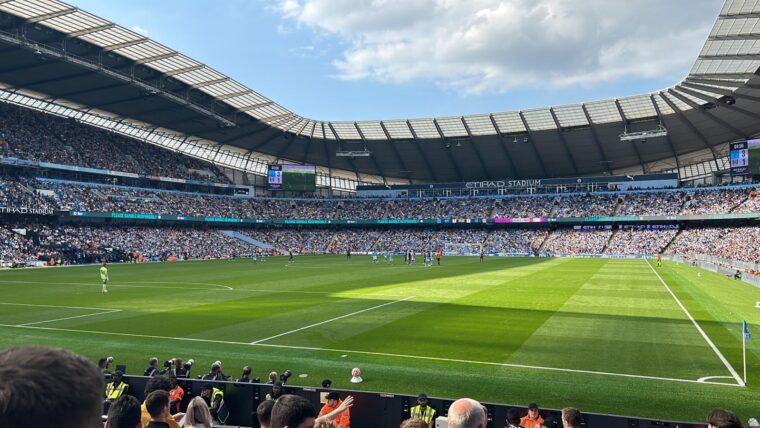 Whether you trained it there, jibbed it back or watched it on a bootleg stream, Cam's got you covered on the bits you may or may not have seen from Fulham's flogging in Manny.
It's hardly the shock of the century. Following Deadline Day's emotional drain, a heavy defeat was always in the offing and though it's a result we won't want to replicate again, it doesn't really reflect the effort on show from a side that should've been on its knees.
Many a good side has fallen foul of a one-sided whopping against Pep Guardiola's Manchester City, this is nature's way, and I know it's a result that's uglier than Erling Haaland, but come on – it's the European champions we're talking about here and as we enter an international break, Marco Silva will work with what he's got and we will come back stronger and hungrier.
The gaffer's deflated; he'd been sold a dream which isn't reality but he will examine the wreckage, he will pick apart our flaws and he will piece us back together again, as he always does. The first portion of fixtures was gruelling, we now know what we have to address and this game, it isn't even worth thinking about. And here we are, unpacking a result that isn't an really an upset or a bombshell. Conceding five by way of dodgy decisions and an obvious gulf in quality? So what, eh?
Positives
Tim's tap in
Seeing Tim Ream's name on the team sheet ahead of Calvin Bassey was a strange one however if we're struggling for a goal source, an opportunist at the back stick, maybe our trusty centre-back's the answer after all. We can't really label Ream's goals as collectors items anymore. Usually such a tag's reserved for fringe players that hadn't netted since October 2014 but Captain America's habit of bagging from corners isn't a total anomaly, I suppose, and though his equaliser eventually meant bugger all, it's always nice to see the veteran podcast extraordinaire wheel off with an expression of pure bemusement as the 'keeper, this time Ederson, scoops the ball from his beside his water bottle.
Peeling away from his marker as the ball squeezed through via Ederson's palm, Tim was ready and waiting to prod home, unmarked, a true striker's bread and butter finish from a man that, for a split second, probably thought he'd stabbed it into his own net. It sounded a revival for the Whites, a quickfire response to City's opener and while it may amount to be a shallow consolation, a blot on Guardiola's goal difference, I'm glad the man that scored at the Etihad for little, insignificant Fulham was a 35-year-old that refuses to call it quits.
Harris can hustle
Warming up on the touchline at the home of the champions is one thing but getting summoned back to the dugout for briefing with 75 minutes left on the clock, to pit your wits against elite serial winners, that's a moment to savour for Luke Harris. Entering the fray for Tom Cairney, Harris had to compete to a level he'd never have done so before and in all honesty, the 18-year-old academy graduate performed tremendously and his hustle was first rate.
A teenager slight in stature, Harris was eclipsed by the likes of Rodri, it was a physical mismatch but it didn't discourage the Wales international from getting stuck in because he isn't just a novice in comparison, he's a genuine starlet that can, and will, be counted for at any given opportunity. His involvement was tidy, he trusted his teammates to utilise him whenever necessary and if we didn't no so already, we have an intelligent operator in Harris and the experience of chancing himself at the very top of the domestic pyramid will be invaluable to his development and self-belief.
He was on the verge of a temporary switch to Exeter City but Silva evidently recognised Harris's potential and that can only help the youngster's horizons. He will gather minutes in the Premier League this season, he may not feature as frequently as he would've done at the Grecians but this is where he ultimately wants to be, it's where he's destined and given his devotion on Saturday, it's what he wholeheartedly deserves.
Robinson's recovery service
I won't let the final result muddy our efforts. They were earnest, they may not have been enough but against the planet's top ranking superpower, we battled hard and Antonee Robinson was a beacon. With Jeremy Doku to subdue, Robinson's defensive input had to be sparkling and the USMNT international stuck to the lively Belgian like a limpet. If Doku shimmied, Antonee swayed. If City's summer signing opened his stride, our seasonal shoo-in set the afterburners ablaze. The Citizens had to appropriate alternative inroads because along the left, there was no mastering Jedi.
Anticipating City's passing patterns, Robinson overturned possession and charged up field on the counter, he may have had Kyle Walker ahead of him but that didn't deter him from motoring onwards. Often, he took man and ball with him, once his legs flick into crazy mode there's no telling what he'll do but I rate the unpredictability, the bedlam his pace causes and while he's a clanger culprit every so often, he's such a vital component and when we required relief, even if it meant driving us out of our defensive third for a few sparing minutes, he was always on hand.
Negatives
Tom's sudden injury
We had no choice but to chuck Tom Cairney into the starting XI because, you know, available bodies but as he rest on the turf in the 15th minute, we knew his afternoon had come to a close and it's never an easy going sight. The extent of Cairney's injury is not yet known, with crossed fingers we hope it's just an impact knock but as he has to be handled with care, it could be anything from a scratch to a strain.
There were doubts over his fitness in the run-up to kick-off, we were running a risk by selecting him but we literally had no choice. He picked up the ball with intent, he wasn't to be completely overpowered by City's star-studded midfield and actually, while he was only present for a quarter of an hour, he actually coped very well in the company he kept. We need him now more than ever, he's a leader we can always depend on and whatever the damage may be, here's hoping for a speedy recovery and a full bill of health.
VAR isn't for everyone
Farcical. It surpasses the realms of rationality and reasoning. How is it possible that the 'professionals' in charge haven't a single clue between them what the basic rules of the game are? Moments before half-time, with a level score line, Manchester City were wrongfully awarded a goal which completely altered the complexion of the game and yet again, the big six bias reared its ugly head to maltreat a side that isn't a United or a City.
Make no mistake, this is incompetence to the highest degree, it's borderline match fixing and these conmen, Michael Oliver and the gargoyles at Stockley Park, have to be investigated for gross misconduct. No matter how you spin it, Manuel Aknaji was in a neighbouring postcode and he impeded Bernd leno's view and judgement. Akanji waggled a boot at an oncoming header, Leno shifted his weight but he hesitated due to the clearly offside defender's intent to play the ball and our stopper hesitated for a split second, and that was compounding.
That is obstruction, it is categorical and it's another glaring error to add to the Premier League's showreel of half-arsed, game-defining decisions. It's a never ending witch-hunt, the very reputation of English football is dragged down to the gutter by blatant ineptitude time and time again but it isn't the high rollers that suffer, it isn't secret handshake mob, it's clubs like Fulham, the lowly, and they're not even trying to mask it over anymore. It's corruption and there is nothing that can be done about it.
What's more, City should've been down to ten men as Ruben Dias hooked Harry Wilson's neck on the edge of the 18 but that doesn't fit the agenda. The PGMOL are shameless, they rig results for the big boys and they doctor the laws of the sport when it suits. To Mike Foster, Oliver and all the other arrogant pant sniffers with a whistle and notepad: get fucked.