Player ratings: Manchester City 5-1 Fulham
Written by Sammy James on 2nd September 2023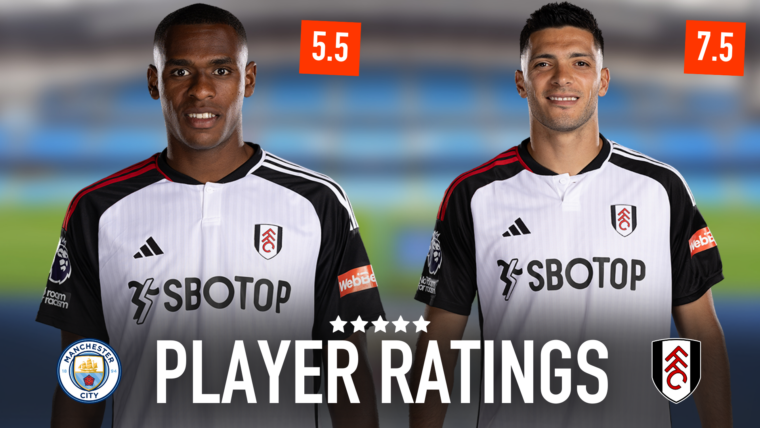 Sammy James reviews everyone's performance at the Etihad this afternoon.
For the love of Mike what do we need to do to get a decent referee around here? I'm spitting feathers at how Fulham played the half of their lives only to get cheated a minute before half-time. Clearly Akanji is offside.
I don't know if you can buy common sense over the counter, but if you can, send a bottle down to Stockley Park.
We lost 5-1 but the context is everything. It makes it a bit difficult to rate everyone, but I'll give it a go.
Embed from Getty Images
Bernd Leno – 6.5
Super Bernd didn't live up to recent highs, but still pulled off some smart saves. Gets a sympathy half-point because of the disgraceful decision to award Ake's goal.
Antonee Robinson – 7.5
Thought Robbo looked great once again on that left hand side. Bombed up and down the left and had some great moments of anticipation.
Tim Ream – 6.5
Fatal mistake to let Haaland score City's third, but otherwise Reeeeam was impressive against the City onslaught. Amazing to see him score again, great anticipation to make that back post run.
Issa Diop – 5.5
Embed from Getty Images
It feels harsh to give Issa this scoreline, as he did so much right, but sadly in defence you're often remembered for your mistakes. It was he who lost Haaland for City's first, and then he clumsily challenged Alvarez to give away the penalty.
Kenny Tete – 6
Not Kenny's best match, he frustrated Silva with a couple of wrong decisions in attack. Didn't do anything drastically bad though either. As good as Kenny is I think Castagne will push him hard for that RB slot.
Harrison Reed – 7
Considering that he had to take up his unfavored role of number 6, I think Harrison did well. Broke up City's play well in the first half and really frustrated the City midfield.
Tom Cairney – 6
Went off early, not much to say here. Get better soon skip
Andreas Pereira – 5
Embed from Getty Images
On my grainy stream it was sometimes hard to tell the difference between Andreas and Wilson's bleach blonde hair, but from what I could make out Pereira was a little wasteful when we got possession, including one criminal misplaced pass that killed a 3-on-1 at the end of the first half.
Bobby De-Cordova Reid – 6
Grabbed a smart assist with his little flick off of Jimenez's header. Always got a good touch and works hard. Not sure what on earth he said to the ref to get a dissent yellow in the second half, but I rate it.
Harry Wilson – 6.5
Thought Harry was our most dangerous player in the first half and he should have at least got a free-kick when pulled back by the neck in the first half. Really hope he can get a goal soon to back-up his strong start to the campaign.
Raul Jimenez – 7.5 MOTM
Embed from Getty Images
Go on Raul. I've not been convinced that he should be our answer to replace Mitro, but I thought he did excellently up front. An incredible header that eventually lead to the equaliser and some exceptional hold up play that is so crucial when facing a side like Manchester City. I think we can all agree we wanted another striker in, but I think if we throw our weight and support behind him, we can get some goals out of Jimenez this year
Subs
Luke Harris – 6
Thought Luke looked great when he first came on, he even got Rodri a yellow with a smart run. His first touch is exquisite. He tired as the game went on, but in fairness, that was proper deep end stuff.
Timothy Castagne, Willian, Adama Traore and Rodrigo Muniz all came on a bit late judge, plus the game was completely gone by then.