Positives and negatives: Fulham 0-3 Brentford
Written by Cameron Ramsey on 20th August 2023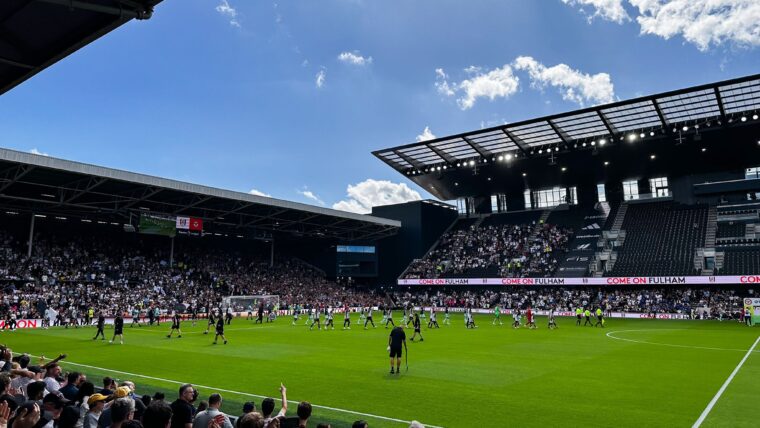 Reluctantly, as he fires up the keyboard once more, Cam dismembers the good and the painful talking points from Saturday's damning loss to Hounslow bus station.
What a terrible, terrible day to be a Fulham fan. Our hapless defeat at the hand of Brentford has to be the worst outing since Coventry City on that miserable day in October 2021 and to top it all off, the club announced Aleksandar Mitrovic's departure with a frosty paragraph that screams petulance on the Serb's part.
Those hired actors cackling upon Stevenage Road, clad in newly purchased Fulham shirts (really weird and gimpy), the hammed up Freed From Desire, it was corny beyond comprehension and it boiled piss and blood simultaneously. We bent over willingly for those sport washing nerds and on the pitch, we reciprocated our submissive off-field stunts as Thomas Frank's Bees rightfully claimed three points. 19 August 2023, that is a day we ought to forget and for our sanity, we have to stiffen that upper lip and move on.
Positives
Flashes of Sasa's potential
Gradually, without question, Sasa Lukic is acclimatising to the stresses and strains Premier League football exerts and while we could all agree that he still has much to master, our last remaining Serbian stayed afloat, and his awareness is certainly developing. Lukic, for what it's worth, was our key performer on Saturday and I was personally impressed with his insistence to support his teammates at all costs.
He's an extra yard compared to his previous outings, there's room for improvement in certain aspects of his game but we're witnessing work-in-progress in the flesh, and his effort and output didn't go undetected. He meshed play together with sensibility, he slammed shoulders with opposing ball carriers and his composure, as it adapts even further, is going to be a big plus in the coming weeks and months.
We want our midfielders to be brave, to break lines with power and courage and though Sasa isn't typically domineering, he isn't at the peak of his powers just yet and the more he features, his displays will become pronounced as well as productive. I still believe we require another roaming midfielder, an 8 with an eye for creation but Lukic shouldn't be overlooked. He can be an integral member this season, and he showed flashes of the man he was at Torino in his second start of the season.
The return of Joao
Entering proceedings in the 67th minute to rapturous applause, Joao Palhinha's return to competitive dealings was extremely pleasing to the soul and almost instantaneously, he got back to what he does best: collecting cautions. Now, that may not be a positive on its own and I'm not suggesting it is, but there's something greatly satisfying about Joao's heavy-handedness and if there's one attribute our set-up's missed so dearly, it's his devotion to seek and destroy.
From where I was perched, Palhinha's yellow was anything but, and as referees have been drilled to clamp down on more or less anything and everything, the Portugal international is enemy número um. Still, hearing his very own rendition 'Tequila' ring down from the top of the Hammersmith End was soothing and before long – hopefully next weekend at the Emirates – we'll get to sound it from the off, especially after he snaps Thomas Partey's shins in two.
Negatives
Diop does a Diop
A brief breakdown of things Issa Diop cannot pass to the left: a dutchie, a box of all his belongings, a simple 10-yarder to Bernd Leno under minimal pressure. Heading into the break, Fulham were level with the Bees in what was predicted to be a relatively mind-numbing opening 45 but that wasn't going to be the case, not on Diop's shift.
We've had to familiarise ourselves with the Frenchman's casual nature at the back against our own will, we've conceded one too many times from Diop's sloppiness and in the 44th minute, the regrettable term "doing a Diop" was well and truly birthed. From morbidly obese first touches within crowdedness to botched lashes at thin air, the 26-year-old got it all and it always amounts to our detriment.
The perplexing thing is that I actually rate Diop despite his obvious deficiencies. There's definitely a decent defender in there, somewhere deep within, but his mistakes tend to be massively harmful rather than innocuous and he presented Brentford a defining leg-up on a silver platter. You'd probably swing the gravy to your nan on a Sunday afternoon with more conviction, so why does a professional footballer get the basics so terribly wrong, so often? Beggars belief.
Ream's unjust dismissal
No credible officiating board on the planet can tell me that Tim Ream's dismissal was advisable. That is a shocking decision from Darren Bond to give the American his marching orders and yet again, shock horror, the PGMOL and VAR have been thrust under the microscope for unflattering reasons. Yoane Wissa bought that penalty, he was already tumbling as Ream approached and the contact that was deemed illegal was engineered by the DR Congo international, not Tim.
Ream, as any centre-back would, was merely closing in on Wissa. No stray limbs, no excessive use of force, it was completely necessary defending and it's an insult that a second yellow was brandished for a supposed infringement that was clearly acceptable. Fulham could have pledged a late fightback hadn't the referee been so ill-advised and misinformed, but with then men, trailing by two, we were cut adrift by no real fault of our own and I fear that for every club that doesn't brand itself with a 'United' or 'City', these injustices will become a weekly occurrence and we will be even more powerless.
No bark, no bite
Moving forward, we didn't trouble Brentford and their flappy goalkeeper in the slightest and just as it was last season with Mitrovic up top, we didn't offer Raul Jimenez any worthwhile service. The opportunities Jimenez hacked at were sighters, none were clear-cut and that's because our intensity and imagination in the final third was non-existent.
Brentford set-up to absorb the Whites' detectable passing patterns, without incision, Fulham prodded possession from one flank to the other meaninglessly and the concept of overlaps out wide or darting spurts through central areas was lost in translation. We were containable, no bark, no bite and at home, against a local rival, that's inexcusable.
It's the second game of the season, rough edges will need to be ironed out, and they will be, but following a hard-fought victory on the road at Goodison Park, our artlessness in attack wasn't welcome and while we may have only played 180 minutes of football, we're struggling to invent purposeful opportunities, even with trusted playmakers such as Andreas Pereira and Harry Wilson in contention. In short, we have a lot of work to do and we have to use this defeat to our advantage, as illogical as it sounds, because in each department, not just in our attacking third, we were handed tough lessons and bitter pills that have to be swallowed.
Silva's starters and subs
Perhaps Fulham's lacklustre collective performance can be attributed to Silva's starting selections, then. Brentford may very well have been without their main focal point in Ivan Toney but they still has plenty of dangerous, quick attackers to subdue and I'd say that on this occasion, Marco got it wrong. We knew that Bryan Mbuemo's explosiveness needed to be restricted, we'd shelled out £20m on a left-sided defender that could definitely equal the Frenchman's physicality but a half-fit Ream was fielded over Calvin Bassey.
It makes very little sense to me, we bang on about setting up for each individual opponent uniquely however we failed to recognise the Bees' mobility on the break, and that stunted our momentum hugely. If Palhinha was prepared enough to be named on the bench, he could've started. We'd very little control and command in the middle of the park and Joao's omission from the first XI was telling.
These are only minor contributing factors although yet again, when we simply had to retaliate with a change of personnel, our substitutions were also deployed far too late in proceedings for them to have the remotest of impacts, and I'm talking about Willian and Adama Traore in particular. Willian has to begin games anyway, he sets the tempo along the left and his positioning is key but with 25 minutes or so to go, not even he could warm to the task at hand and 5 minutes for Traore just wasn't enough, and that's all there is to it.
Also, if you're seriously having to bring Rodrigo Muniz into Premier League matters, something's amiss and maybe that's one way Silva thought he could grab the Khans' attention, by throwing on a player that is nowhere near the required standard for top-flight football. Our squad's desperately thin, we need to sign at least 5 reinforcements with varying roles in the next fortnight and if Saturday's flat outing wasn't enough to convince the powers that be that action is crucial, we're in for a long, drawn-out slog for the remainder of the window.