Player ratings: Fulham 0-3 Brentford
Written by George Rossiter on 19th August 2023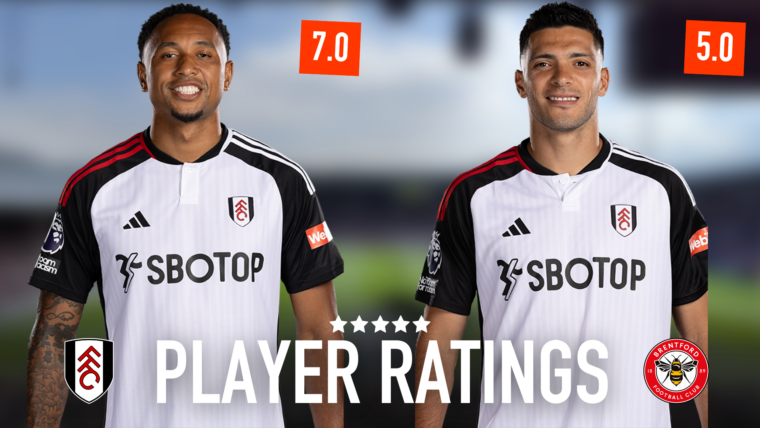 George Rossiter has the player ratings after the derby.
The Whites fell to a disappointing defeat to local rivals Brentford on a dismal day where Aleksandar Mitrovic's move to Saudi Arabia was confirmed. Goals from Wissa and Mbuemo gave the Bees a comfortable win in a game that lacked quality in most parts. With Arsenal and Manchester City to come in the league, Tottenham in the cup and a chaotic transfer window coming to a close, Marco Silva will have to rejuvenate his squad as they look to bounce back from a worrying weekend.
Bernd Leno
I'm sure no goalkeeper wants to concede three goals in the midst of a defeat, but bar picking the ball out of his net, Leno had little to do. Bar commanding his box well from set pieces, especially in the first half, it was a quiet game. Then Issa Diop's moment of madness happened and the game changed for the worse. No goalkeeper can be blamed for a centre back's error, a perfectly placed penalty and a back post tap in. 6/10
Kenny Tete
As an individual performance, not really any complaints about Tete's performance either. Rico Henry and Kevin Schade is a left hand side full of pace and ability and neither had much success down their wing. Tete frequently matched Henry's pace to track his opposite full back down and win his duels against him. Schade, who has such explosive pace in attack, had very little success himself. Again, three goals conceded isn't ideal for a defender but Kenny himself was probably the best of a bad bunch on the day. 7/10. – Man of the match
Embed from Getty Images
Issa Diop
Where to start? The whole first half had been boring, rarely was there any quality from either side and it looked to be a stalemate at the break. Queue Issa Diop playing Wissa through on goal in the 44th minute with a wildly under-hit back-pass that Brentford's forward capitalised on. From then, the game was lost. Diop lost confidence and Fulham never found a rhythm. It's not Diop's first lapse moment in the black and white and it can't happen often with Tosin seemingly out of the picture. 4.5/10
Tim Ream
I don't really want to be too harsh here. Admittedly, if Diop's mistake handed Brentford an advantage, Ream's red card ended any hopes of a comeback. However, both yellow cards were ridiculously soft and it's hard to criticize Ream as if he's defended overly rashly or aggressively. The penalty decision is up for debate but once it was given it had to be a second yellow, unfortunately. 5.5/10
Antonee Robinson
Just like at Goodison Park, I thought Robinson looked very good on the ball. It seems to be the aspect of his game that's improved most over the summer break. He looks calmer in possession and makes better decisions when being pressed by opposition forwards. Just like Tete, he dealt well with Mbuemo and Hickey for the most part. Hickey was more defensive than Henry and while Mbuemo scored twice, neither came down to errors from Jedi. 6.5/10
Sasa Lukic
Lukic started the game in a role we're used to seeing Joao Palhinha playing, as a sort of lone six. Rather than winning the ball high up and helping Fulham in the transition, Lukic spent more time collecting from deep and distributing to his teammates. He was very good in the first half but his influence on the game diminished as Fulham struggled as a team. Again, the main criticism would be that he needs to be quicker on the ball in the Premier League if he's to be effective. 7/10
Harrison Reed
Playing in a more recognised role for himself this week, as a roaming right-sided eight, Reed seemed to cover more ground and proved a more imposing figure on his opponent than he did on matchday one. He was another that struggled to change the game in Fulham's favour after falling behind and eventually came off for tactical reasons following Ream's sending off. 6/10
Andreas Pereira
Definitely a range of positives and negatives to take from Pereira's first Premier League start of the season. We've certainly missed what the Brazilian has to offer from dead ball scenarios, putting in a number of dangerous set piece deliveries. One particular corner nearly resulted in an Ethan Pinnock own goal, alas it hit the bar. In possession in open play, however, Pereira was shocking, regularly losing the ball in attacking positions and struggling to find any of the front three with a dangerous pass. 5.5/10
Harry Wilson
Normally I'd like the sound of Wilson getting Fulham's first shot on target in with a long range effort forcing the opposition goalkeeper into a save. Unfortunately, this came on the hour mark and was a pea-roller that dribbled into the hands of Mark Flekken. It was probably Wilson's best highlight too. The winger was again largely anonymous and hasn't seemed to have carried over the exciting form we saw at the end of last season into this one. 5/10
Bobby De Cordova-Reid
Like Wilson, Bobby didn't really get into the game either. I'm hoping it's not the start of a worrying trend where our wingers struggle to influence the game because in two Premier League games now we've struggled to be effective in wide positions for three of the four halves of football. Bobby came close to scoring just after half time, hitting the bar from an opportunistic effort from the edge of the area, but that was the only real highlight. 5.5/10
Raul Jimenez
Two games isn't lots to judge off, but I'm yet to see why Raul is starting games while Carlos Vinicius sits on the bench watching on. There's been rare occasions in both games where he looks okay on the ball and tries linking the play but that's basically it. He doesn't show for the ball anywhere near as much as a striker at this level should and his runs in behind end up with him being offside on the majority of occasions. Performances simply have to improve. 5/10
Substitutions
Joao Palhinha
Subbed on after 67 minutes for Harrison Reed
Good to see the Portuguese midfielder looking fit and instantly up to speed with the game, probably the biggest positive of the day. 6.5/10
Calvin Bassey
Subbed on after 67 minutes for Andreas Pereira
The scenario he walked into was effectively a poisoned chalice but he showed signs that we can be optimistic of a positive performance in Ream's absence next week. 6/10
Willian
Subbed on after 67 minutes for Bobby De-Cordova Reid
Like the other wingers, didn't really make an impact on the game. Admittedly, we didn't really have the ball when he came on so I won't apportion him any blame. 6/10
Rodrigo Muniz and Adama Traore (subbed on after 86 minutes for Raul Jimenez and Kenny Tete) both came on too late to be fairly rated but it's nice for Adama to make his debut and Muniz to see Premier League game time.