Positives and negatives: Everton 0-1 Fulham
Written by Farrell Monk on 13th August 2023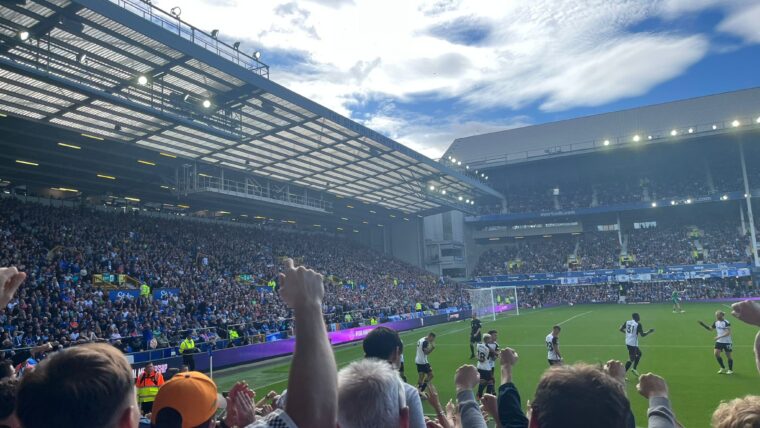 Farrell Monk reviews the mostly good and some not-so-good of Fulham's victory at Everton.
Positives
Off we go!
Embed from Getty Images
It's our sixth ever opening day victory in the Premier League out of 17 attempts. Patjim Kasami's header sunk Sunderland a decade ago the last time Fulham were P1 W1, however that time it was to kick-off a messy relegation season.
Given the unexpectedly chaotic summer transfer window and a tough opening run involving Manchester City, Arsenal, and the always tricky battle with Brentford, a win means Marco's mean can go into these with a little less pressure to get points on the board. So much was made of Fulham's positive start last year being the basis for one the most successful seasons on the pitch. 
Silva is not the manager to let that get to the players though, the man has nightmares about complacency. Countless times we seen after a big win, whilst the players lap up deserved applause, that he is still in their ears telling them where to do better.  He won't rest on this win and he won't let the squad rest on it either.
Super Bernd Leno
Embed from Getty Images
Victory aside, this might have been the easiest positive to come from today. I wonder what superlatives Cam would have summoned to describe Super Bernd Leno's superb display. 
The German snuffed out four big chances for Everton amongst other shots. Yes, Everton were wasteful in attack and should have been clear two or three before the first half was out. But the former Arsenal man was always there to make as difficult as possible for opposing forwards.
As a testament to how confident I personally am in his abilities, when Doucouré was put through 1 v 1, considering his stunning record facing this situation I was not as worried as I should have been. 
"That's my job" was the response post-match reaction from Leno. His professionalism oozes from every pore. His pristine hairdo displays none of the signs that he just pulled off another master performance in the Premier League. Maybe it's reflective of the relaxed mind that lurks just beneath?
It is the first season in a long time that Fulham has started with zero question marks over who is definitely the number one. 
Squad slowly healing
Embed from Getty Images
The sub-heading is figurative and literal. No doubt the uncertainty surrounding Mitro and then Marco's future would have unsettled the squad. Marco reiterated his continued commitment to Fulham and then making it clear that Mitrovic would not have be featured if he had any doubts about him either. A line has been drawn and the team can finally move on. They might have turned the head of the striker, but the mighty Serb has decided to remain with his current love at Casa Cottage. 
The summer holidays for the physios and doctors at Motspur must have been far from quiet. The injuries were plenty and extensive. Ream, Periera, Palhinha, Robinson, Tete and Cairney all either went into the pre-season carrying injuries or picked them up along the way.
The squad and the medical supplies were stretched to the limits over the past month. At a guess, even the oddly-shaped plasters, like the ones you have for your toes, might have been used. But whatever they did to get this team in shape give them a well-earned bonus. 
Although Joao remains sidelined but close to return, all of those mentioned above plus Mitro had disrupted preseasons but all still featured in this game and came through unscathed.
Negatives
Conceding chances
Embed from Getty Images
Leno shone because he had to. There were a lot of chances against the Whites in the first half alone. The "underlying numbers" crowd who screamed about how Fulham's over-performed greatly last year will now have to pop a few more Strepsils to avoid going hoarser. 
I don't like hearing from an x as much as the next person, but we cannot avoid the xLephant in the room. Everton's xG was as high as three. Now you could say that Everton massively underperformed here as they did last season when they scored a 34, the lowest in the league, from an xG 49, (around the same as Fulham's 48).
What's a little troubling were the varied manner of these opportunities being created. There were counter attacks, deep and short crosses, slow build ups and speculative shots from wingers 1 v 1 against a defender. 
Of course, missing Palhinha at the fulcrum of the midfield is going to have an impact. A tough act to live up to for sure and we can all give Lukić some wiggle room in that area. However, he will certainly come up against weaker opposite numbers than Doucouré, Gueye and Onana.
Outside of that Willian, Wilson and Decordova-Reid all could have done better to stop the Everton supply. It was only a few weeks ago when Fulham played Brentford in the heat of the summer series in Philadelphia. All of their openings came from wide and set pieces, so we definitely need to a bit more a defensive step up from our wide players if we are going to swat those Bees.