Player ratings: Everton 0-1 Fulham
Written by George Rossiter on 13th August 2023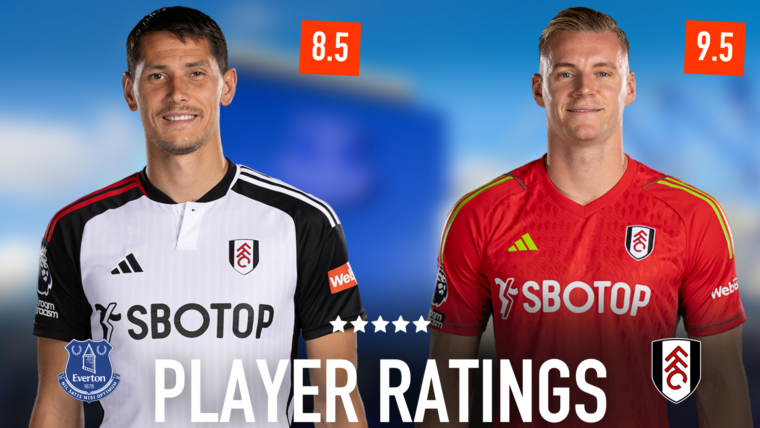 George Rossiter returns for another season of the player ratings.
A new season in the Premier League and a winning start for Marco Silva's men at Goodison Park. Bobby De Cordova-Reid's second half goal proved to be the winner in a scrappy end-to-end game on the opening day. On another day, Everton may have taken some of their many chances and got a better result. Alas, the Whites took home the three points and look forward to next Saturday's derby match with Brentford.
Bernd Leno
There's a reason that most of the playing squad have taken to social media to thank Leno and give him credit for the result Fulham secured this weekend. 'The cat', as Tom Cairney describes the German keeper, saved Fulham on many an occasion with nine saves in total, including standout saves from Doucoure and Maupay in the opening 45. It was a performance reminiscent of the 1-0 win away to Leicester last season where it felt like Leno himself earned the three points. A thoroughly well-earned clean sheet from one of the best goalkeepers I have ever seen play for the club. 9.5/10 – Man of the match
Kenny Tete
This rating may seem harsh in a game where Fulham kept a clean sheet, but it's massively boosted by a hugely improved second half performance. Granted, it may be harsh to criticise Tete for how he played in the first half too, it's quite likely that it's simply how he was told to play by Marco Silva. Regardless, it didn't change the fact that Alex Iwobi had the freedom of his wing and got in behind more times than I can remember, leaving Fulham constantly vulnerable on the counter. Like previously mentioned, his second half was much more solid, probably due to a half time tactical tweak. 6.5/10
Issa Diop
A really strong performance from a player who on more than one occasion has looked slightly shaky in pre-season. The Frenchman was imperious in the air, winning anything that came towards him in our box. He covered exceptionally well under strong pressure from Everton in the first half when often Tete was chasing back from further up the pitch. A fairly faultless performance from a player who may need to become a leader in this Fulham side if Tosin is to look for a move away from the club this year. 8/10
Tim Ream
A similarly solid showing at the back from Ream. Maybe not as error free as the performance of Diop, though, with a few moments on and off the ball that showed signs of rustiness that we'd got used to not seeing last year. It can be forgiven though after a fairly turbulent pre-season where the American played very little football following on from his arm injury late last season. Ultimately, a solid showing contributing to a clean sheet is something to be happy about. 7.5/10
Antonee Robinson
Superb performance from Jedi, defensively and offensively. It could be easy for a player to drop their levels with a lack of competition in the squad but across the last 12 months Robinson's performance levels have only gone one way – up. The left-back coped brilliantly with Everton's young and energetic right hand side of Garner and Patterson, strong both in his duels in the air and on the ground. A particularly impressive aspect of his performance was how well he played the ball away from dangerous scenarios when facing the press from a physical Everton midfield. 8.5/10
Harrison Reed
Really solid, under the radar performance from Harrison. We're used to his consistency and quality in the middle of the park with the protection of a number six behind him, but at Goodison he did a great job at sitting a bit deeper at times alongside Sasa Lukic. While his box-to-box approach may not have been as noticeable as normal, the gritty side to his game was on show for all to see as he fought well in a terrific midfield battle, made especially difficult by Dyche's packed five-man midfield. 7/10
Sasa Lukic
By far Sasa Lukic's best performance in a Fulham shirt. A real Rolls Royce of a showing in the Fulham midfield, Lukic was everywhere. Tackling, recycling possession, playing between the lines, competing in the air, Lukic didn't shy away from any responsibility in a team he's still getting used to being a part of. After an impressive pre-season, this sort of performance in the Premier League is really reassuring to see. The only potential criticism could be asking for possession to be moved on quicker, but that'll come once he's fully adapted to the league. 8.5/10
Tom Cairney
A very decent showing from the skipper, and it's good to see him starting and looking fit after slight worries over a muscle injury picked up against Chelsea in the Premier League Summer Series in the USA. Similarly to Lukic, the passing into the final third could sometimes have been quicker and Cairney also didn't quite get into the advanced positions Pereira often does, but who knows if he was asked to play that advanced in the first place. Overall, a really silky showing as TC continues to prove he is and always has been a Premier League calibre of player. 7.5/10
Harry Wilson
An up and down performance for Harry on the opening day. Without doubt he was the bright spark amongst the front three in the opening stages, looking to be direct, take on his man and create goalscoring opportunities. Despite that, nothing quite came off for the winger end product wise and as the game went on he slowly had less of an effect on the tie. Definitely more to come from Wilson who will want to fully show his Premier League credentials this year. 6.5/10
Willian
A strangely anonymous performance from Willian, something we haven't seen from him very often at all in his time in a Fulham shirt. The Brazilian often found himself pinned to his left hand side touchline and struggled to effect the game how he does best, by cutting past his full back and finding space others often can't. I'm sure this performance will be an anomaly based on everything we've seen of him previously, and I remain mostly thankful that he's still at the club and not in Saudi Arabia. 6/10
Raul Jimenez
Don't get me wrong, we've seen many times in the Premier League what the Mexican can do and he showed some of it at Goodison Park. The ball was held up well, he linked the play well and his control in possession was extremely impressive. However, he rarely proved a threat in Everton's defensive third, barring one strike that glanced the post at the start of the second half. Furthermore, even though I've watched nearly six years of Mitro, I'm not sure I can remember a striker that has spent so much time within a game being caught offside as Raul did in this game. 6/10
Substitutes
Bobby De-Cordova Reid
Subbed on at half time for Willian.
What more could we have asked for from Bobby? He came on, ran directly at Patterson for 45 minutes straight causing him all sort of issues. Then, on 73 minutes, found himself in the perfect place to finish into an empty net and win Fulham the game. He could have had a second too, had a volley not gone crashing over the bar. For all the quality we have in this squad, every side in the world needs a Bobby Reid, we are so lucky to have him, he never lets us down. 8/10
Aleksandar Mitrovic
Subbed on after 58 minutes for Raul Jimenez
Didn't he look happy to be playing for little old Fulham? Of course he did, he always does. Mitro showed why he is the main man at this club, making an instant impact, roughing up Everton's defence and playing a beautiful pass into Pereira in the build-up for the goal. 7/10
Andreas Pereira
Subbed on after 58 minutes for Tom Cairney
Brilliant assist for Bobby's goal not long after coming onto the pitch. Got into good attacking positions and looked good on and off the ball. A really positive performance especially considering how quickly the Brazilian has recovered from a nasty injury sustained against Man City last season. 7.5/10