A season of stardust: interviewing celebrity Fulham fans
Written by Michael Heatley on 7th July 2023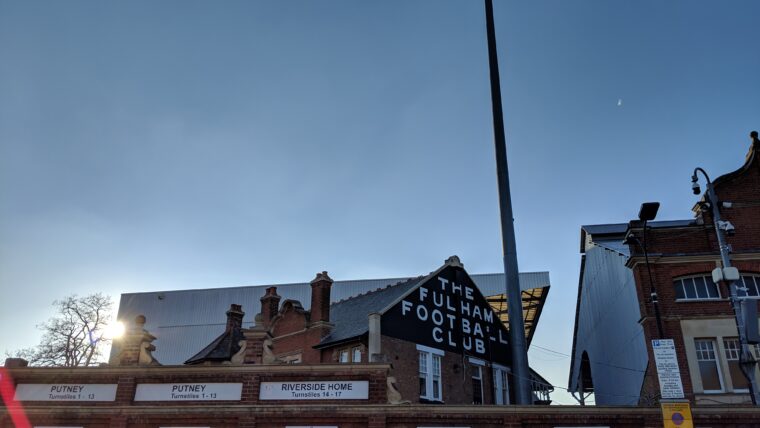 Michael Heatley recalls what it was like to spend a campaign tracking down and chatting to famous Whites fans.
Back in October 1983, we played Chelsea in a second-tier game at the Cottage, losing 5-3. Fulham fans around back then will recall it for a Gordon Davies hat-trick, but for this writer it was memorable for a different reason. The match programme contained the first helping of my column Celebrity Spotlight, commissioned by editor (and later club director, then club historian) Dennis Turner. "The range of people who support Fulham will make interesting reading" he said in his intro – and as a freelance showbiz and music writer I was happy to try to live up to his boast.
Ironically, when the first subject, actor Dominic Guard, was suggested to me by Dennis, I hadn't actually heard of him! But he was not only a died-in-the-wool fan, brought up in Hammersmith, but was also married to a well-known star of stage and screen, Sharon Duce. These days Dominic is a child psychotherapist, while his actor/singer brother Chris, also a fan, wrote and released a song, 'Here to Stay', in 2001 to celebrate Fulham's arrival in the Premier League. Clearly a family of note!
Equally avid in his support was radio presenter 'Diddy' David Hamilton, whom I interviewed in October for the Cardiff City game. David, of course, went on to become the Craven Cottage matchday host; I was later withdrawn in his favour when playing a charity football game, but that's another story for another day!
It was folksinger Ralph McTell, my next subject, with whom I made the biggest personal connection. Like David, he lived in Barnes and had shown his football knowledge by identifying rookie full-back Paul Parker, later an England international, as one to watch.
I was a volunteer at University College Hospital radio at the time, and when our 1983 Christmas Broadcast marathon needed someone famous to launch it, I contacted Ralph. He was happy to do it on two conditions: that he could visit the children's ward, and that he wouldn't have to sing.
His affinity with kids came from the Alphabet Zoo TV show, so most of those unfortunate youngsters he met on the day after 'cutting the ribbon' knew who he was. I eyed with dismay, however, the battered Spanish guitar on the last, unoccupied bed. Sure enough, a nurse innocently offered him the instrument… and without a pause he launched into his timeless hit 'Streets of London'. Not a dry eye in the ward!
The subjects sometimes asked for match tickets as 'payment' for their interview, which I could usually arrange through the club. Unfortunately, Keith Allen, the comic actor who made his name with The Comic Strip Presents, wanted four for the Milk (now Carabao) Cup game against Liverpool… and I somehow ended up paying for them! He obviously – and understandably – assumed they were 'freebies', and 30 years later, when I met him again in his native Wales, I was tempted to ask for my £80 back! I dread to think what it'd have cost me today.
It was only later that Keith, father of singer Lily Allen, turned his talents to songwriting and gave us the 'We're not Real Madrid, We're not Barcelona' song. Another musical matchday experience was with a little-known pop duo called the Quick, who I accompanied to a game versus Doncaster Rovers. When the floodlights failed, I was tempted to make a quick getaway under cover of darkness… especially after one of them revealed his QPR leanings!
Dennis Turner was a 'champagne socialist', by which I mean he combined personal status (he was head of economics with the Midland – now HSBC – Bank) with left-wing political views. He pointed me towards Peter Pitt, a Labour representative on the Greater London Council, and local (Fulham) MP Martin Stevens. The other local MP (Conservative, Putney) then rather brusquely insisted on his turn. As is now known, however, David Mellor, then at the Home Office, supports the other team in SW6: this and much more was revealed years later in the scandal that derailed his career. Needless to say, he didn't mention this allegiance during our interview, which I found an altogether creepy experience.
Being some two decades before mobiles, almost all interviews were done face to face. One that wasn't was actor Robert Lindsay, who was out on a theatre tour. He was featured in the Boxing Day programme against Derby County, the team whose fans had arguably cost us promotion the previous season – and, worse, he was a self-confessed Derby fan. But the Fulham connection was just as strong, since he had played 'Wolfie', the Fulham-mad title character in the 70s sitcom Citizen Smith. He was even game enough to get in character to deliver a seasonal message: 'To Fulham fans from Wolfie Smith, self-styled urban guerrilla of South London, a Merry Christmas and a revolting New Year!'
While the season ended in disappointment – we started as promotion favourites, but subsided to mid-table, manager Malcolm Macdonald left, and the other SW6 team went up – Celebrity Spotlight tracked down the actor who nearly all the previous subjects had said deserved to be featured. James Villiers was one of a group of thespians who congregated in the Enclosure, the standing area at the front of the Stevenage Road stand (now the seated section nearest the pitch). He had clocked up a quarter of a century of support – and while, like Dominic Guard, he was a new name to me, there are, and were, plenty of actors who still follow Fulham. So, he more than earned his page.
Other names who featured over the season included musician Mick Rogers, actors Warren Clarke, Liz Fraser, Leslie Phillips and Glyn Houston, former cricketers Jim Laker and Micky Stewart, football writer Brian Glanville and tennis commentator Dan Maskell. Perhaps the biggest name of all was ex-club chairman Tommy Trinder, though I confess I now can't remember meeting him at all! (In retrospect, I suspect Dennis did it!)
At the end of the season the programme team was summoned, and I saw my first ever spreadsheet. It revealed that the programme made about £70,000 over the season – enough for the club to have bought a decent lower-division player. Dennis was determined it would be a money-making venture that would contribute to the club. Hence full colour printing was out of the question: all my celebs appeared in glowing black and white!
Finally, the programme writers didn't get paid, but had an 'access all areas' lanyard that let us in Craven Cottage for nothing. We congregated at the mouth of the tunnel where the players run out onto the pitch, something you'd never see happening these days.
I was 'promoted' to interview the first-team players in 1984/85, something I had a couple of separate spells doing over the years. It was a job I did with pride, but not all the footballers were as interesting as the celebrities had been.