The most expensive Fulham transfer of each season since 2000, part 2
Written by Farrell Monk on 8th June 2023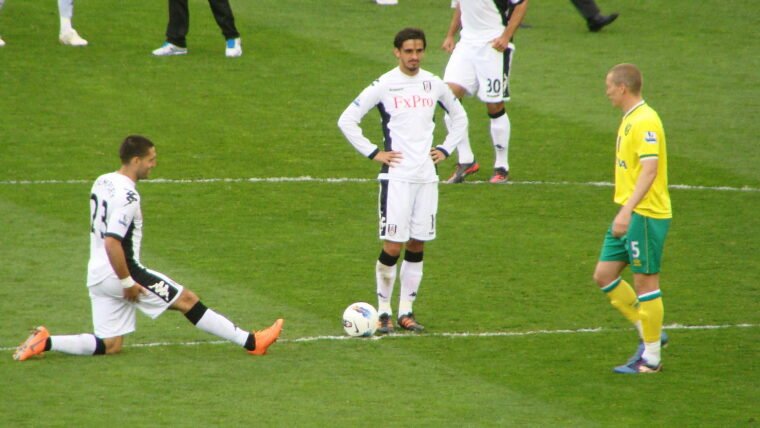 In the second part of this series, Farrell Monk rates our most expensive signings from 2011 onwards.
We've gone through a little more than a decade, jogging your memory with expensive signings from the past. Some of these will be far more familiar – for better or for worse…
2011/12. Bryan Ruiz – £11m
A relative unknown over here, Martin Jol was adamant that we had captured a real talent in Ruiz, saying that "he admired" the Costa Rican. There was little doubt about how FC Twente fans felt about their title-winning hero when Fulham came to visit in December 2011. Unfurling a tifo of his finger, while being paraded round the pitch to the tune of 'Moonlight Shadow'.
The classy Ruiz floated around pitch like a plastic bag and fiercely divided opinion among fans. He was talented – and not ashamed to show it. His first year or so was relatively successful, despite modest numbers. Fans probably were expecting more end product from player who portrayed a cool and calm exterior.
Ruiz was unfairly targeted in the chaotic relegation season where it was clear that he just did not suit the style of a basement battle. Despite huge efforts to move him on following relegation, it was hilarious to see Championship defenders try in vein to shackle Bryan. But fair play to him, he never made a fuss and contributed massively to another silly season in the early Khan years. Personally, I loved watching him play and always felt he was the right signing at the wrong time. 7/10
2012/13. Dimitar Berbatov – £4m
I still cannot believe this signing was a thing. The fella had won the Premier League golden boot just two years earlier. Whatever you thought of Berba, his relatively short 18-month stint at Fulham is one for the memory bank. Love him or loathe him, 15 is only second to Clint Dempsey for most Premier League goals in one season for a Fulham player. His recent interview for the Fulham Fix shows that while he remembers Fulham fondly, he was really only there for the "father figure" of Martin Jol, and promptly followed the manager out the door. On pure entertainment alone, he was worth it in my book and gets a decent rating. Keep calm and pass me the ball. 7/10
2013/14. Kostas Mitroglou – £12m
Ah, for the longest time our record signing. He arrived injured, couldn't help. Kostas Kost-us £80,000 per minute he played. We had a brief glimpse of him fully fit in a pre-season friendly against Crystal Palace about a year later, and it felt a bit like "here's what you could have won." He obviously flourished following his departure, collecting league titles throughout Europe. So let this rating be not a reflection of the player, but a damning indictment on the club's decision making. 2/10
2014/15. Ross McCormack – £11m
The Championship's most expensive player ever at the time (surprisingly not by much). The Scotsman's two years coincided with Fulham's most recent lowest ebb. But he was an unmistakably bright spark, forging a preposterously productive partnership alongside young French striker Moussa Dembélé. The combined 36 goals in 2015/16 was almost as many as some teams' overall totals. McCormack scored every type of goal, including free kicks, and his link-up play meant his contribution in those years can't be understated. Fulham relied on McCormack to keep their head just above water in the sea of further relegation danger. 8/10
2015/16. Tom Cairney – £4m
Tom Cairney has already entered legendary status at the club, so I'll try and write this bit with as little bias as possible. It's easy to forget that with three promotions, countless worldies and one consistent haircut that his first season was also a banger. He carved out eight goals from the midfield of a stuttering team.
TC's technical ability and guile easily made him the most eye-catching player in the iconic threesome alongside McDonald and Johansen. Accurately described once as having "snooker table" type passes, it's remarkable to watch him do that while being under pressure from onrushing opponents on a repeated basis as he continues to use football intelligence over pace to find pockets of space to exploit.
Bad luck and recurring injuries scuppered previous opportunities to shine in the Premier League, but you can tell how he's adapted his game over the years to add tenacity to enhance his value. Despite starting a handful of times, his contribution to one of Fulham's most successful seasons on the pitch in 2022/23 is undeniable. Using his ability to frustrate oppositions by keeping the ball and progress the team up the pitch to relieve pressure on Fulham's back line is invaluable against the some of the world's best. 
His crowning glory will always be, of course, his play-off final-winning goal at Wembley. There really ain't nobody like Tom Cairney. 9.5/10
2016/17. Ragnar Sigurðsson – £4m
Someone once said, 'never sign someone just on the back of a good international tournament". They must have been talking about Ragnar Sigurðsson. Considering Iceland's heroic run to the quarter finals of Euro 2016, including a goal-scoring man-of-the-match performance to knock out England. He was the preferred centre back for the first third of the season. Unfortunately for Ragnar, the second two-thirds included a 23-game unbeaten run. He was dropped following a woeful showing at home to Brighton, which proved to be his last start in black and white, and the one for which he is remembered for most. 4/10
2017/18. Rui Fonte – £6m
If the rating was based purely on how much you celebrate every single Fulham goal, easily 10/10 for Fonte. I was convinced that Fulham had captured the Championship's best player after his performance away at Ipswich early into his Fulham career. But it was his peak after just two games as his form slowly declined. Slav bingo was on full operation that promotion season, especially in the first half of the year and Rui struggled to hold a place as a result. Hardworking no doubt, but he made only a limited contribution to the '23, 23 undefeated' and was shipped out shortly after promotion was confirmed. 5/10
2018/19. Jean Michel Seri – £27m
Seri was a statement of intent from Tony Khan as Fulham attempted to make a mark in our first year back in the Premier League, as he was famously close to signing for Barcelona a year previously. However, sadly for Seri became the poster-boy for reckless spending and was scapegoated somewhat. The dynamic Seri operated as either as the six or the eight, but it must have been difficult to adapt week-in-week-out playing alongside the plethora of different options in the middle of the park.
Seri was by no means our worst player that year, but the huge price tag tainted the clearly talented Ivorian. Routinely shipped out over the next couple of years to relieve the wage bill but his final year in a Fulham shirt endeared himself to the Fulham fanbase showing his class and guile, albeit playing at Championship level. 6.5/10
2019/20. Ivan Cavaleiro – £11m
Everything about Cavaleiro screams quality. Quick, technically gifted, two-footed, energetic. But there's no point giving someone the fastest car in a ace if they don't know how to drive. He had a relatively solid first year in the Championship; he was the favoured left-wing choice under Scott Parker.
But it was in the Premier League where the biggest focus came. He was predominately deployed as a striker over Mitrovic, which will always puzzle the fanbase. He scored a few, but his decision making on the ball frustrated so many of his teammates as well as Fulham fans. Was blamed a lot for our blunt front line as we limped to a meagre 27 league goals. Marco used him sparsely in the promotion year as we opted for more productive players. He's currently out on loan and unlikely to remain in SW6 upon his return. 6/10
2020/21. Anthony Knockaert – £11m
It's hilarious that Tony Knockers was our record signing back in the top flight, but then failed to register a single minute in the league. His loan year was, on paper, successful because he was a mainstay under Parker in a promotion season. But Scotty P loved him for his work rate and positioning above any productivity. He finished 2019/20 with three goals as he took aim from anywhere on the pitch. Hardly featured under Marco and was largely deployed as the squad's hype man. 5/10
2021/22. Harry Wilson – £12m
Harry was, of course, integral to the Fulham team that romped to the Championship title in his first season. Wilson's technical ability to unsettle full-backs is masterful. And 20 assists in any season is fine return for any player. It's great to see him flourish in top tier after returning from a lengthy injury spell. He's started to form a lovely dynamic trio alongside Tete and Reed on the right side so if he can get a full season under his belt next year, no telling how high this rating can go. 7.5/10