Positives and negatives: the 2022/23 season
Written by Cameron Ramsey on 5th June 2023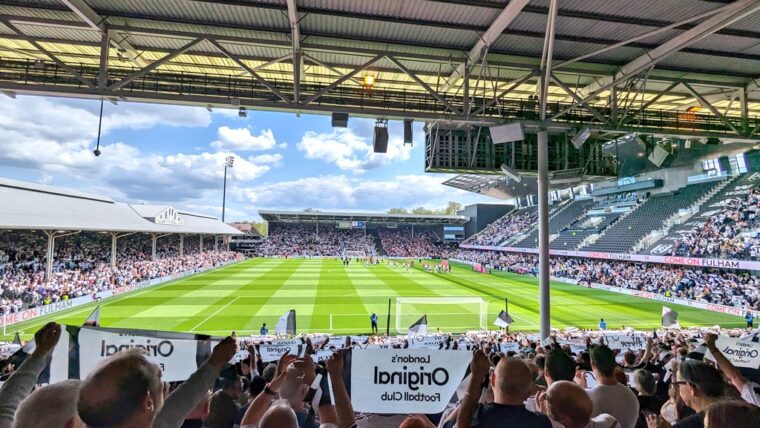 Cam relives the season gone by, cherry picking the beautiful and the ugly factors that ultimately re-established us as a Premier League outfit.
That's it. Football's done and dusted for a couple of months and at the end of a Premier League campaign, Fulham can count themselves as one of the upcoming season's top 20 sides in England. Finally, the Whites have security, they have prospects and ambition, and now we can look back on our achievements, as well as our downfalls, with a sense of pride and belonging.
Covering this glorious club of ours over the past nine months or so has been immensely pleasurable. With Marco Silva, we have gone from strength to strength and as we followed the lads up and down the country. We've drooled over scintillating victories, we've lamented absurd officiating but win, draw or lose, our dedication remains as fervent as ever. A season of broken records, a season of firsts, a season of lasts, the 2022/23 schedule wasn't always kind to us, but the ride along the way was memorable and enriching. There's far too many pluses to revel in, they heavily outweigh the negatives so in this article, I've handpicked the biggies, the ones that speak volumes and I'm hopeful you'll agree.
Elder statesmen in Tim Ream and Willian turned back the years to become trustworthy, game changing mainstays, wingers failed the Kenny Tete test in their droves, Bernd Leno is today's Mark Schwarzer and collectively, the squad retained and assembled by Marco and his colleagues excelled to a standard not one of us envisaged. Some signings worked a treat, others skulked out the backdoor in January, but the mixture of desire and knowhow was perfect. As we prepare for our summer holidays, we can pack that oversized Fulham beach towel, heads held high, knowing we're a ridiculously massive balling establishment. Thank you for reading – see you in August for another unforgettable season in the Barclays. You Whites!
Positives
Middle of the pack
Closing the season without the fear of relegation was unreal. Heading into the campaign, multiple pundits of questionable validity binned Fulham off, they'd disregarded what we'd achieved in the previous season and their closedmindedness was nothing more than half-arsed laziness. Well, these naysayers were force fed their cheap opinions, the resulting fallout's meme-worthy but if we're being honest, not many, if any, predicted a 10th-placed finish come 28 May.
This has to be commended. Perhaps we weren't the strongest squad on paper, our depth's limited but Silva instilled a readiness in his men, the majority had actually tried and failed to survive two seasons prior under Scott Parker and that, bolstered by a title-clinching season the season after under Marco's stewardship, stood us in very good stead and really, truthfully, the Whites smashed it.
We never circled the drain; we periodically muscled in on the European slots and for a newly-promoted side destined for the drop, that's bloody good going. We play without fear; we may be vulnerable in certain areas but the table never fibs. Middle of the pack in the planet's toughest division, valiant, excellent value until the final few seconds, that's what this Fulham side's founded on and now, with prospect, we'll go again after the summer break and we'll rubberstamp our Premier League credentials yet again and we will be better than ever before.
SW6 is black and white
Our man Stephen Sheldrake penned a terrific piece outlining Fulham's feats this season, the record-breaking factors that made the 2022/23 season truly memorable and finishing above Chelsea by eight points (eight!) is definitely as satisfying as it sounds. For the first time since 1983, 40 years in our neighbour's cold shadow, the mighty Whites were higher on the ladder than the Blues when everything boiled down and what makes it even sweeter is the four points we taxed from them in the process.
Chelsea were oversaturated with unchartered YouTube fraudsters; they'd chopped and changed managers at the drop of a hat and in our first meeting, at the Cottage, we made a mockery of Todd Boehly's ideocracy, as well as Graham Potter's unpreparedness, again. We hadn't gotten the better of our postcode lodgers since 2006 and thanks to Chelsea old boy Willian and Carlos Vinicius, that barren 17-year stretch came to a glorious halt and it's a result that was wholly deserved.
It was honours even at Stamford Bridge, Chelsea were whiskers away from a winner and Andreas Pereira stung Kepa Arrizabalaga's palms, but the overriding takeaway from our two meetings with "them down the road" is simple, as well as factual: SW6 is unmistakably black and white. The blue flag was shoved up rectums – as it should be – and though nothing's a given in this game, we have to gloat, we have to lord it up over our obnoxious neighbours. This could sound a power shift for the ages and if it isn't so, we hold the bragging rights for now and the Blues have to hold that fat, juicy L. The Scum, mudded in 4K after half a billion, and then some, wasted.
The best £20m ever spent
There's endearment, and then there's Joao Palhinha's idolisation by literally everyone that follows the Fulham, and even by those who don't. Joining from Sporting CP last summer, Palhinha was Silva's first signing of the window and as soon as we clapped eyes on all guns blazing Portugal international, we knew he was going to be an extremely special addition. Leno was a cut-price steal and is the best stopper outside the top six, Willian was a revelation on the left but undoubtedly, Palhinha's arrival was integrally huge. Famed for hard-hitting shin crunchers and ankle snapping clampers, Joao introduced himself to the Premier League with an impact that shook nerves, he was subsequently cautioned an eye-watering 14 times for his animated actions but make no mistake, this man is without question the greatest club purchase since Aleksandar Mitrovic.
Palhinha is Detol; he eradicates lesser opponents and he does so by wiping them out, entirely. He's abrasive, a no prisoners, no-fucks-given enforcer but as we discovered, he also deals in disgusting bangers, too. From twatting ferocious top-binners at the City Ground to propelling 40-yard shit-pingers in the FA Cup, J-Pally's sniper rifle right is built for the spectacular, but that comes as no surprise. He's elite; at 28 years of age he's arguably entering his finest career form and he's turning heads while passionately drumming the badge on his shirt.
Moving to a foreign country – knowing the journey ahead may well be stormy and uncertain – was bold but his commitment to the cause has inspired us all, and it's gladly stolen our hearts. Us "Cottage's" are family, through thick and thin we stick together and Joao is adoring of our core values. Invested, our number 26 embodies all that Fulham is, he's bought into Silva's vision, his integration was idyllic and ultimately, he is honoured to represent London's Originals, the club he's made his own. What a player, what a bloke, what a £20m bargain.
Beating Brentford dramatically
It's hard to not get embroiled in the pissing battle that occurs whenever Fulham face Brentford and upon our first meeting in the Premier League, losing was simply not an option. Of course, beating Chelsea was unrivalled, but early on this was the game we all had our eyes fixed firmly on and as anticipated, it was a dust-up that didn't disappoint. We went ahead within a minute, we were in the ascendency, Palhinha powered home a header from a corner and two goals to the good, three points were assured. Well, so we thought.
Just before the break, Christian Norgaard pulled one back with a belter, it left a sour taste in the mouth and as the sides re-emerged for the second half, Thomas Frank's set-up turned the screw, and how. Ivan Toney had two goals ruled out for offside but in the 71st minute, he eventually restored parity and Silva's Whites had to dig deep. Plugging away, probing for inroads, Fulham dealt with Brentford's rigidness, they refocused to thwart the visitors' advancements and at the death, one last defining twist was in the tale.
Brentford were camped within their penalty area; they'd swatted off wave after wave of deep crosses from each flank but from the right, in added time, Kevin Mbabu picked the lock with a searching swing and Mitro licked his lips. Onlookers, in awe, sucked in and held their breath as the Serb climbed above Bryan Mbuemo at the back stick and once he connected, there was only ever going to be one outcome. A dramatic last-gasp winner at the Hammy End. Three points guaranteed with virtually the final phase, the masses within CC exploded, the Bees' buzz had been silenced and it earned Fulham a first win in 25 top-flight London derbies. That is exactly how any team should break a long-standing curse, against a bitter rival in the beating hot summer sunshine with seconds left on the clock. Magic.
Mitro's finest top-flight tally
Strains, setbacks, niggles and drawn-out banishments couldn't hold Mitrovic down when it came to bulging the back of the net. In 24 Premier League outings, our talisman notched 14 goals and that is his most productive top-flight return and it's also worth remembering (if you can bear it) that he missed four penalties as well. Out of action for 14 league meetings, Mitro's tally could've broadened even further, there's no doubting that, and as he was rubbished by certain members of the media cesspit before the season's commencement, his attainments have to be appreciated because it just goes to show how little these so-called experts know or even care about our main marksman.
Prolific in the Championship, Mitro began where he left off on the opening day of the season with a typically clinical brace against Liverpool and it was that performance alone that proved his worth in such a demanding environment. He was indomitable, and though he had to endure spells on the sidelines, and periods where the goals suddenly dried up, he was always integral to our primary approach and his efforts were justified.
There were low points to his season, as we'll explore, however I'd say redemption was served burning hot by our number nine, he can't take spot kicks for buggery but we can see past that, his influence was forthright, his game's been elevated by Silva and I'm certain that next season is going to be his most productive yet. We'll toast him with three shot of rakia, we'll purchase Serbia flags by bulk, his intentions may not always be sensible but he has Fulham's best interests at heart and for that, we're eternally grateful for his loyalty through the good and the bad.
Negatives
Mitro's eight-game ban
There's no excusing Mitro's conduct at Old Trafford; he should never have laid hands on Chris Kavanagh, even a tap constitutes as illegal contact and the FA threw the book at him. In the heat of the moment, Aleksandar clamoured to reason with Kavanagh, he was merely trying to direct the cowardly referee's attention and the PGMOL blew it all out of proportion. An eight-game ban for brushing a man's shoulder, that's despicable.
At the very most, it was an additional three-game infringement, we wouldn't have argued with a shortened sentence, but as the club crest didn't fit the agenda, we were made a spectacle of and it dented Fulham's momentum not just at United, but for the weeks that followed. You've Bruno Fernandes batting linesmen, Liverpool and Utd players remonstrating in numbers, surrounding officials with blue faces, Pep Guardiola barging fourth officials but conveniently, blind eyes are cast.
Supposed rapists were free to play on a weekly basis, serial betting cons pardoned until further notice, Mitro was unfairly vilified, Kavanagh allegedly 'feared for his life' and the false moniker of "big bad Mitro" was shamelessly splattered across the tabloids. Come on, he hadn't been sent off in six years prior, his disciplinary record was fairly clean for a player of his temperament and only he was held accountable. Incensed, Silva protested and he was also punished – if Jurgen Klopp stomps his feet and intimidates like the crazed cannibal he is, it's laughed off, forgotten, played down. Not if you're a manager of a non-Super League club, though.
Injury blows and woes
The injuries a handful of our boys suffered were serious and two of which, Andreas Pereira and Tim Ream, are out for the foreseeable. It's not so much fatigue or slight knocks which have hampered the squad, or recurring defects, it's severed tendons and broken limbs and the first to be struck down was Harry Wilson. Wilson went down with a knee injury in a behind-closed-doors friendly against Aston Villa and he was indisposed. He came back into the picture at West Ham, and while it took a little while for him to get back up to speed, he was assisting and scoring towards the back end of the campaign in style.
The next to fall foul was Neeskens Kebano. He was in pretty good shape in the early stages of the season, he was lively, energetic and then, in training at the beginning of November, he ruptured his Achilles and his season appeared to be over. Thankfully, he returned to the fold mid-April although over the summer, though he's deemed to be match fit, his rehabilitation will continue steadily.
Mitro's fitness after the World Cup was suspect, he cut a jaded figure in the new year and he was often spared to ease his recovery. Carlos Vinicius initially flattered to deceive but he soon found his shooting boots, which was necessary in Mitro's sporadic absence. Two key players were then wounded in the same game, that being Pereira and Ream against Manchester City. Andreas came off worse in a 50/50, a fractured leg for his troubles and Ream, shielding possession on the byline, was felled awkwardly and he sustained a duffed up arm. Both were wincingly painful collisions and their respective issues gave Silva an unwelcome selection dilemma.
Ream was our defensive organiser, he was enjoying an impressive season where he'd featured in every PL game and Andy-P was a first-team regular, a playmaker that was finding their feet in new surroundings and the manner in which their seasons ended was cruel and excruciating. With a full complement, without having to improvise and forge fresh on-field relationships, Fulham were good value for European football but even still, a top half finish is astounding for a side with next to no auxiliary options but if these men hadn't have been excluded against their own will, you can't help but think of what could've been.