Our players out on loan: keep, re-loan, release, or sell?
Written by Jack Stroudley on 2nd June 2023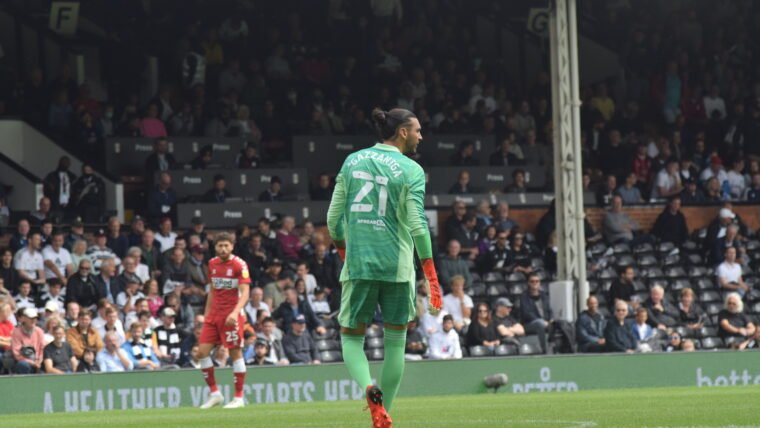 Jack Stroudley looks at our loaned out players this season and examines their performances.
This feels like quite an important summer, not only in terms of recruitment but making sure we get the most out of those we loaned out over the course of this season. With that in mind, I'm going to be going over those who were sent to other clubs during recently-finished campaign to work out whether to keep, sell, loan or release them (dependant on their contract situation) to try and 'thin out' what is actually quite a heavy squad.
Paulo Gazzaniga
We start with Paulo Gazzaniga, who was loaned out to La Liga side Girona last summer after being deemed not good enough for the Premier League. Gazzaniga started last season in goal for us, but he was replaced by Marek Rodak around October and never really featured from that moment onwards. In fairness to Paolo, he's had quite a good season for a Girona side that (at the time of writing) sit just outside the UEFA Conference League places.
The Argentine has played 27 times so far this season and statistically looks quite solid being in the top 1% for xG expected- goals conceded. What that essentially means is despite facing a lot of shots he has managed to make a good number of saves (similar to Bernd Leno).
I actually wouldn't mind us bringing Gazzaniga back; he's proven himself in a top league and could be a good back-up (assuming Rodak leaves in the summer). His contract is up though; Girona have shown an interest and at 31 he will want to ensure he is playing as regularly as possible.
Decision: will be released and bought by Girona, but in a different world I would've said keep.
Taye Ashby-Hammond
The first of the Ashby-Hammond clan, Taye spent his season out in League Two playing for Stevenage. The Boro had a very successful campaign after gaining promotion to League One alongside Leyton Orient, Northampton Town and Carlisle United. Ashby-Hammond was a key part in the first half of the season and made 26 league appearances up until the middle of January but didn't play from then onwards.
Ashby-Hammond is out of contract this summer and with Wickens allegedly out the door, a space has opened up to be Fulham's third choice. I think that this provides Ashby-Hammond with the opportunity to learn from the likes of Leno.
Decision: renew contract and keep.
Luca Ashby-Hammond
Luca Ashby-Hammond played his football this season in the National League for Aldershot Town. He was a key member of the Aldershot side and played 45 times during a disappointing season for the Shots finishing in 18th. It wasn't the best season for Luca either with some sloppy performances. I think he probably needs another loan just to further his experience.
Decision: loan.
Steven Sessegnon
Steven Sessegnon spent this season out on loan at League One side Charlton Athletic. The lesser-known of the Sessegnon brothers has actually had quite a good season across London, playing in 33 league games and scoring once. His contract is up this month and I'm in two minds. He's never set the world alight at Fulham and making him sign another deal feels a bit unnecessary. On the flip side, he's only 23 and looks to be improving in the lower levels of English football, so a loan to the Championship along with a contract extension could give Sessegnon the platform to build on a successful season.
Decision: new contract + loan.
Kevin Mbabu
At the start of this season, I certainly didn't expect Mbabu's season to go the way it did. Minimal minutes before the World Cup resulted in a loan move to Swiss side Servette. Mbabu appears to have found his feet in Switzerland featuring regularly since the loan move. For me, I think the next step for Fulham is cutting our losses and trying to recoup some of the money we spent last summer while he is still under 30.
Decision: sell.
Idris Odutayo
The defender of pre-season, Odutayo started the season off promising and while a loan was expected, the move to National League side Maidenhead United would've come as a bit of a shock. I actually work for Maidenhead so have had the pleasure of watching Odutayo a fair bit this season and while he struggled in the first half of the season, he started frequently at left-back for the second half.
During the second half of the season he actually played quite well and linked up with winger Ashley Nathaniel-George frequently picking up four assists this season. Maidenhead stayed up on the last day of the season and Odutayo certainly played his part with some solid defensive performances combined with good attacking output. I think the future of bright for the defender but a loan move further up the pyramid is the next logical step.
Decision: loan.
Terence Kongolo
I'll be honest, I forgot Terence Kongolo even played for Fulham! The Dutch defender was loaned out to Le Harve in France's second division last summer where he has failed to really make an impact. Just 10 starts this season for a side who sit top of Ligue 2 and another four off the bench. I remember during the Covid season Kongolo playing quite well against Wolves but unfortunately never kicked on from there. A player plagued by injuries for Fulham who is out of contract in the summer, it feels like a real what-could've-been signing.
Decision: release.
Joe Bryan
After being deemed out of favour last summer, our Wembley hero Joe Bryan was loaned out to Nice for the season where he could enjoy reading books on the south coast of France. Evidently that turned out to be all he would do with very the defender getting minimal chances in Ligue 1 only playing for 177 minutes. He did score a goal in the UEFA Conference League in fairness but he certainly hasn't played as much as he would've wanted to.
Bryan's contract is up at the end of this season and sadly for 'Jo-berto Carlos' I think his time at Fulham is up. At almost 30, Bryan will want to be playing regularly with rumours of former club Bristol City interested in him this feels like the right time to make the move. Thank you for Wembley, but it's time to say goodbye.
Decision: release.
Ziyad Larkeche
A bright prospect at Fulham, Larkeche spent his season playing for League One play-off finalists Barnsley. While he didn't play any part in the play-off campaign, Larkeche was still a rotation player throughout the season. The left back featured 13 times off the bench and with five starting appearances he ended up with 555 minutes of football played this season. I'm sure Larkeche would've wished to play more but this is still good experience for the youngster. With his contract expiring in the summer, I would get that renewed quickly and send him back out on loan.
Decision: loan.
Kieron Bowie
It's maybe gone under the radar to Fulham fans the season that Kieron Bowie has just had but this feels like a bit of a breakout year for the youngster. Loaned to Northampton Town, Bowie would play 37 times in League Two this season and his eight goal contributions more than helped the Cobblers on their way to gaining promotion to League One.
Northampton Town have already made it clear they want to extend Bowie's loan so this feels like a no brainer. Bowie gets to move up another level and learn in a higher division while still being familiar with a club and needing little to no time to gel in.
Decision: loan back to Northampton Town.
Anthony Knockaert
Oh, Anthony. Knockaert was originally loaned to Huddersfield Town this season but only made five appearances in the opening half of the season. The Frenchman was then shipped to Greek side Volos where he made a further nine appearances and scored one goal in a 5-1 loss to Panathinaikos. With his contract up in the summer this feels like a forgone conclusion.
Decision: release.
Ivan Cavaleiro
Another of Scott Parker's Championship signings, Cavaleiro has spent this season playing football out in Alanyaspor. The Portuguese winger has played 22 times this season bagging two and assisting five. At 29 years old, Cavaleiro will want to be playing regular football and with his contract out in the summer, this feels like his chance to move on.
Decision: release.
Rodrigo Muniz
You've got to feel for Rodrigo Muniz; two Championship seasons in a row where he's been second fiddle to the eventual league top scorer. Muniz was brought in by Chris Wilder last August and started the season relatively well scoring two in his opening four games. Wilder was replaced by Michael Carrick in October who clearly didn't favour Muniz given he only started one league game from mid-October onwards.
I do think there is a player there, and at 22 he will certainly only get better. Muniz will probably want to find a place he can call home and get regular football and it wouldn't shock me if he was sold. I would like us to keep him for one more year and give him another loan to see if he develops further.
Decision: loan.
Jay Stansfield
One of the real stories in English football this season, after playing well in a 3-2 win over Brentford, Stanfield was sent on loan to boyhood club Exeter City where his late father made a name and became a legend for the now League One side. Stansfield did quite well for the Grecians, bagging nine goals across the loan spell including a hat-trick on the final day. There will be some calls for Stansfield to return to Fulham next season, especially with Kebano and Willian's contracts still not sorted. For me, I think he needs one more loan at a Championship side before he starts featuring regularly for Fulham.
Decision: loan.
Overall, a good season for our players loaned out. Some with a bright future at the club and others… not so much. Now is an opportune time to remove some dead wood taking up big wages and focus our attention on the next generation of players coming through at Fulham.