Positives and negatives: Fulham 2-2 Crystal Palace
Written by Cameron Ramsey on 22nd May 2023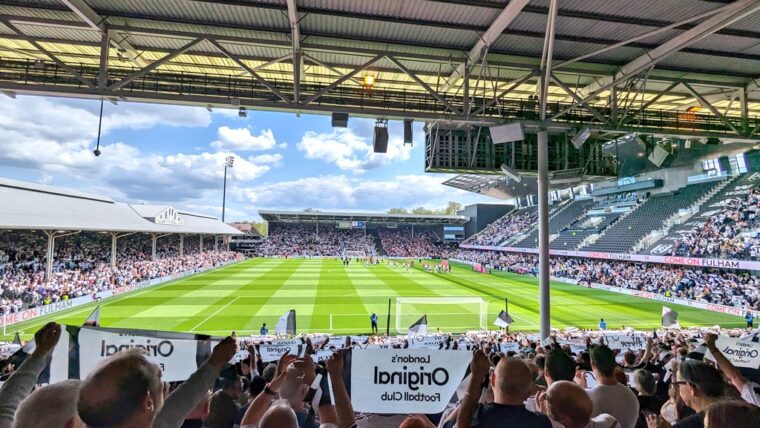 The curtains may have closed at the Cottage but Cam's work's far from over. Here's this season's penultimate positives and negatives edition, ready when you are.
Roy Hodgson's return to the Cottage ends honours even. Spoils shared with a well-organised Crystal Palace isn't bad going – not at all – and while European football is now definitely (definitely) off, we can still appreciate an extra point that takes our overall tally to 52, because for a newly-promoted Fulham side that was destined to fail miserably, our accomplishments this season have been staggering.
Lightweight scarves painted the stands, impassioned post-match statements were sounded by our on-field darlings, and our devotion to Marco Silva's project this season's given the lads all the motivation they needed to survive, and survive handsomely. We may not have broken our Premier League points tally, but the season isn't over yet, and we've a score to settle next Sunday against Manchester United.
Just 90 minutes. That's all that's left of the 2022/23 campaign and until now, we've adored almost every second that's passed us by and at home, beautiful memories have been made. We finally toppled Chelsea, we snatched a late, late win against Brentford, we asserted ourselves from the get-go as Liverpool came to town and we never looked back, not ever. We're going to finish 10th, we're going to end the season ahead of Chelsea by a humungous distance, and we're going to do it all over again at our spectacular auditorium in August as a respectable, ambitious top-flight club. What a journey, what a ride, what a feeling it is to savour laps of honour instead of painful goodbyes.
Positives
Mitro at the double
He may have taken a hefty bashing in the early stages, but Palace's heavy-handedness didn't knock Aleksandar Mitrovic's composure in front of the target. With 14 goals in 24 Premier League appearances, Mitro's basking in the splendour of a highly satisfactory season, his best in the top-flight and after serving an eight-game ban, the clinical Serb's definitely back to his net-busting best, having dispatched a powerful brace upon his Craven Cottage homecoming.
From the spot (not the volcano between his eyebrows), Mitrovic slammed Fulham level with a strike that stayed hit. Top left, laces sizzling, he wasn't going to fluff his lines from 12 yards this time and his second goal was diverted with similar conviction. Our set-pieces weren't always on point but just after the hour mark, Willian's whip was bang on the money. Greeting the Brazilian's free-kick with a primed forehead, Mitro's bullet header whistled past Sam Johnstone; the contact was exact and if he hadn't popped that monster zit of his, this definitely would've done the trick.
Each of Mitro's Premier League goals should be treasured. This is a player that's constantly undermined, written off by ill-informed pundits and armchair specialists and even with a lengthy banning order on top of fitness issues after the World Cup, his return this season's been immense and since his return at St. Mary's, he's stuck two fingers up to his doubters and you just know that he's going to be properly fired up for our trip to old Trafford as well. He was on the sharp end of elbows, he grappled endlessly with Joachim Andersen and when it really mattered, he remorselessly stamped his authority.
Jedi silenced Olise
The baseline for our overall output was average; there weren't too many stand-out performers other than Willian and Antonee Robinson, and it's the latter individual we'll focus on. Pitted against Michael Olise, a winger renowned for deceptive movement, Robinson remained vigilant as he chaperoned Palace's Frenchman and subsequently, our American left-back came out on top more often than not. Kenny Tete's efforts mirrored Robinson's, our right-back's just as deserving of praise however, by my recollection, Jedi's involvement was both intrusive and obstructive, he snipped out potentially critical through balls and he was ready and waiting to launch himself into conflict.
He limited Olise's effect on proceedings; it was a tough test for his defensive credentials and it was imperative that he was switched on for the duration. For Palace's second, ball ricocheted off Antonee, which is unfortunate, of course, but he cannot be singled out because our entire backline was inactive in that particular set-piece scenario and if we're going to weigh-up his outing conclusively, I'd say he was predominant, determined and stubborn. Silencing Olise was his primary duty and he did so, systematically.
Negatives
Questionable defending costs
Both of Crystal Palace's goals could've been prevented. Without Tim Ream instructing and rallying at the back, Fulham's defensive organisation hasn't been overly convincing and more often than necessary, the Whites were cut adrift by the Eagles' swift offensive patterns. Issa Diop and Tosin Adarabioyo is a partnership that holds desirable qualities but between them, there isn't a natural-born leader, a vocal presence that coordinates and frequent breakdowns in communication led to awkward scenarios. Passes were miscalculated, we held onto possession for longer than necessary, which enabled Palace to rob the run of play and when we could've gone forward, we were oddly hesitant.
Palace were willing to squeeze and we resorted to humping aimless clearances up field to relieve self-inflicted pressure. It wasn't just our defensive department that were culpable, though. Tom Cairney was roasted by Eberechi Eze as the Palace hotshot screeched away in the build-up to the visitors' first. TC may have been isolated but it was a tame attempt to prise possession and Odsonne Edouard was unimpeded as he rifled high into Bernd Leno's net. Throughout the game, Eze, Michael Olise and Jordan Ayew were able to advance with relative comfort as we obligingly stepped off.
There were commendable last-ditch moments to Fulham credit, from expertly-timed interceptions from Kenny Tete to typically robust Joao Palhinha turnovers, the Whites weren't completely outwitted but we were ambushed for their first of the afternoon, straight from a corner of our own, we were flat-footed as Joel Ward bundled in their second – following an excellent block from Leno – and we were visibly panicked as we attempted to construct play from deep. Of course, Palace's attack is laden with effective dangermen but for whatever reason, we made it far too easy for them to wrench us open. Whenever they got beyond the halfway line, things felt ominous and they were helped greatly by our questionable shape and our sloppy passing.
Ref's a muppet. Nuff said.
I'm getting pissed off with myself for entertaining pathetic officiating, but needs must. Josh Smith refereed Saturday's draw and his rule was soft as shit. Where do the PGMOL dig these turnips up? Disdain rained down from the terraces as he blew up needlessly at Palace's blatant play acting; he couldn't wait to get his can of shaving foam out in the visitors' favour and the vast majority of his decisions were dodgy as sin.
We can attribute an assist to Smith, because he granted Palace an extremely dubious free-kick which they equalised from and the stupid smirk on his face told the tale in detail. He's another arsehat to add to my person list of hate. Football, within reason, is a contact sport, but at the slightest contact he'd halt play and for heavier collisions, he'd turn a blind eye. Absolutely reeks of ineptitude but that what we've come to expect from "the best league in the world", the disparity's embarrassing.
Get Graham Rodber out there. Sunday League's finest would do a better job than these fraudulent professionals, with their lack of height and flagrant favouritism and I'm being deadly serious. There's a bloke in H5 that prides himself on berating officials at the top of his lungs and on this occasion, like many others this season, I agreed with his blue-faced censure and I gladly joined in, alongside countless others that are sick to the stomach with water closet standards. Sort it out you gutless muppets.