Do Marco Silva sides always suffer late-season drop-offs?
Written by Will Gardner on 28th April 2023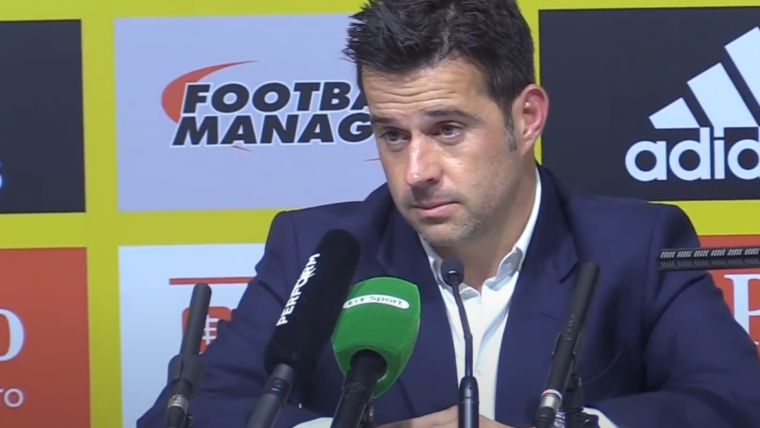 Will Gardner looks back through history to see whether or not a tail-off in form is a hallmark of a Marco Silva side.
We find ourselves in a pretty odd spot; our confidence had picked back up following wins against Leeds and Everton, but after losing four in the league on the bounce prior, a loss against Villa and now the daunting task of heading to title chasing Man City, we could fall back into a bit of a lull.
This isn't new territory for Marco Silva's Whites, as we hit a similar rocky patch while the team were on the beach last year after securing automatic promotion, but I wanted to have a look if this was a pattern among Silva's previous sides, or if it's just a Fulham trait we've picked up after achieving our goals swiftly in both years of his tenure.
I've taken a look at his time at Hull, Watford and his first season at Everton to judge whether the late season lull is a Marco Silva curse, or if it's all just a coincidence. 
Hull City
There was a lot of talk about our man Marco when he first signed for Fulham back in the summer of 2021; people remembered the drama of his time at Watford and Everton but one role that was largely overlooked was his time at Hull.
Brought in on 5 January following the sacking of Mike Phelan, Marco was tasked with the job of keeping the newly-promoted Tigers in the Premier League. It was a tricky job; they were sitting 19th in the league and had three wins in 20. A team consisting of Harry Maguire and Andy Robertson were floundering towards the bottom of the table and in desperate need for someone to sort them out and it briefly looked like Marco was the man.
Winning his first league game in charge with a 3-1 win over Eddie Howe's Bournemouth, the team immediately lifted themselves up a spot to 18th. The great start continued for Hull despite a brutal fixture list where they had to go away to Chelsea, away to the mighty Whites in the FA Cup, then home to Man United for the second leg of the EFL Cup semi-final, back to Old Trafford in the league and then home to Liverpool. Remarkably despite this run of tough opponents they only lost two of these games, and one of them was against a Fulham side in the Championship, where we tanked them 4-1 thanks to goals from Sone Aluko, Chris Martin, Sess and Stef Jo.
The point that should be taken away from the above is that they managed to beat Man United in the cup (but fell out of the competition on aggregate after losing the first leg), drew with United away at Old Trafford and then beat Liverpool. Marco had turned this team of all sorts into a unit who were able to compete at the highest level against the highest teams. But we still rinsed them 4-1 at the Cottage.
During this run of tricky games their task was made even more difficult due to the injury of their star summer signing Ryan Mason. After signing for £10m in the summer, Mason was seen as the key in the middle of the park for Hull and the orchestrator for their attack, however stumbling it may have been before Marco's arrival. But a clash of heads with Gary Cahill left him with a fractured skull and in the hospital for more than a week.
Then their other key midfielder, Robert Snodgrass, who had contributed more than 50% of goals and assists throughout the first half of the season, was sold to relegation rivals West Ham. This left Marco with the unenviable task of some last-minute recruitment and bandaging together an already ramshackle and struggling side.
Despite this Hull managed to win three of the next seven games, and after beating Middlesbrough 4-2 on 5 April they found themselves out of the relegation spots for the first time since the 22 October and that's where they would stay until the start of May, when a 2-0 loss at home against already relegated Sunderland condemned Marco to his first home defeat. 
This meant that they went into the penultimate day of the season with it all to play for, and it is safe to say that it all went wrong for the Tigers. They fell to a 4-0 defeat to Sam Allardyce's Crystal Palace and had a total of zero shots on target despite having a whopping 70% possession. A Big Sam masterclass and a win for Swansea meant that Hull were relegated with one game left. 
Was there a lull?
It's probably not fair to say that Marco had a late season lull with this team that were odds-on to be relegated when he took over, but poor results in crucial games like losses to Leicester, Stoke and Sunderland in the latter half of the campaign meant that despite his best efforts, the Yorkshire side would be back in the Championship. The fact is when it mattered most, they fell away. In his last game in charge of the Tigers they lost 7-1 at home to Spurs.
Drop in form period: GW32 – GW38. Result: relegation
Watford
Could you even call this one a late-season slump when he wasn't there late in the season?
Despite Hull's relegation, Marco won a lot of plaudits and he swiftly found himself at Watford. And what a start he had for the team that finished 17th the year earlier.
Only losing once in his first eight games in charge Watford found themselves as high as fourth after a 2-1 win at home to Arsenal, in what was the famous "cojones" win that saw some beef build between Arsenal and Troy Deeney. This run of form caught the eye of a certain Merseyside club who, like Watford, have a habit of chopping and changing managers in the middle of the season. 
The flirting between Marco and Everton saw Watford's form falter and they started to slide down the table. I won't go into the details surrounding this love triangle between Marco, Watford and Everton, but from the outside, a team that finished 17th a season earlier, shouldn't start panicking just because they're 11th.
What irked the Watford hierarchy was the impression that Marco didn't want to be there anymore, and the results reflected that. This was especially prevalent during December when they lost four on the bounce to Burnley, Palace, Huddersfield and Brighton, all teams that they should've got a result over as their early season form indicated. What's never mentioned during this period when Watford were struggling was the fact that they had a number of injuries and suspended players. Key players like Troy Deeney and Abdoulaye Doucoure were missing for these run of games and they could only be described as the spine of the team.
Following a limp 2-0 loss against Leicester in January, Marco was sacked by Watford and they issued a sassy statement that blamed the "unwarranted approach" of a rival Premier League team as the reason for the decline in form. Not the fact they had a favourable opening six games and then a number of injuries, obviously.
Was there a lull?
The drop in form was dramatic; Watford only picked up five points from a possible 50 throughout December and January, and calling that a lull may be an understatement. Even despite a strong start, form falling off a cliff that dramatically would always raise alarm bells and certainly at a club like Watford. While it's easy to make the argument that Marco had his head turned by Everton and that caused the drop in form, I think the more glaring and alarming fact is that without key players the team crumbled and looked lost even against the poorest opponents. Strong back-ups in key areas are crucial for us moving into next season.
Drop in form period: GW14 – GW24. Result: sacked
Everton
After a drawn-out saga in the press, Marco finally found himself in the Everton dugout, and looked to build on this perpetual dream that Everton have of being a club that challenges for things, despite never once challenging for anything. 
Things started pretty brightly for the Toffees after he took over. Silva once again started unbeaten after a few matches in charge and Everton found themselves in sixth.
But the good times did not continue and throughout the winter months, with only one win in December, a 5-1 boxing day win away at Burnley following a 6-2 home defeat to Spurs on Christmas Eve Eve. Everton found themselves slipping out of the European spots and into the bottom half of the table. After a promising start to the season they danced around the mid-table spots from December to March, with four wins during that time against teams around the bottom of the table.
After this mid-season slump they managed to only lose two out of the next 11 matches with wins over Chelsea, Arsenal and Man United. The two losses during this period were a scrappy back-an-forth 3-2 loss with Newcastle and then a 2-0 hammering by the mighty Whites, which ended our nine-match losing streak. I reckon Marco has always had a soft spot for us.
The dreams of Europe slipped away for Everton in the last few games after a draw to Palace saw Wolves climb just out of reach for the Toffees. That meant that Marco was not able to better the finish from Everton under Big Sam, but instead built the confidence ahead of the following season.
Was there a lull?
It's clear that Everton could have been finishing in the top six if it wasn't for that mid-season lull through the winter months that saw them pick up only a handful of points, and even the unenviable result of losing against his former side in Watford. While the drop in form didn't exactly raise alarm bells, it did condemn Everton to another season of mid-table mediocrity and while their strong run in towards the end of the season may have raised hopes for the following campaign, those hopes were swiftly discarded and Marco was sacked on 4 December after a 5-2 loss to Liverpool, with the team sitting in 18th.
Drop in form period: GW14 – GW27. Result: eighth Place (three points off of Europe).
So, should we be worried about the regularity of these drops in form? Yes and no. Drops in form are inevitable for everyone. Having a drop in form after we've secured our goal for the season isn't the end of the world, however frustrating it is to lose against West Ham and Bournemouth. But one thing we certainly should be worried about is the lack of quality and results when key players are missing. Everton also looked abject when they played teams above them in the league. They only won one game out of nine against teams above them at the midway point of their slump.
The things that we need to look out for next season are recruiting players in key positions to provide competition and quality. Alternatively we need to look at how different systems can work when missing key players or when faced against teams above us in the table. We showed some variety in the matches against Everton and Leeds with Dan James and Bobby De Cordova-Reid leading the line and while that may have worked against poorer opposition, it was completely nullified against a resurgent Villa team.
This season has been wonderful; we're mathematically safe and on course for our highest ever Premier League points total, and even if we don't get there how great is it to have a drop in form that sees us move from Europe to mid-table as opposed to falling from 18th to 19th like we've seen in previous years. Let's embrace the last few weeks of this magical season and heap praise upon the genius that is Marco Silva.