Positives and negatives: Fulham 2-1 Leeds United
Written by Cameron Ramsey on 23rd April 2023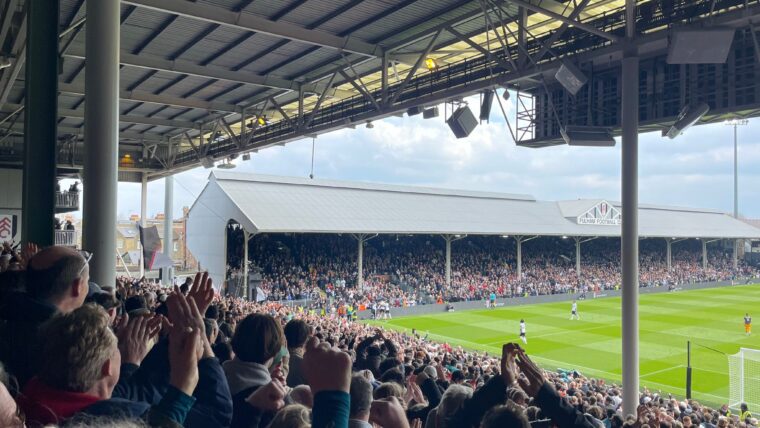 Oh, winning feels so, so good and as ever, Cam's returned to the keyboard to tap up another piece dedicated to three sumptuous points.
Our sudden capitulation at Old Trafford in the FA Cup floored Fulham. Our season had seemingly slumped; we were doubtful of where the points would come from but the reaction we've seen from the lads, especially on Saturday lunchtime, has been dazzlingly defiant.
We have rediscovered our mojo. Leeds United offered next to nothing; their goal was freakishly fortunate and with two wins on the spin, Marco Silva's Fulham are in a very good place and it is soothing to the soul. It's the fastest we've reached 45 points in the Premier League, we've seven more games to go, buoyed by a sense of belief.
We've got a game-in-hand on Brentford, we're six points ahead of Chelsea and our all-time Premier League points record of 53 is very much within our sights. This has been an immense campaign; we are such good value and no matter what happens in the weeks to come, we can be proud of our team because they've excelled from the get-go. Leeds fell apart, again, as the Whites pulled together.
Positives
Wilson's whacking opener
This is precisely what we've been waiting for from Harry Wilson. Reigniting his season at Goodison Park last weekend, the Wales international had brushed off any lingering symptoms of his debilitating injury and he replicated his outstanding Merseyside contributions as Leeds came to town. Two goals in two, Wilson slammed the Whites into the lead in the 58th minute with a bullet that ripped into the roof of the target and as soon as it left his laces, the netting braced itself for a battering.
As Illan Meslier's clawed, the goalkeeper flicked the ball behind Wilson and within a split second the winger had readjusted his posture to rifle home the opener; his technique was exquisite and it was engineered with precision. Bosh. The Cottage was on its feet, as he absorbed his moment the terraces were awash with relief because we all know that when Harry's bagging, the Whites are truly playing to his strengths and we are infinitely better when he's on song.
This could be the beginning of a productive flurry from Wilson. He's a player that feeds on confidence and his exploits in the last fortnight have been ridiculously enjoyable. We're not entirely sure what will become of Manor Solomon, but if the Israeli isn't staying put in SW6, Wilson's more than capable of attaining regular Premier League minutes and at this level, he still has so much to prove to both the club, to us fans and most importantly, himself.
Willian's web of distress
It's fascinating that Fulham have players, such as Willian, that are supposedly entering their footballing twilight years and yet, they're comprehensively outworking athletes that are 10 years their junior. It's never wise to discount Willian, at 34 he's found a new lease of life alongside the Thames and he was a menace along the touchlines. Being barged into the hoardings at the Hammy End didn't cloud the Brazilian's vision, throughout the game he was a stride ahead of his man and he also fashioned key opportunities.
His lofted cross for Wilson's strike was just out of Meslier's reach; it appeared innocuous but it had a cunning purpose and it was capitalised upon. He frequently jinked inside from the flanks to muddle Leeds' shape as they sat back and sharing dead ball situations with Andreas Pereira, his sculpted whip from 30 yards was denied by the fingertips of the Lilywhites' French stopper.
He hasn't really lost his turn of pace, either. Willian caused havoc in possession, he was inventive as he dabbed the ball into his teammates, he fully committed himself as he sized up potential dispossessors and while he's an extremely effective winger, tried and tested, he tucked himself into inverted positions to aid Fulham's sequences and he weaved a web of toil and distress, dilemmas the visitors couldn't shake. Leeds will be glad to see the back of him. He was terrific at Elland Road, he was chaotic at the Cottage and that is all in a day's work for the veteran troublemaker.
Rating Robinson's redemption
He's dropped a few critical clangers in recent meetings and while his season's been fairly fault-free, Antony Robinson's reputation had taken a bruising, but along the left on Saturday lunchtime, the roaming left-back initiated incisive attacks and he also constricted a lively Crysencio Summerville. In fact, both of our goals were devised by Robinson, his insistence to drive through the heart of the park – after selling Summerville for a Twix – prised Leeds wide open and for Andreas Pereira's six-yard smash, he bashed an inviting cross into a corridor within the penalty area which was favourable for Fulham's onrushing attackers.
Expansion's a main characteristic of Jedi's personal skill set. He was a willing ball carrier, in drag races along the left he burnt his marker to spark surging counters and if he'd been beaten by Summerville, he galloped back to impede the Dutchman's advancements. It was a model showing from the USMNT full-back, at both ends of the pitch he was relevant to Fulham's game plan and though it doesn't always work out, Robinson rarely stepped out of line and if he did, he corrected himself accordingly.
So, Antonee attributed himself to both goals, he had the measure of Leeds' wingers and upon a field laden with US exports, the Milton Keynes-born American starred and he certainly earned his stripes back, too. Errors will always drip into his performances but every so often, Robinson's simply unplayable for all the right reasons and he definitely redeemed himself in the early kick-off.
Top performer Tosin
Has anyone else totally forgotten about Issa Diop? Named in Silva's starting contingent for the second weekend running, Tosin Adarabioyo shored things up alongside Tim Ream with a calmness that settled matters and when he was thrust into the heavier side of his profession, he frequently came out on top. There aren't many attackers that can match Tosin in the air, Leeds opted for speculative long balls but they came straight back, because our dominant centre-back always climbed highest.
He screened across the back without hesitation, solid blocks were complimented by even bigger interceptions as the visitors tried to unlock our defensive line but like a security guard on call, Tosin was first on the scene and he stamped out drama before it became all too much. He's been accused of being too casual, consistency hasn't been his greatest asset this season but currently, the 25-year-old's brimming with self-assurance and it's influencing his performances hugely.
Leeds' strikers were nullified by our central pairing, Ream's top-flight resurgence has been profound although Tosin's recent upturn in form is just as welcome. He's a player with vast potential, his passing range is variant, his positional awareness is improving considerably and he's a very difficult obstacle for attackers to bypass, because he covered space gainfully and he promptly cut off inroads behind Kenny Tete, meaning Rodrigo's afternoon was muted and those beside the Spaniard, including Brenden Aaronson and Jack Harrison, were restricted.
King Keba returns
There's no greater sight than witnessing Neeskens Kebano terrorise full-backs to within and inch of sanity and after a lengthy setback, due to a ruptured Achilles, King Keba' returned to matchday matters in the 94th minute and the reception he received was as regal as they come.
There's nothing to report where Kebano's involvement's concerned; he wasn't on the pitch long enough to have a telling impact but when he did get himself on the ball, each touch was greeted by encouragement from the masses and that signifies just how loved, appreciated and adored he is by everyone affiliated with our club.
"Oh Neeskens Kebano" rang out as he warmed up under the stooping Riverside stand, his recovery programme was understandably drawn out but as he admitted after the final whistle, he was desperate to don our famous jersey before the season came to a close and as he regains his fitness, we'll be behind him every step of the way because if there's one thing we've all missed, it's Schaffer77's bamboozling footwork, as he snakehips himself into promising situations.
Negatives
Got nothing again
Like last weekend's edition, I've literally got nothing to groan about. Other than Peter Bankes's strange decisions at certain junctures, I can't bring myself to pinpoint anything because it would be such a reach if I did. We won, we did so via our newfound plan B, so if you've a gripe you'd like to elaborate upon, be my guest.
I'm supposed to be balanced with these articles, but I ain't gonna be that guy, so I'll leave it to somebody else if they've any reservations to make clear. Three points in the spring sunshine – what more could you possibly want?