Positives and negatives: Everton 1-3 Fulham
Written by Cameron Ramsey on 16th April 2023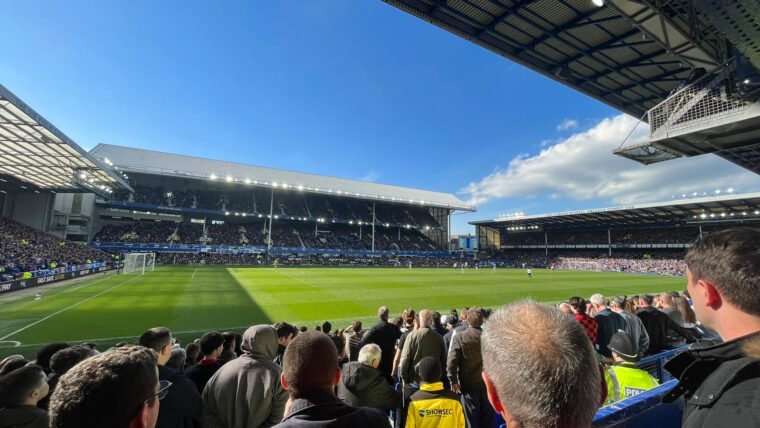 A two-goal winning margin, Chelsea and Brentford losing, Saturday was truly black and white and Cam's here to let you all know about it.
Decades of nothingness at Goodison Park – those days are behind us. Nobody saw this result coming; we may have beaten Everton the last time we visited on Valentine's Day 2021, but two consecutive dubs on the blue half of Merseyside? That's unspeakable. We'd been terrible in games gone by, our season had seemingly hit an ebb, we couldn't envision three points on the road – not there – but the game works in mysterious ways and that's why we love it so intensely.
Marco Silva wasn't on the touchline, although another man who knows our hosts well, Luis Boa Morte, conducted on the gaffer's behalf and he instructed us to a sixth away victory of the season and that is a record for Fulham in the Premier League. Another milestone surpassed during the Silva era. Our support was vast and in fine voice, Sean Dyche's stubborn practice was swept aside, it really was an outing to savour and as we can all appreciate, weekends are infinitely better with three well-earned points to boot.
We've been there: the Toffees' predicament is terrifyingly familiar, but for the record I genuinely think the Blues are in serious trouble, and not even Dyche himself can bail them out. They were dreadful; they mounted a futile fightback and at home, a place that's intended to be a fortress, they were second best in every aspect. As they dangle a place above the drop zone, they've got to dig deeper and while I'm sympathetic, I'd rather it be them than us and as we're undeniably safe, we can offer our condolences with a wry smirk as we bask in the top 10. You Whites!
Positives
Silky, sexy football
We shaded possession away from home at a stadium that isn't meant to be kind to us but, as the score line speaks for itself, Fulham were very much in control at Goodison and for the most part, our passing sequences were sexy and our shape both with and without possession was regimented. A reaction was needed more than ever; we'd fizzled out of our previous meetings against teams we really should've troubled and as the Toffees stepped off in the early stages, the Whites set about dismantling Dyche's tentative game plan and to our utmost credit, we executed our own hypnotic procedures expertly.
The game shifted periodically, we momentarily lost our grip on matters, but even after Dwight McNeil equalised so emphatically, we reset, regrouped, and as Bernd Leno smothered clear-cut opportunities, Everton's belief shrunk as our persistence paid off. We were far more balanced than we have been, each department combined to synchronise our approach, from neatly formed triangles to long-range pings, Fulham had diversity, whereas Everton were detectable.
It was incredibly pleasing to witness Fulham knock the ball about with confidence, with purpose, and when we're enjoying ourselves as much as we did on Saturday, we're a side that can, and will, inflict pain on demand. Practical and pretty, the Whites surpassed that all-important 'magic 40' mark in silky style, it was complimentary to the English top-flight and its reputation for elite football and it's a collective performance that proves, unequivocally, that this Silva side is not on the beach and it is not as predictable as first thought.
Plan B Dan
Last week, as West Ham United came to town, Fulham's go-to option of shoving a lone striker up top really didn't go well at all. Carlos Vinicius is easily containable, our insistence to utilise him constricted our offensive invention and in the run-up to Saturday's encounter with Everton, we called for a solution and it ultimately entailed improvisation. Deploying a false nine hadn't always come to fruition but Silva, from his vantage point in the stands, was willing to give it another go and that's where Dan James came into view. If you blink, though, you'll miss him.
Behave – James leading the attack didn't scream resolve, it sobbed disaster, but it soon became apparent that through the middle, varying his movement from one flank to the next, the Toffees were not prepared and they were bundled into the passenger seat, belt-less, as the Wales international took them on a white-knuckle joyride to hell and back. Slipping in behind both James Tarkowski and Michael Keane, James's searing pace had the hosts back-paddling for dear life; they weren't equipped to withstand his interchangeable runs and speed and he was also present in each of the Whites' goals.
For our first, he nipped in ahead of James Garner to prod the ball into Harrison Reed's vicinity, he kept play moving pragmatically in the phase leading to the second and he sealed a comprehensive victory in the 68th minute with a calm stroke across the target. His first touch was fortunate as he watched the ball drop over his shoulder but Everton's central defenders were visibly rattled, they were helpless and they were nowhere near the Leeds United loanee as he drove it into the bottom left.
Prior to kick-off, I mused that James was going to morph into a prime Eden Hazard, 2017/18 edition, although I didn't think he was actually going to switch it on. Could he be the answer in Aleksandar Mitrovic's absence? Is he the embodiment of a convincing plan b? There's cause for debate but he certainly made his case known with aplomb and now he's got the masses begging for more of the same. He'll miss our meeting with Leeds, of course, so the experimentation continues and I cannot wait to see who gets the nod.
Wilson's punchy intent
Last season's Harry Wilson came out to play in the spring sunshine and as his Welsh compatriot ripped into the Toffees, the Liverpool academy graduate was also too hot to handle. Fielded on the right, Wilson retrieved possession and instantly dipped inside his marker, his nifty footwork was coupled by offensive intent and the hosts couldn't do a single thing to stop him from altering proceedings to his team's benefit.
The brainchild behind the opener, Wilson's readiness to commit was relieving and as his swirling effort crashed off the foot of the post, Everton's defensive line was compromised and the Whites took full advantage. The Blues were disturbed by Wilson's manipulation, they remorselessly hurled themselves into challenges to upend the reawakened winger but hard knocks and close shaves didn't discourage him as he scanned for vacant gaps to infiltrate.
Yes, all three of Fulham's defining strikes were extremely well worked and for our second, Harry's anticipation just before Willian's knock down was peerless. Rounding off a tasty pattern of play with a punchy net buster, Harry was already deserving of praise, he was everywhere he needed to be and he did all that was required of him but as he finally opened his PL account after months of obscurity during his drawn-out recovery from injury, his dormant game-changing quality was categorical and now, I sincerely hope he kicks on even further in the closing weeks of the schedule. Tell me, how does that song go again?
Toffees fail Tete test
We're biased, our opinion of Kenny Tete is always going to be glowing, however there probably isn't a right-back in the Premier League that's as reliable as the Dutchman at this instance and with livewires such as Demarai Gray to subdue, he wasn't going to resist the challenge. Gray's turn of pace is his greatest asset, he can spin full-backs into retirement if he's shown a green light but Tete put the dampeners on the winger's eagerness and moving forward, our dependable right-back was supportive and productive.
Touch-tight, antagonistic, Tete had the measure of the Toffees' attack along his right-hand side and his perception of potential danger was impeccable. He rolled his man repetitively, he shadowed runners stride for stride and he was economical with his passing. He tempered Fulham's control at the back, he was a constant option that was mindful of his positioning and though his crossing wasn't always on point, he contributed to our final two goals of the afternoon supremely.
He found Willian at the back stick with a cleaver dink, just before the Brazilian plated it up Wilson and he spotted James's dart, lifting an inviting ball into the attacker's path to construct the defining winner and the weight on it was flawless. It was his fifth assist of the campaign, his non-stop exertions at both ends are so, so crucial to Fulham's strategics and where other right-backs falter, Kenny flourishes. He is a professional that truly understands his function, he isn't lost in translation between attack and defence and he adapts to differing scenarios and opponents without indecision or delay. Not many sides pass the Tete test and Everton were his latest casualty.
Reed's clinical reward
In recent weeks, Reed hasn't necessarily been his all-action self in the middle of the park and in meetings where Fulham have faded, his time on the turf has often been cut short. Many doubt his top-flight credentials; he's a workaholic, and while he's certainly a trying defensive mind, his involvement at the business end's occasional and he is culprit to the odd mistake in basic scenarios. Then again, who isn't? There were moments where our double pivot of Joao Palhinha and Reed were ambushed, possession was snatched by Everton's press but they both snapped back immediately, although it's our number six's impact at higher altitude that's directing conversation.
Given his fundamental role, I suppose Reed isn't the first figure we should expect to rattle the stanchions, it just isn't his primary responsibility. But as Palhinha enabled him to roam, he weaved his way into promising positions and the manner in which he coolly slotted Saturday's opener past Jordan Pickford was enlightening, because as he's actually showcased previously, there's definite poise in the Ginger Iniesta's locker when he's lurking in the right place at the right time.
He now has three goals for the Whites this season, and that makes it three goals for the club in total, but it's a trio of masterfully dispatched finishes and the technique behind all of them is exceptional. Holding players really aren't supposed to slam the ball home with such conviction, they're meant to bundle in scrappy pokes within crowded penalty areas however Reed's timing and awareness has been refined and it has brought reward. Tireless, cooperative and clinical are the newest buzzwords associated with Harrison and they describe his outing on Merseyside entirely.
Negatives
Nothing of note
There's nothing of note I can possibly add to this article to make it a conventional positives and negatives. If you've anything you'd like to grumble at, be my guest. I'm all about good vibes today, baby, and I'll carry that with me throughout the working week and into our lunchtime affair with Leeds. Shove the highlights on, whack out the barbie, drink it all in and enjoy it while it lasts.