Player ratings: Everton 1-3 Fulham
Written by George Rossiter on 16th April 2023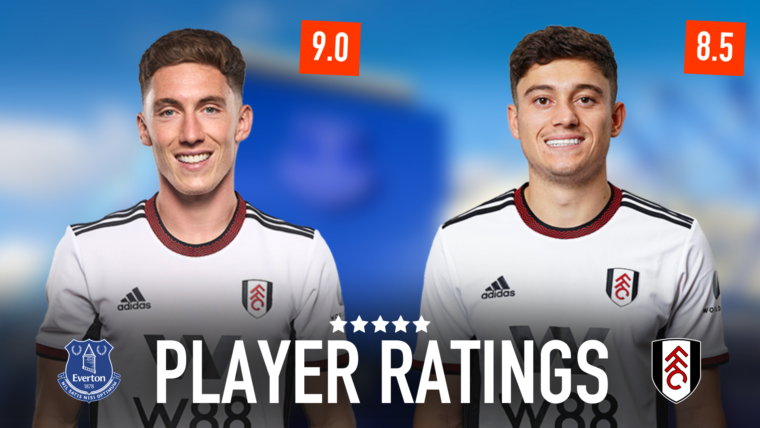 George Rossiter assesses the boys' performances on the road on Merseyside.
Fulham returned to winning ways at Goodison Park after five straight defeats in all competitions. After a fairly even first half, Luis Boa Morte's men took control in the second 45 to go back to London with all three points. The whites now sit in 10th, three points clear and a game in hand ahead of, *checks notes*, Chelsea.
Bernd Leno
Most goalkeepers would have struggled to reach Dwight McNeil's effort, which came through some frantic defenders and into the bottom corner, so Leno certainly doesn't come in for criticism here. While the second half was quieter in our own area, the German made a few good stops in the first half to keep Fulham in it, including a close-range effort from Neal Maupay. 7/10
Kenny Tete
For all his consistency, this was Tete's best performance in recent weeks. Even more than normal, the Dutchman was up and down the right flank relentlessly, allowing the returning Harry Wilson to cut inside and exploit the gaps between Mykolenko and Everton's left-sided centre-back. He was brilliant defensively, as we've come to expect, and his ball over the top to Dan James for the third goal was spot on too. 8/10
Tosin
Just ridiculously dominant in the air. It's so good seeing a player that gets such an enjoyment from defending, and specifically when the ball is constantly coming into your box where Tosin won everything. His distribution is getting there too, his long diagonal passes we all love were on show, often to Willian, but on top of that he seems to be shaking off that nervousness he's previously had in possession when being pressed, which is really reassuring. The Diop verus Tosin debate will only continue while both continue to show their worth when they play. 8.5/10
Tim Ream
If Tosin was the man winning everything in the air, then it was Tim Ream winning it all on the ground. I know it's boring to bring up his age so often, but it only makes it all the more impressive when he's winning so many duels and getting to 50/50s quicker than our opposition's attacking players. His proactive defensive style continues to be faultless. 7.5/10
Antonee Robinson
Certainly an improved performance after the West Ham game last weekend. While not every cross found its intended destination, it was encouraging seeing variation in his delivery, often adapting to a lower ball to cater to a smaller attacking line-up in height. Defensively, Jedi was solid too. When Godfrey came off and more space became available, his overlapping runs down the left were particularly effective as Fulham looked to kill the game. 7/10
Joao Palhinha
A strangely sloppy first half from Joao. He never looked comfortable on the ball, exemplified by losing the ball in the lead up to Everton's goal. His second half was better, which probably coincided in the whole team's upturn in performance, looking more comfortable in possession and stronger in the tackle. Overall, however, one of his weaker games in the black and white. 6/10
Harrison Reed
It's been said a lot this season, but it's brilliant seeing the Ginger Iniesta add goals to his game. This new knack of finding himself in the right place in the box at the right time is an almost Lampard-esque trait (sorry) and another example of how Marco Silva has developed the game of one of his players. As always, Reed was everywhere for 90 minutes, following up his insane performance at Goodison in the lockdown season. 8/10
Andreas Pereira
Pereira wasn't awful by any stretch of the imagination, but my God he needs a rest. Some of his passes looked sloppy and didn't find their targets, creatively there wasn't much coming from him and he should've done much better when the ball came to him on the penalty spot in the second half, even if it was a corner, it was going miles over. With Fulham safe in tenth and with the likes of Lukic, Cairney and Harris fit and available, the Brazilian surely deserves a rest now. 6/10
Harry Wilson
This is the winger we remember from our title-winning season! It was good to see the Welsh Wizard back and just looking confident with his game. He took his goal well in the second half and had the post and Pickford not prevented him in the first half, he may have had a hat-trick on another day. All day he had the beating of Mykolenko, he worked well with Tete down the right and if this form continues, he'll play a big role in the run-in. 9/10 – Man of the match
Willian
The Brazilian's football intelligence is just outstanding, he oozes class in everything he does. This was evident in how he played against different right-backs in front of him. When Godfrey pushed up tight to Willian, he cut in and ran around him. When Patterson came on and afforded Willian more space, he ran at him, past him and used Robinson's overlap more often. He manipulates space wherever and whenever he sees the opportunity to. His assist for Wilson's goal was class and composure in bucket loads. Give the man another year. 8/10
Dan James
Well, well, well. Who saw that coming? Carlos Vinicius must've been sat on the bench seeing us play to a different striker's strengths wondering what he has to do to get a game where we play the ball into his feet for 90 minutes. James was brilliant. He ran the channels non stop for 90 minutes, and even when he struggled to impact the game, he stuck to the plan and got more success in the second period. On the ball, he used his pace and trickery brilliantly to get the better of the Everton defence. His goal was brilliantly well earned and taken really well. Who'd have thought we'd have been sat here gutted that he's not available for the Leeds fixture next time out. 8.5/10
Substitutes
Tom Cairney and Bobby De Cordova-Reid (79' for Andreas Pereira and Willian)
Both came on and contributed to continuing our attacking momentum, frequently showing for the ball both centrally and out wide, taking it to the Everton defence and looking to create until the final whistle. 7/10 for both
Sasa Lukic and Carlos Vinicius (85' and 90' for Harrison Reed and Dan James) came on too late to be fairly rated.