Player ratings: Fulham 0-1 West Ham United
Written by George Rossiter on 8th April 2023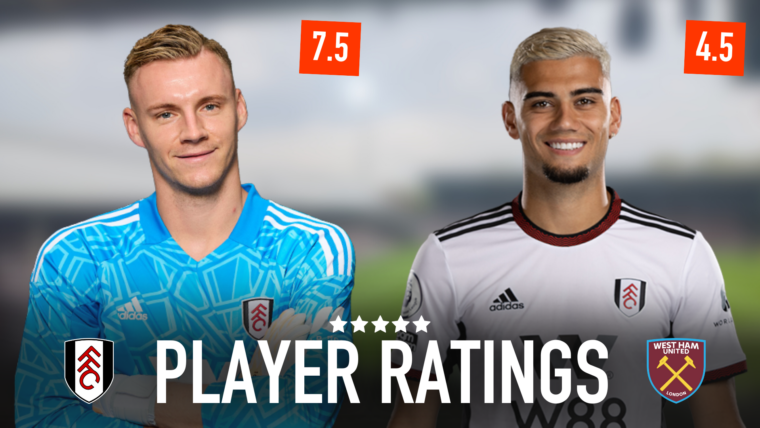 George Rossiter returns to reflect on Fulham's latest league defeat.
It's five defeats in a row for Fulham in all competitions, who failed to make 76% possession count for anything at the Cottage on Saturday afternoon. An unfortunate Harrison Reed own goal set the tone for what was a hugely frustrating game for Fulham. A tough away trip to Goodison next week against Sean Dyche's Everton could further frustrate the fanbase if the whites continue to struggle to create anything going forward.
Bernd Leno
It's hard to know what a keeper must feel when the one time the ball comes near your goal in the first 45 minutes, your own player slides it into his own net. Leno was one of only a couple to come out of this game with any credit, however. His saves from Ings and Cornet in the second half stopped a frustrating defeat from being embarrassing. 7.5/10 – Man of the match
Cedric Soares
The Portugal international was a surprise inclusion in the starting line-up. Defensively he was solid and never seemed to be troubled by the West Ham frontline. His delivery going forward wasn't brilliant, but certainly not something to worry about considering the state of the crossing of certain others. Don't be surprised to see Cedric more in the run-in, as Tete's injury history may lead to another couple of rest days where needed. 6/10
Tosin
Tosin, another surprise addition to the side in place of Diop, was probably the other Fulham player coming out of this game with credit in the bank. While we have worries over his ability on the ball, today he looked comfortable and often started attacks with positive passes into our midfield. On the rare occasions the ball was in the box at either end, Tosin was good in the air and used his height well. 7/10
Tim Ream
Ream had a really quiet game with very little to do across the 90 minutes. While he may have enjoyed it as much as us fans, he may as well have drank a cup of tea and watched the game in front of him. The lack of action coming his way probably contributed to a couple of lapses in concentration, including a moment in injury time where a slip-up allowed Cornet through on goal. 6/10
Antonee Robinson
Pardon the pun, but watching Robinson play today made me really cross. Time after time the ball found itself at the feet of the American left-back, and time after time it ended up in West Ham's possession. Robinson's deliveries were consistently abhorrent. For all his improvements under Silva, the fact that his final ball is still as poor as it was when he joined the club is actually quite worrying. A really poor performance in general. 4/10
Joao Palhinha
It's strange, because Palhinha was by no means bad today, but in a game where your team has such an overwhelming majority of the possession, a bulldozer of a midfielder is bound to have less of an effect on the game. That's probably why Palhinha appeared slightly anonymous in Fulham's midfield, but he still moved the ball nicely and there's not really room here for criticism. 6.5/10
Harrison Reed
Harrison was hugely unlucky to see Jarrod Bowen's cross into the six yard box come off his leg and into his own net. Reed struggled to get onto the ball throughout the first half despite Fulham's dominance in possession, which led to his half time substitution for the more naturally creative Tom Cairney. 5.5/10
Andreas Pereira
It's been said on the podcast recently, but we need to talk about Andreas Pereira. His pressing is good, but after a while, it depletes, often because he seems to tire quickly. While his set play deliveries are good, his output for his position in open play is poor. We dominated the ball today, and our man  in the number ten position created absolutely nothing of note and wasted our best chance when one-on-one with Fabianski. 4.5/10
Bobby De Cordova-Reid
It felt like Bobby was really quiet in the 45 minutes he was on the pitch. All the play down his side in the first half seemed to be between Reed and Cedric, with De Cordova-Reid spending too much time in more narrow positions, which hindered him. 5.5/10
Willian
While he didn't have a huge impact on the game, nobody did, Willian probably looked the most likely of the attacking trio to create anything of note throughout the game. Occupying more spaces than most, spending time both on the touchline and drifting inside, even if to no avail. His return from suspension will be a big help if Fulham are to pick up form towards the end of the season. 6/10
Carlos Vinicius
Vinicius is ridiculously difficult to judge. While he'll undoubtedly continue to be a scapegoat without the goals and impact that Aleksandar Mitrovic produces, it's still too harsh to suggest he has nothing to offer. No striker will score goals if they don't get the service, and like his pass to Pereira in the second half today, he again proved the ability he has with the ball at his feet. Something has to give here, and a long run in the team might just give us some answers. 6/10
Substitutes
Tom Cairney and Manor Solomon (45' for Harrison Reed and Bobby De Cordova-Reid).
Both Cairney and Solomon did their best to get on the ball as much as possible, and certainly did so more than the players they replaced at half time. However, like the rest of the Fulham side, both failed to create anything clear cut. 6/10 for both
Kenny Tete (68' for Cedric Soares)
Tete didn't impact the game like you had hoped he might have with fresh legs and the quality we know he possesses. 6/10
Harry Wilson and Dan James (85' for Willian and Andreas Pereira) came on too late to be fairly rated.