How important is it to score first in football?
28th March 2023
It's no surprise that if you score first in a game, you're in a better position to win at the end of it. This season in the Premier League, Fulham have scored first 12 times. The Whites have gone on to win nine of those games, drawing one and losing twice. And if you're interested in making informed betting decisions, understanding how to interpret this sort of data can be incredibly valuable.
Live football betting is popular because it allows people to use their knowledge of the game to make bets in real time. By analysing old data, we can guess the probability that the first team to score will ultimately win the game, which can inform your betting decisions.
To develop a successful live football betting strategy to place a bet on Fulham, you must first understand the basic bet types. Once you grasp the concept of odds, you can begin to explore more advanced markets and experiment with Over/Under betting and Handicap strategies. Finally, with practice, you can use data to make informed betting decisions and increase your chances of success.
What is the chance that a team wins after scoring its first goal?
Over the last seven complete seasons in the Premier League, the first goal-scoring team emerged victorious in 69% of matches. Draws occurred in 19% of games, while only 12% of teams managed to overcome an early deficit and snatch a win. Naturally, not all teams are created equal, and the win-draw-loss ratios fluctuate when the league table is divided into five tiers.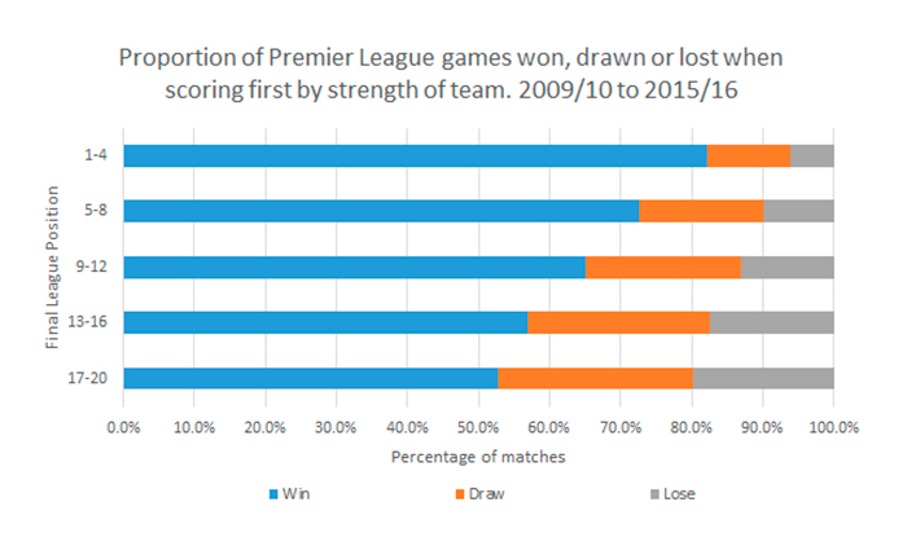 Source: pinnacle.com
If a top-four team scores the first goal, they will likely win the game in four out of five instances. In contrast, a team in the bottom four tiers may have only slightly better odds than a coin toss to secure a victory. For teams in ninth to 12th place, like Fulham currently are, it's about three out of five times, which the Whites are currently out-performing.
How do team abilities affect the comeback chances?
When a team concedes the first goal, the percentages for losses, draws, and wins are clearly reversed. Breaking down the data into four-team tiers yields a similar result to the previous analysis.
The flipped percentages align quite closely with the original numbers. For example, a top-four team loses only 6.1% of games when they score first, while a bottom-four team only manages to win 6.4% of matches when yielding the opening goal. Armed with this knowledge, bettors can gauge the chance of a team losing, drawing, or winning depending on the identity of the first scorer.
What are the chances of a first, last, anytime goal?
The goal scorer market is a popular place to bet – you can either bet on the first or last goal or any other time during a match.
The chances of a first, last, or anytime goal in a soccer/football match depend on various factors, including the skill level of the players, the tactics of the teams, and the overall flow of the game. For example, the chances of a first goal being scored may be higher if one team is dominant from the outset and creates several scoring opportunities.
On the other hand, the chances of a last goal being scored may be higher if the match is closely contested and either team can win until the final whistle. Similarly, the chances of a player scoring an anytime goal depend on factors such as their position, their ability to create or finish scoring chances, and their overall form. A prolific striker or a midfielder with a good attacking instinct may have higher chances of scoring an anytime goal compared to a defender.
Overall, predicting the likelihood of a first, last, or anytime goal in a soccer/football match is difficult and depends on various unpredictable factors.
Takeaway
It can be challenging to accurately predict whether someone will score a first, last, or any goal, given the number of variables involved. But punters can make better-informed decisions when placing bets by understanding the odds and studying player statistics behind goal scorers.
Although the goal scorer market tends to offer poor value, there may still be value found at the lower ends of the market – especially for defenders. Also, by looking around for feature promotions and taking advantage of offers available online, punters can increase their winning chances and maximise their stakes.