Positives and negatives: Fulham 0-3 Arsenal
Written by Cameron Ramsey on 13th March 2023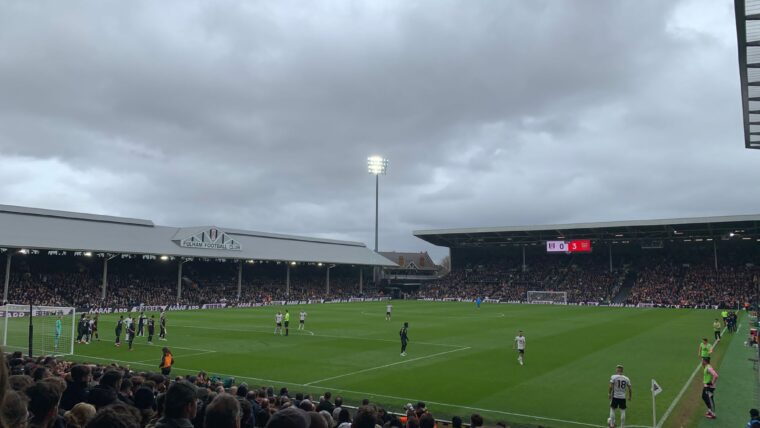 Oh well, we saw it coming. Cam recaps the Whites' routine defeat against Arsenal on Sunday afternoon and frankly, it's one we can happily forget about.
Fulham have conceded 11 goals against Arsenal at home within three Premier League meetings and we've netted once. Whenever the Gunners visit Craven Cottage, they record comprehensive victories and it was business as usual for Mikel Arteta's table toppers in Sunday's early kick-off as they put Marco Silva's faded Whites to the sword.
We've now lost two matches on the bounce, we've almost forgotten what it is to lose games in the top-flight and if we're true to ourselves, we'll admit that this defeat was expected as it follows tradition. The north Londoners are basically guaranteed three points when we meet, Fulham haven't stopped them in 10 top-flight outings so I suppose this isn't anything to be overly concerned by. Or is it?
The lads are dead on their feet; our thin squad depth's been exposed and we aren't improvising when we're fresh out of ideas. Fortunately, while we haven't attained that 'magic 40' checkpoint, we are as good as safe so as we look ahead to the upcoming Sunday, an FA Cup quarter final at Old Trafford, we have to rekindle that rebelliousness that's led us to where we ultimately are now: eighth in the Premier League, at the pointy end of the world's most prestigious club competition and for a newly promoted side that were nailed-on relegation candidates, that isn't bad going, is it?
Take this L on the chops. We've a date with destiny and though we've hit a minor slump, an upward spike is imminent and it could bring some of the greatest moments our glorious little patch of SW6 has ever known.
Positives
Second half drawn
Finding any valid positives to digest from Sunday's loss is a reach, but I guess that after a pasting in the first half, drawing the second is somewhat comforting because a reaction to limit the damage was apparent. The Gunners rampaged towards the Hammersmith End; they were frightening on the break and while they locked in on Bernd Leno's Putney End target after the interval, they were somehow denied a fourth of the afternoon, a goal which seemed inevitable because they were honestly so potent on the offensive.
Our defending, as we'll cover later in broader detail, was shambolic but Leno can still hold his head high, even if those in front of him can't. From clawing destined strikes off the goal line to standing firm under fire, the German stopper's confidence never dipped and he was on-call to lessen the bloodshed. The result isn't to Bernd's detriment, far from it, so his trying exploits have to be upheld to the highest order. He isn't a quitter.
With a deficit to be wary of, we buckled up through turbulent spells, there was very little to admire about our game plan but Bobby De Cordova-Reid did muddy Aaron Ramsdale's palms, Aleksandar Mitrovic looked to be getting back to his usual self after investing a respectable shift up top with restrained support and we also cracked the crossbar with a solid header so it wasn't always one-way traffic and we did just enough to stifle the visitors' sustained dominance.
We did muster the occasional foray past the halfway line, albeit in vain, but it's something to cling onto so we'll run with it. The result is a whopping slap in the face, it's not often we've been sideswiped this season although I'm satisfied we didn't capitulate entirely. We held the league leaders to a 0-0 draw after the break, it wasn't attractive, but it's all we've got to work with.
Negatives
Static defending steamrolled
We were steamrolled by Arsenal, within 45 minutes the result had already been finalised and while we can marvel Arsenal's fluent attacking movement, we have to lament the Whites' statuesque defending. Arsenal's first two goals were headers which could've been prevented, if not for static man-marking and rooted feet. Garbiel Magalhães is a sucker for a goal at the Cottage, latching onto free headers is specialty of his and as he nutted the opener beyond Leno, unopposed, our attention and concentration was sold cheaply and we're a side that's fairly well-drilled from set-pieces, too.
The second wasn't any prettier. Virtually on the goal line, Gabriel Martinelli wedged himself between Antonee Robinson and Tim Ream and as the Leandro Trossard dug out a dink that isolated both Leno and Ream, the Brazilian winger nodded into a vacant net and by his delighted expression, he couldn't believe it was that easy to do so, either. Jedi didn't leave the turf as Arsenal gained a two-goal buffer, it was shameful from him to switch off at a crucial moment and for their third, the winner, we quite literally threw them the the victory.
Caught out from a lazy throw-in of our own, Arsenal hijacked possession and charged for our penalty box. Martin Odegaard had an age to pick his spot as Fulham scrambled in retreat and while our sense of awareness may have improved in the second half, we were undone by idleness in the first. There was no coming back, we were chasing tails as Arsenal settled into their mesmerising groove but we weren't up to it, we weren't at it, and we froze at the sight of the Gunners' smoking barrels.
With less backbone than a calamari ring, the fortitude of an empty shoebox in a downpour, Fulham were weaker and more penetrable than we've known this season and after two losses on the spin, games that consisted of suspect defending, we have to toughen up and we have to ditch the defeatism.
No midfield presence
Arsenal's goals may not have arisen from central positions but in the middle of the park, the visitors were extremely comfortable and once the midfield battle's lost, results tend to follow suit. We are a different team without Joao Palhinha, we've shipped 10 goals in three in his absence games and without the Portugal international's unsympathetic input, as it was against Brentford, the Whites were secondary as the Gunners moved through the gears. It's only now that we realise just how integral he is to our system, and just how inferior our squad depth really is.
He works hard, he runs a fair distance but even Harrison Reed was a yard off the pace and Sasa Lukic was hesitant, neither of them were equipped to unpick Arsenal's rigidness and ahead of them, Andreas Pereira was also peripheral. We couldn't manufacture persuasive opportunities because we couldn't equal Arsenal's animation, we were reduced to prodding play from flank to flank, simple ten yard passes were stabbed at and as Arsenal overturned possession, we withered in their lively shadows.
It pains me to say this but there were sequences on Sunday that ponged of Parkerball. We shrunk back into our shell, win, draw or lose Silva's Fulham are typically renowned for big dick energy, regardless of the opponent on the day, but we hardly got going, and we paid the price.
It's hard to compete with the north Londoners' engine room but in comparison, it's a Renault Clio pulling up to a set of lights beside a Dodge Charger. They burned rubber and we'd already burnt ourselves out. Our midfield was unstable, it was far too easy for Arsenal to retain and rotate and when fully-fledged whoppers such as Thomas Partey Cruyff from three Fulham jerseys, unscathed, doubts about our midfield personnel are bound to surface and in the summer, bolstering our central midfield options has to be first and foremost because our presence was basically non-existent.
Lukic is going through the unforgiving process of adapting to a division that's gruelling – he'll soon be a player we can rely on. Reed's an honest workaholic that has to add more productivity to his game – he's a good squad member. Tom Cairney's vision is imperious, he can set the tempo and relieve pressure but he can't last anywhere near a full 90 – he's an as-and-when luxury. The long and short of it suggests that without J-Pally, the exterminator, we're as average as they come and ordinary just doesn't cut it at this level.