Player ratings: Fulham 0-3 Arsenal
Written by George Rossiter on 12th March 2023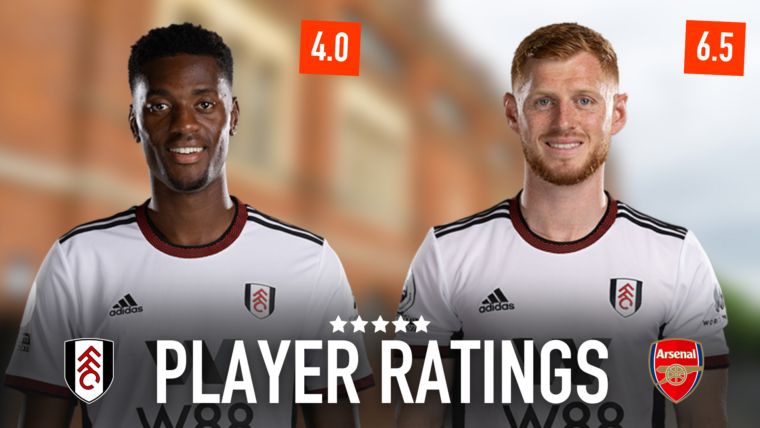 George Rossiter reflects on Fulham's defeat in Sunday's London derby.
Outfought, outplayed and outclassed. Fulham fell to a comprehensive 3-0 defeat against top of the league Arsenal on Sunday afternoon. Mikel Arteta's team were the better side from the off and frankly the game was put to bed by half time. The whites improved in the second half but not enough to change the scoreline. Next up for Fulham is an FA Cup Quarter Final against Manchester United at Old Trafford.
Bernd Leno
Leno was one of the only players to come out of the game with any credit in the bank, even in the first half. Playing against his old team, Bernd made a number of good saves to stop a bad defeat becoming a rout. Stops from Martinelli and Xhaka come to mind, as well as a late stop from the returning Gabriel Jesus to prevent Arsenal scoring a fourth. 6.5/10.
Kenny Tete
In a struggling defence, Kenny Tete didn't look *that* bad, especially in comparison to some of his teammates. While Martinelli caused issues, Tete matched him most of the time. Frustratingly, both Martinelli and Odegaard's goals came from original crosses from the Dutchman's side. He did, however, make a brilliant goal-preventing block from Martinelli in the second half to keep the score to 3-0. 6/10.
Tosin
This wasn't like the win over Chelsea where Tosin slotted into Diop's spot seamlessly, not in the slightest. From the off, a number of passes attempted by Tosin fell into the path of Arsenal midfielders, putting Fulham onto the back foot. For a man of his height, not contesting for a header, which Gabriel opened the scoring from, is unforgivable. You'd expect Diop will return at Old Trafford. 4/10.
Tim Ream
While it didn't appear that Ream was making the sort of individual errors that his defensive peers were around him, it was still worrying that Arsenal walked through the centre of our defence on a number of occasions. As well as this, the Gunners scored their second and third goals from positions you'd expect the American to find himself in. 5.5/10.
Antonee Robinson
Unfortunately, Jedi really struggled. Arsenal had the absolute beating of him down their right-hand side, tying the American full-back in knots on multiple occasions. For Martinelli's goal, he almost allows the Brazilian to go unchallenged in the air, and then misses the ball as it comes over him for the third. Robinson has a lot of credit in the bank this season, but this was a disastrous performance by his new, lofty standards. 3.5/10.
Sasa Lukic
Palhinha's suspension may have prompted Silva to throw Lukic into Premier League starts quicker than he'd have liked to, and that showed today. Lukic really struggled to match Arsenal's intensity, something which is so important to do in the middle of the pitch, protecting your backline. It also seemed like he gave Odegaard a free run to goal for Arsenal's third. 5/10.
Harrison Reed
In the circumstances, solid but certainly not spectacular. Reed did the basics right across the pitch, including in the first half, something that cannot be said for most. Furthermore, unlike some others, he certainly didn't give up on chasing Arsenal's players, who seemed to be going at 100 miles an hour. Hopefully a late knock won't rule Reed out of next week's quarter-final. 6.5/10.
Andreas Pereira
Like in a few games recently, Pereira was far too anonymous in the first half. Granted, so were many others, but it's that sort of situation where a playmaker has to grab the  game by the scruff of the neck and spark Fulham's game into life, Pereira failed to do so again. A better second half was all well and good, but the game was over by then. 5/10.
Bobby De-Cordova Reid
Bobby wasn't bad. It was hard for any of the attacking players to effect the game in the first half, where he saw very little of the ball. One of the strongest parts of De-Cordova's game is the defensive cover he offers his full-back, yet in this game it felt like Martinelli had too much space too often, as Bobby was too often led into central positions by the versatile Zinchenko. 5.5/10.
Manor Solomon
Solomon was potentially the only bright spark attacking wise in the first half, and we're talking about a very dim spark at that. The winger still tried taking White on frequently and cut inside to shoot once or twice. He faded as the game went on, potentially due to still building up match fitness in the Premier League. 6/10.
Aleksandar Mitrovic
For most of the game, Mitro had to almost resort to playing in the midfield areas if he was to see any of the ball. His attempts to hold the play up and link with his teammates were respectable, but nobody was giving him anything in reply. The Serb came mightily close on 70 minutes when he crashed a header against a bar, but that was as good as it got. 6.5/10. – Man of the match.
Substitutes
Daniel James and Harry Wilson (76' for Manor Solomon and Andreas Pereira)
The two Welsh wingers came on when the game was dead and struggled to inject any life into the game. Nice to see minutes for the lesser-seen James, who would've hoped for more minutes this season for sure. Neither played for long enough to rate fairly. N/A.