Positives and negatives: Brentford 3-2 Fulham
Written by Cameron Ramsey on 7th March 2023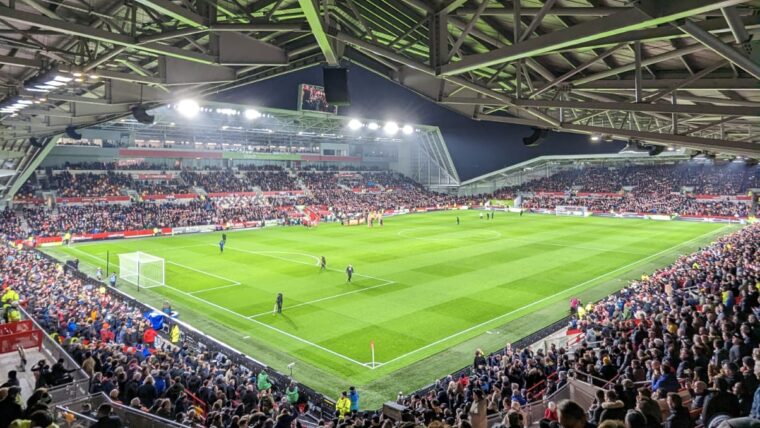 It had to come against them. Cam recounts our first loss since 13 November at the Trust Tomy Open Air Prison Arena.
This is a result that's been coming for quite some time. We have to accept that Fulham haven't been fighting fit in recent encounters, we'd ridden our luck against Brighton and Hove Albion, we were slightly off colour against Leeds United, barring two outrageous worldies, and against Thomas Frank's Brentford, the Premier League's in-form outfit, the Whites finally came unstuck unceremoniously.
Obviously, dropping points to Hounslow Bus Station FC isn't ideal, they'll claim that West London is now red and white but really, it's honours even. We were secondary in every aspect, the Bees exacted revenge and Marco Silva's men were powerless. Almost against my own will, I'll admit that Brentford are a well run outfit, they were ruthless, pragmatic and they caught a high-flying Fulham just as they ran out of steam.
Our squad depth's slim, some players were visibly exhausted and now we have to rest up with Arsenal on Sunday, a game which'll be draining and demanding and we have to be prepared for an unforgiving onslaught. Take this L on the chops, if we're to evolve we have to channel these setbacks to our advantage because now we've been grounded, after a stretch of games that has taken its toll, we can regroup and put this result behind us. Silva's Fulham always bounce back, and toppling Mikel Arteta's Gunners would be the very definition of the term "Fulhamish".
Positives
Solomon's collector's item
With a header, not a fizzer with his right from 20 yards, Manor Solomon took his Premier League goal tally to four in four and with his sumptuous finish against Leeds in the FA Cup, the Israeli now has five goals in five consecutive outings for the Whites and given his potency, it was only a matter of time before he was handed his full league debut, as Bobby Decordova-Reid was listed as a substitute.
The winger can swazz them on demand, he's netted carbon copy strikes which have been unstoppable and his latest goal has to be a collector's item. I can't imagine Solomon's notched many headers in his career and though the goal was just yards in front of him, he had to cushion it delicately as it was actually a relatively difficult opportunity to divert. His hot scoring streak has fired Fulham towards glorious victories and valiant draws but unfortunately in the arse end of Hounslow, his leveller wasn't as influential come the final whistle.
Nevertheless, Solomon is a man that's enjoying a productive purple patch, he's a nuisance that full-backs cannot repress and after what he's been through since his arrival in SW6, it's gratifying to see him reach a standard of performance that really sets him apart from the rest. He wants to make an impression, there are attributes that need refining, perhaps he needs to lift his head more often but if I were a defender, I'd dread the prospect of marking Manor because he's a menace with street baller tek and one-take finishing.
Track and trace Tete
Grit and determination are buzzwords associated with Kenny Tete and he had both in spades along the right as he duelled with Yoane Wissa. His evening was going to be taxing from the get-go, with nippy wingers to contend with his positioning had to be impeccable if we was going to head off Brentford's penetrating surges out wide and to the Dutchman's acclaim, his recovery runs and timely interceptions were significant and they didn't go unnoticed.
Tete tracked and traced his man and rarely allowed them a second's rest. If a ball was there to be won he contested it, shoulder to shoulder, and he equalled the likes of Wissa and Ivan Toney stride for stride for 83 minutes and though that's an energy-sapping requirement for any Premier League right-back to endure, he did what was compulsory to stem Brentford's flow and he never shirked the dirty work.
Well in, Vini
An opportunistic prod in the closing seconds made the score line appear respectable and it was also Carlos Vinicius's second goal of the season and for what it's worth, the Brazilian's willingness to chase what was already a lost cause is hugely commendable.
Aspersions have been cast regarding Vini's capabilities as a lone striker, I've been critical of him in previous articles and rightly so, however I've no complaints on this occasion because he actively sought to restore dignity, or at least a semblance of, and in difficult circumstances, that's all we could've asked of the 27-year-old and he responsively answered our broken cries for final third enthusiasm.
His work-rate eclipsed that of Aleksandar Mitrovic's, he may not be able to hold off defenders like his attacking counterpart can but before he was introduced, the Whites were stagnant and his persistence was remedial. He initiated the press, he gave possession progressively and he pounced on David Raya's spillage, a forlorn last laugh for the Whites, all within a brief 18 minute run out. Off the bench, with legs and minds tiring on both sides, Carlos's commitment was wholehearted and this week, I'll gladly sing his praises like a reformed believer – for now – because they're absolutely merited. Keep it up, Vini.
Negatives
Toney leaves mark
Shock horror, Anthony Taylor's abject officiating stains another Premier League match and under review, there were multiple moments of disgrace but none more so than Toney's reckless stud shiner. It's madness, Sky Sports' moronic panellists were reaching, they tried to justify the serial betting fraudster's negligence as a harmless mistake and that is simply embarrassing. In fairness, we can't lump this all on Taylor, he may have confused innocuous scenarios for damning infringements and visa-versa but when you're at the mercy of the twerps at Stockley Park, on-field officials really can't be entirely to blame.
Blood was drawn from Lukic's cheek, it wasn't torrents but he was victim to Toney's size nine and given the location of the graze, why didn't VAR intervene? Lukic was sliding long before that arrogant tosser scraped his sole plate across the Serb's thigh and face, he had plenty of time to abort and yet his leg remained outstretched, extended for Sasa, but VAR wasn't even consulted. That's criminal, the whole premise of Video Assisted Refereeing is to protect not just the game's participants, but the integrity of the sport and on Monday evening, neither was cared for.
We can debunk soft-as-shit penalties, we can argue the validity of numerous free-kicks throughout the game, Taylor's overall judgement was atrocious but when VAR could intervene to amend a real-time decision and the powers that be didn't, ignorance was bliss and ironically, that's also the PGMOL's unofficial motto. If it doesn't suit them, if it opposes the broadcaster's flavour of the month, they won't even bother and that is controversy manifest. England boasts state-of-the-art stadia, facilities that are way ahead of the curve but even with tools that are specifically designed to arbitrate upon scenarios such as these, Mike Foster and his cronies are dark age pariahs.
Concerning chance creation
That second half has to be up there with one of the worst we've witnessed from a Silva side. After a ridiculously tetchy start, Fulham did so well to restore parity, before half time we were undoubtedly settling into our plan of action but after the interval, we offered next to nothing where chance creation's concerned and when we did develop breakaways, our final product was horrific.
Overlapping runs were made by Antonee Robinson, it's a staple of his personal game and so are horribly misguided crosses. Jedi can't whip it, the movement within the penalty area wasn't exactly enticing but he physically can't wrap his left around the ball without it smashing his marker's midriff and on the opposite flank, it really wasn't any better. Willian was reluctant to wrap 'em into the danger area, we didn't disrupt the hosts in central areas, our patterns were monotonous and we refused to switch things up when we were scouring for inroads that never materialised.
Brentford's centre-halves were untroubled in the air and on the deck, with a disciplined shape, they withstood Fulham's sequences and they were comfortable in doing so. We were goaded into chancy snap shots from distance, Reya was barely sent sideways because we were containable, manageable, predictable. We may have nicked a late consolation but that was the only time Brentford's target was even remotely tested in the second half, once the Bees asserted themselves they capitalised and our response was too little, too late.
Come back, Joao
And there you have it. If we didn't realise just how integral Joao Palhinha is to our midfield, we certainly do now. Countless cautions aside, Palhinha instils authority and order, he's a disruptor that can also contribute offensively and while it's unfair to discredit Lukic entirely, because he will definitely come good, the Serbia international was seriously out of his depth and he should've been sent off if it wasn't for Taylor's shoddy judgement.
If Lukic is to operate as a roaming midfielder, he has to refine his intensity off the ball. In retreat, the January signing was a yard off the pace, and that led him to lunge into challenges as Brentford stole a march. In that respect, his exploits weren't too dissimilar to Joao's but our suspended No.26 safeguards the engine room with a purpose, his intentions aren't always beneficial but his application's enlivened and if we had his 'f*ck around and find out' rigour to sting the Bees' playmakers, the hosts wouldn't have advanced as freely as they did and that's a fact we can all appreciate.
We lacked aggression, an enforcer to take the game by the scruff when the heat was on, and while Harrison Reed bust a gut there isn't an instigator like Palhinha in our squad and in that respect, it's unjust to compare he and Lukic because their primary functions aren't alike whatsoever. This is why Palhinha's absence was flagrant, he's a player that strives to distress, to dispossess even at the risk of a yellow and it just appeared as though Lukic was shoehorned into Joao's void because we simply didn't have anyone else to choose from other than Tom Cairney, who cannot last for longer than 45 minutes at a push.
What's up with Mitro?
Addressing Mitrovic's evening is necessary and pertinent because in all honesty, he was below par. I don't know what it is, but since Leicester City, Mitro hasn't been himself, he's been a slight shadow of the trigger-happy striker we've come to idolise and while he may still be nursing a knock or gathering his match fitness, it seemed as though he couldn't really be arsed to put himself about against a side that are as openly antagonistic as Brentford.
When he showed for possession, he was pickpocketed routinely, as he lifted his head to build, his distribution was sloppy and in the final third, where he's supposed to burst into life, he was a ghost. Ethan Pinnock and Ben Mee had him muzzled, he couldn't get anywhere near our hapless crosses because he was horrendously behind the run of play anyway, his presence was subdued, his attitude was disinterested and it's a barren vein of form that has to be stamped out immediately and the only person that can do that is the man himself.
Mitro isn't immune to scrutiny; his 200th game for Fulham was muted and as this is a guy that thrives on the big occasions and milestones, we're right to be sceptical and wary of his dejected displays and demeanour.