Positives and negatives: Fulham 2-0 Leeds United
Written by Cameron Ramsey on 1st March 2023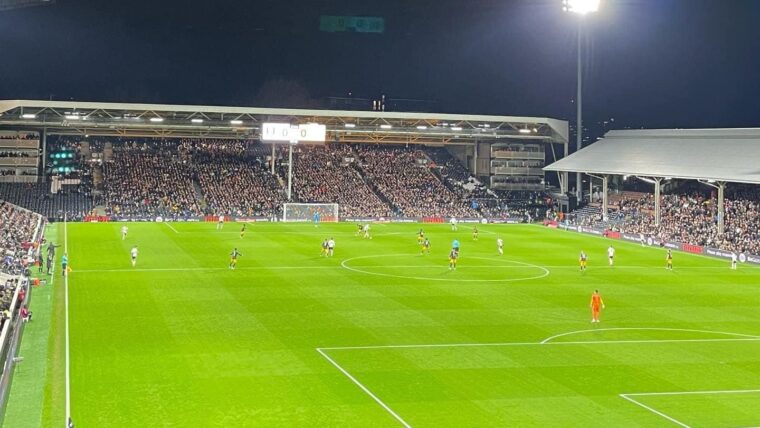 This season just keeps on giving. Cam evaluates Tuesday night's epic fifth round win, a result which has us dreaming of Wembley Way.
Fulham are to play in their first FA Cup quarter final in 13 years. That's it, that's the overriding statement of the night and our progression was ensured by a couple worldies and a can-do, no surrender team spirit.
What Marco Silva's instilled into his team is courage and a desire to aim as high as possible. His vision was broadcast, nationwide, for prime-time evening entertainment and it didn't disappoint. Javi Gracia's Leeds, on the other hand, are having to acquaint themselves to a different style. They'll have new demands to adhere to and teething issues, particularly in the scoring department, were evident.
Onwards, the Whites are one step away from a trip to Wembley, an arena we've taken by storm in recent years. If we advance to the semis and earn the chance to walk out at the Home of Football again, you better believe we're winning the whole damn thing. Let's sit tight and see who's up next. Manchester City are lurking but let's face it… we all want a grotty day out in Grimsby, don't we?
Positives
Bangers and smash
Whether you were in attendance or were dangled on the edge of your sofa, jaws dropped and cuppas were flung as Fulham progressed by way of two filthy bangers. Up to his usual antics, our Portuguese enforcer Joao Palhinha burgled Tyler Adams in the 21st minute before unleashing armageddon from a neighbouring postcode. That is the goal of the tournament right there, case closed. Forget laces, Palhinha can rock 'em with his instep and the shape on it was simply gorgeous.
Ahead, probing for another, the Whites couldn't capitalise before the interval and in the meantime, Leeds stepped up their efforts to find an equaliser. Their shooting was wayward, Manor Solomon's, however, was anything but. 'Keepers: beware, they call it the "Zone of Manor" for a reason and his right boot isn't kind to those between the sticks.
Scheming on the left, Solomon interlinked with Aleksandar Mitrovic and as the Serbian plated him up, our prolific winger dispatched a trademark slammer, copied and pasted from our draw against Wolves in our previous outing. He spent his evening digging a shallow grave for Luke Ayling, he skinned, he scolded, he scorched the bottom right-hand corner, yet again. Rinse and repeat. Four goals in four, Manor's impact has been sensational since returning from his lengthy setback and whatever the cost, no matter how much Shakhtar Donetsk want, Tony Khan and co. have to secure him on a perm.
It's so liberating to witness a Fulham side that are daring; Silva's enabled his men to express themselves without restraints and our shoot-on-sight policy on Tuesday night was fatal for our misfiring guests. Gracia's strikers couldn't divert, their performance was compounded by their wastefulness however Palhinha only deals in howitzers and Solomon's fluent in venomous sucker punches. We've cracked home some disgusting strikes this season but two in one game? Stuff should be banned.
Ream rules roost
Our Championship-winning duo of Tosin Adarabioyo and Tim Ream was fielded against Leeds and the dependable American was an outstanding pillar of discipline and authority, as per. This season, Ream's been a revelation and his application's been remarkable. Last night was no different for the 35-year-old: business as usual. His diligence against younger, faster players was exemplary.
Leeds' attack is pacy, Crysencio Summerville and Giovani Rutter wanted to get goal side as often as possible with direct bursts, but Ream's positional awareness put dampened the visitors' counter attacks. He doubled up with Antonee Robinson between the touchline and the 18-yard box and his presence alone was enough to obstruct his direct opponent's momentum. He didn't dive recklessly into challenges, either. He kept his eyes on the prize, he wasn't to be distracted and his decision making when he was singled out was spot on.
Raking cross-field switches were on point and he was measured on the deck and when he had to thrust himself into confrontation. The veteran was as reliable as ever and truthfully has to be regarded as one of the finest centre-backs playing today, as Pep Guardiola would testify. Leeds kept Tim busy and at times left our full-backs stranded however, time and time again, Ream was there to spare blushes.
Loving Lukic already
For a full debut in a hotly-contested FA Cup meeting, Sasa Lukic's first start in Fulham colours wasn't particularly ground breaking but what I did notice was his placement as we advanced, and as we regrouped as a unit. In short, we've acquired a canny midfielder in Lukic. As the ball filtered through the thirds the Serb was readily involved with ball retention and rotation and while his passing wasn't always accurate, he acted as a secondary shock absorber alongside Palhinha and he was a springboard as we attempted to dismantle Leeds' scrambled structure.
Initially, Lukic supported Harry Wilson out wide to prolong Fulham's passages but as Leeds developed breakaways themselves, he had to track back with urgency to aid Palhinha. With the ball, the 26-year-old wasn't desperate to shift play whilst being squeezed, he trusts his safeguarding capabilities and once he'd manoeuvred away from potential danger he opted for progressive passes, rather than safe.
Of course, he combined sensibly with his teammates to keep the ball moving as required, but there's definitely invention in Sasa's makeup. Though he's possibly not as adept as Tom Cairney at unlocking opposing teams, they do share some similarities.
There's still so much for Lukic to do before he's fully up to speed in the English game and Tuesday's clash with Leeds was played at a tempo that will likely be unfamiliar to him. However, he still maintained a keenness to roam from box-to-box for the duration, retrieved possession with purpose, and was by no means a passenger, particularly in an end-to-end encounter which could have passed him by if he wasn't prepared to shove his reserve and resolve to the very limit.
As a midfielder in the Premier League and indeed FA Cup, levels have to be matched and thresholds have to be broken and as Lukic adapts and adjusts, he'll become a workmanlike monster with an eye for the finer things.
Mitro's manipulative masterclass
Back in the starting XI following a prolonged spell on the sidelines with a hamstring strain, Mitrovic's contributions were effective and cooperative throughout, until he was replaced by Carlos Vinicius with 20 minutes to go. A focal point that's much more than just a nuisance for defenders, Mitro's ability to manufacture breakaways with his midfield teammates is an invaluable feature of Silva's game plan, and as the Serbian withheld Leeds' centre-halves he enabled the Whites to establish themselves in the final third.
As Leeds fixated on trying to dispossess Mitro, Solomon, Wilson and Andreas Pereira surged into unoccupied pockets. When our leading scorer spun from his man, he devised neat flick-ons and insurgent through-balls to manipulate Leeds' trailing defenders.
If you watch Mitro's game closely, you'll recognise the finer details. We want him to set up base camp in the penalty area and latch onto loose balls… but off the ball, and indeed in deeper areas, his subtle artistry's a huge bonus to Fulham's success whilst searching for inroads. We're tougher to pin down when Mitro's on the pitch, his insistence to engage with the midfield distracted and unsettled Leeds and his awareness whilst carrying possession is surprisingly expansive.
Brushing up on his positioning is going to be top of the agenda for Mitro in the week ahead – he was miles offside as he butted Cedric Soares' superb delivery past Illan Meslier but other than that, it's so, so good to see him lock horns with defenders again because he is integral to how our teams ticks and his service is incomparable to any alternative we have on our books.
Cedric's bold start
Being named in the starting XI isn't going to be a regular occurrence for Cedric and if he's to somehow dislodge Kenny Tete he'll have to reach ridiculous levels of exertion. Much like Lukic, the Portuguese right-back gave a very promising account of himself after calming the nerves, and as a secondary member of the squad, he's got all the necessary tools to deputise competently when King Kenny's granted a well-earned rest.
During the early stages, Cedric's control and touch was ropy although as an outlet, the Arsenal loanee was frequently available to pick up possession and overlap, and his crossing is going to be a massive plus. As he settled, the 31-year-old's bravery grew bolder and his defensive acumen wasn't suppressed as he hared past Harry Wilson on the counter. He was assertive on the retreat; David Gnonto couldn't shake him from his tail and it's clear to see why Silva rates him so highly.
For a man that's been starved of game time this season, he conformed to Fulham's procedures and he didn't appear to be exhausted, either. He kept plugging away, conscious of his duties along the right flank, and if a certain Serbian hitman was 3-yards behind the run of play he would've notched an assist (surely the first of many). Bright movement, sound passing, tight marking and a rapid turn of pace, Cedric's 90-and-a-bit minutes were enlightening and stimulative.
Negatives
Nothing much, really
Admittedly, it was far from a spotless performance from Fulham. Improvements can be implemented and Silva will seek to iron out the creases over the next few days, but against a hardworking side in a high-pressure game I'd say our collective application was suited to the task at hand and I've nothing major to undress or lay bear.
We kept a clean sheet, Rodak was exceedingly sluggish off his goal line although as strikes rained down on his target, questionable parries aside, the Slovakian's reactions were sharp enough to douse and deflect. Tosin, alongside Ream, has been accused of laziness, inactive when his focus should be trained and while his work-rate tailed off slightly in the second half, he covered space well to promote Fulham's defensive shape and overall, his contributions were acceptable.
Our passing sequences fizzled out every so often and Leeds occasionally sliced us open with ease as they overturned play, but we edged proceedings. We carried a greater motive as we constructed attacking scenarios and against fellow Premier League opposition, we were always likely to be examined. Thankfully, the entire team pulled together through difficult periods, as they always do, and while it wasn't the prettiest affair, the Whites still shaded Leeds in every department, and we were far from subordinate.
I guess I'm including these caveats as a negatives – constructive ones at that – because during the game I'd seen concerns floating around on the timeline and group chats surrounding certain aspects and minor gremlins, and in order to make it all make sense, it's worth addressing them because vitally, they didn't affect the final result.
Rodak's confidence is on its knees, Tosin's involvement was distinctly average, our composure wasn't defined from start to finish… but this season we've played much, much worse and gained either a scrappy win or a fortunate draw so I'm not going to review this any further because while there are areas we have to be mindful of, every player ultimately did their job.