Positives and negatives: Brighton & Hove Albion 0-1 Fulham
Written by George Rossiter on 19th February 2023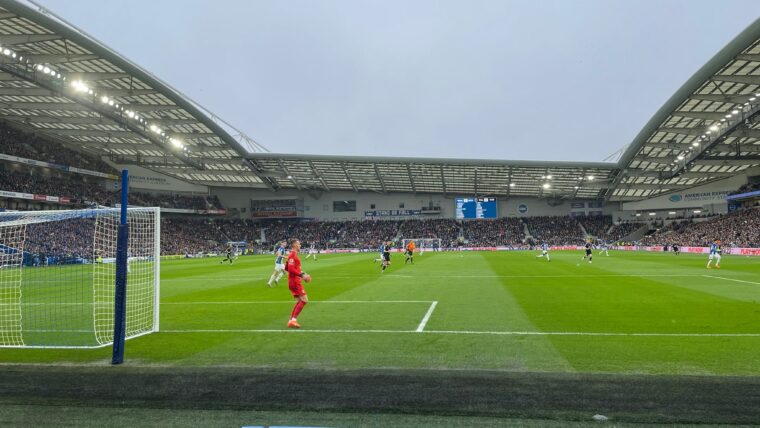 Good old Sussex by the Sea was the sound of the stadium on Saturday, but it was a sumptuous Solomon strike to complete a special smash-and-grab on the South coast.
That's Marco's men up to sixth in the Premier League. The boss continues to play down any targets beyond survival, but with 38 points on the board after this victory, maybe we start to wonder what becomes achievable. This was a battle for sixth position between two teams who have gained all sorts of plaudits this year, and for the whites to come away with a league double from the mightily impressive Brighton is an exceptional effort.
This is a Fulham team bang in form. It's 19 points from a possible 27 in our last nine games in the Premier League, with a developing FA Cup run alongside it. Some 11 goals scored with just four conceded in that run of league games further shows the brilliance of this side that has seen us maintain a lofty place in the table, which has consequently left the fans with lofty ambitions. Anything is possible now.
Positives
A new level of defensive resilience
Marco Silva's post-match presser was telling. The manager was quick to admit this was by no means his side's best performance, but congratulated his Fulham side for the resilience they showed to gain the three points on the road. And he was right to. Since Diop replaced Tosin in the side in and around the winter break, this settled backline of Tete, Diop, Ream and Robinson has looked formidable. While individual performances and results were positive before the World Cup, goals were still being shipped, not anymore.
The stats don't lie. Since the return of Premier League football on Boxing Day, Fulham have played nine games, kept five clean sheets and conceded just four goals. These are figures any side in the world would be proud of, let alone little old Fulham and the likes of 35-year-old Tim Ream. Today was potentially the biggest show of a newly built resilience, that might not have been on show just before the World Cup. Erling Haaland and Alejandro Garnacho come to mind.
Issa Diop and Tim Ream were immense. The stats accounts on social media are sure to show both near the league's best performers in the brackets of blocks and interceptions for this weekend. Their individual readings of the game and calmness on the ball make them both brilliant defenders that have formed a wonderful partnership. Tete continues to perform wonders against some of the league's most in-form performers, including Mitoma and Estupinan. Robinson continues to repay the faith in him from his manager and continues to adapt wonderfully to Premier League football. As a combined backline, they are a unit not to be messed with, and it'll take either injury or a huge drop in performance levels to change that right now.
A willingness to adapt
Fulham were on the back foot from the off, make no mistake about it. The whites' zero first half shots was the greatest indicator that Brighton were nothing but dominant in the opening period. They started fast, with precise passing all over the pitch, moving Fulham's shape around and causing all sorts of issues. March and Ferguson looked particularly dangerous, both with their pressing and attacking intent. Fulham and Silva had to adapt, and they showed they could.
By no means did Fulham ever really take control of the game. Even when Brighton's intensity dropped a little, they maintained their dominance. But it slowed down for sure, and that was down to Fulham's patience. After surviving the first quarter of an hour, Fulham slowed things down. They retained possession better, and despite not being at their creative best, it frustrated Brighton and disturbed their flow. Slowly but surely, De Zerbi's men started to misplace passes, to the point where the home fans were groaning by the end of the first half.
Silva had to once again find a way to adapt in the second half. Brighton came out from half time the same way they did at kick off, fast and furious. Chance after chance came towards Bernd Leno's goal, but nothing that left Fulham behind on the scoreboard. Fulham's backline slowly pushed forward, resulting in two Brighton efforts being chalked off for offside. By the time the game had opened up late on, Silva still had his side in the game, even if not at their best.
Silva's subs worked. Arguably the greatest ways a manager can adapt a game-plan is with tactics and substitutions. Marco did just that. Who cares if the home team are on top when you've shown a resilience to keep the game goalless? Silva made the changes, with Vinicius and Solomon, Fulham had a focal point up front, and pace on the wing, something they'd been missing. Cue the 88th minute. Vinicius, said focal point, moves the ball out wide to Manor Solomon, who uses said pace to beat his man and finish. Fulham have a winner, the away end is in raptures, and Fulham and Marco Silva have adapted to the flow of the game to find a new way to win. Like we say every week in the stands, he's a genius.
Solomon is shining
It's taken a long time to get here, but Manor Solomon, and every Fulham fan, will be delighted that we have. There was so much excitement when Solomon signed. Videos of his goals in the Champions League for Shakhtar Donetsk were flying round social media and all eyes were on a debut against Liverpool. But days into his Fulham career, a worrying injury curtailed any chance of Solomon taking the Premier League season by storm. After months of worry and war with the Russian invasion of Ukraine, Solomon's dream had come and temporarily gone in an instant.
How things have changed. Substitute cameos showed what Solomon was all about, as did his appearances in the FA Cup against Hull City and Sunderland. He showed something  we had been missing since the injury to Neeskens Kebano. Pace, agility, the ability to take a man on with no fear. And now, with goals against Forest and Brighton, there's proof of an end product to go alongside the dribbling that gets fans off their seats in an instant.
And my word was it especially needed in this game. Fulham's lack of control of possession left their wingers having little to no impact in the final third. Willian saw barely any of the ball on the left, while Harry Wilson spent more time tracking back than running forward down the right. Solomon offered something different. Within six minutes of replacing Andreas Pereira, he'd taken on his man and beaten him. 15 yards from goal, with just Robert Sanchez to beat, the Israeli let fire with confidence and precision, finding the bottom corner and sending Silva's men back to the Cottage with three of the most satisfying Premier League points we are likely to win all season.
Negatives
Our 'Plan B' didn't quite work
Aleksandar Mitrovic was ruled out of this one with a small hamstring injury that Marco Silva pointed out had to be assessed. While we are currently unsure of whether or not Mitro will be available for the upcoming games against Wolves in the league, or Leeds in the Last 16 of the FA Cup, the Serb's occasional injury issues this season have shown that an alternative option is needed. Bobby De Cordova-Reid struggled. Of course, none of Fulham's attacking players saw much of the ball in this game, but his six first half touches summed up a potentially bigger issue.
Silva pointed out in his press conference that the change didn't work. He said that playing with a different profile of forward to Mitrovic up front didn't work and that it was his own fault for trying to play a system that the team were unfamiliar with, without a regular number nine. Things were clearly missing. De Cordova-Reid's pressing game was good and his effort wasn't lacking. However, the relationship that Mitro has with Pereira going forward and the presence the big Serb has on opposition defences probably wasn't something posed by Bobby.
Carlos Vinicius may have felt hard done by. Some of his performances filling in for Mitrovic this season have been promising, especially his famous winning goal in the SW6 derby against Chelsea. However, it could be argued that quite often he just doesn't show what he can do on a regular enough basis to become the dependable back-up Silva is looking for, which is probably why the boss tried something different at Brighton.