Positives and negatives: Newcastle United 1-0 Fulham
Written by Cameron Ramsey on 16th January 2023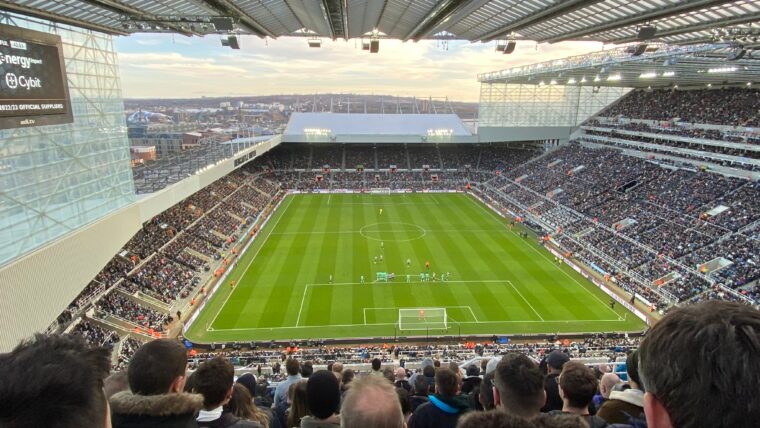 That was a nasty ending to our five-game unbeaten streak. Cam recounts a harsh loss at St James' Park, and there's plenty to unpack.
Fulham, in the Premier League, had won four games on the bounce. It's a run of games that has inspired and beguiled, and though we're immensely proud of what the boys have achieved, it doesn't make our loss against Eddie Howe's highflying Newcastle United any easier to digest.
Marco Silva's Whites were on the brink of a point, the Magpies have only sampled defeat once in the league and sharing the spoils would've been a respectable outcome for both sides, although the forthcoming twist to the tale was as brutal as they come, and it's a feeling we're sadly all too familiar with.
Poor officiating decisions were rife, gilt-edged opportunities were misspent,but as the Toon climb into a Champions League berth, the Whites are still well within the mix at the right end of the table and that is the main, all-important takeaway.
Positives
We're still sixth
If we're being completely honest with ourselves, we'd admit that a loss was forecast before kick-off and while that presumption became a reality, we're still sixth in the Premier League standings and we're still a difficult team to get the better of.
A remarkable festive period, followed by our shock victory over Chelsea, set us up nicely for our toughest test since Manchester City and ultimately, all good things have to come to an end. There were tetchy spells, Newcastle sliced through on the break as the game gradually opened up however the result certainly doesn't justify our collective performance, at least for 88 minutes.
We were alert, we had to stick together as the Magpies scanned for inroads and for the most part, we were disciplined and we also caused issues. St James' Park is a pressure cooker, with their fans in full voice it's cacophonous and though it's a stadium that intimidates, the home of a side that are without question the country's in-form force, they got away with a cold robbery and that is the cruel nature of the sport.
It wasn't an easy outing for the hosts; we took the game to Howe's men and we had glaring, bread and butter chances to clinch the victory ourselves, so while this loss is excruciatingly painful to stomach, there are recognisable positives to take stock of. Like it or lump it, we're going to be on the wrong side of fixtures such as Sunday's defeat and now, it's important that we regroup, refocus and go again, as we have done this season already.
Diop's danger detector
Reinstated to the starting XI, Issa Diop's inclusion in Silva's matchday team was legitimised because with brave blockages and daring interceptions, the Frenchman's involvement was absolutely necessary. He helped to protect our target, he was literally our last line of defence as he stunted Sean Longstaff's effort with an outstretched leg and his commitment remained until our back line simply couldn't hold on any longer.
Mindful of Newcastle's fluency on the offensive, Diop had to be first to detectable balls into feet and he swiftly put a stop to dangerous scenarios. He cut out trouble before it occurred, he demonstrated a positional understanding that aided Tim Ream's participation and he was resistant at set-pieces. In a nutshell, Diop was a fine performer in testing circumstances and he wasn't at fault during the build-up to United's winner.
It was Tosin Adarabioyo that lost track of Alexander Isak within the six-yard box, Diop was occupied by Callum Wilson at the back stick, and even then the former West Ham United man was deeply unlucky with the resulting rebound off his back, which enabled Wilson to locate his unmarked strike partner. I was satisfied with Diop's application; he was vigilant, he ignored distraction and the loss is not to his detriment whatsoever.
Reed's roaming pursuit
Antagonising in a higher position than usual, Harrison Reed pressed with intent, he bit back with malice and with those tireless iron lungs of his, he suffocated Newcastle's predominant playmakers to relieve his team of impending stress and strain.
An auxiliary partner of Andreas Pereira, who readily lead the charge as per, Reed supported Fulham's advancements by getting in behind both Kieran Trippier and Dan Burn, and he shielded possession selflessly as he waited for his teammates to show for the ball. He gave his all to drive the Whites up the park, and when Joao Palhinha required assistance, he responded immediately and he was suitably assertive.
Allowing Harrison to instigate in a roaming capacity is worthwhile because it amplifies intensity on the attack, and it unnerves oppositional players on the retreat. They're never clear of Reed, they know he's in hot pursuit and if they're tardy, they're cruising for a clamping. This was the case for Bruno Guimarães, Joe Willock was also apprehended, choking the Toon's midfield department was integral and while things were draining on the legs, Reed powered through.
Life in Layvin
Embed from Getty Images
Antonee Robinson's suspension paved the way for Layvin Kurzawa to make his second league start of the campaign and though he's been out of match practice, the Paris Saint-Germain loanee didn't disservice himself, or indeed Fulham. He may not have come out on top in every instance but in the name of getting behind players, even if they're outings were pretty bang average, I'm happy to fight his corner.
His first start was incidentally against Newcastle at home in October and before he trudged off with a knock, Miguel Almiron billed him up and smoked him. This didn't happen on Tyneside. He and Bobby De Cordova-Reid doubled up on the Paraguayan, he couldn't establish himself without being shadowed and although Kurzawa was cut adrift with systematic give-and-goes, he didn't surrender.
This is a left-back that's only featured in 211 minutes of first-team football this term, Sunday's outing was his third in Fulham colours and I'd predict that in the second half of the campaign, his match engagements will become more frequent. He was mistreated by his parent club last season, life hasn't been kind to him in SW6 but he is by no means a terrible footballer, far from it.
He may not be fully fit, competing in an environment such as the Premier League is relentlessly taxing but against Newcastle, there were glimpses of his assured ability and as he reconditions himself to contend, regular run outs will be guaranteed. He wasn't the sturdiest in 50/50s, he wasn't as expedient as Jedi but as a player that's still relatively rusty, there's definitely life in Layvin yet.
Negatives
Aleksandar's abnormal pen
Aleksandar Mitrovic has spurned three spot kicks this season. That is three too many, and with a chance to potentially scrounge three points against the club where his journey in England began, the Serb slipped from 12 yards and it's a 'miss' I have never, ever seen before. There are ways to botch penalties but this, this is unchartered.
As his right swung, his standing left sidled and an abnormal double contact was made, which is illegal. The ball veered into the net, Fulham thought they were 1-0 up but Nick Pope was quick to accuse, and so it was scrubbed off. It's oddly hysterical; how can a striker of such potency be so questionable from the spot?
It would've promised a draw at the very least, having shanked penalties against Wolves and Southampton, you'd have bet your bottom dollar on Mitro bagging, the rules of probability and averages would've been stacked in his favour, and he was somehow subject to an infuriating anomaly.
In truth, my gut feeling wasn't great as he grabbed the ball from De Cordova-Reid, I can see why Mitro would've been first in line, given the occasion, but you really have to feel for Pereira and others that are surely due their turn. Maybe it's just the harsh nature of fate, Pope was marginally off his line but VAR weren't focused on that infringement, not when the penalty was contentiously awarded in the first place. Penalties are a problem for Mitro, and although Silva continues to back his talisman, questions will be asked.
Another sickening loss
Here we are, falling to pieces at the death in point-gaining situations, yet again. We crumbled with minutes to go at the hands of Arsenal, City, Manchester United and now, we can add Newcastle to the list of clubs that have done us dirty and while we can't win them all, or indeed draw them all, we're losing games in the most sickening manner imaginable and it has to stop.
In all of the games we've lost this season, barring Newcastle at the Cottage, the Whites haven't even been atrocious or outplayed. In fact, we were deserving of something in all of them but I don't know what it is with our concentration, because it dissipates at the point of no return.
A draw, even after our penalty gaff, was the fair result for both teams but one lapse was enough to condemn us to an unreasonable defeat, with the final whistle in sight, and it's happened far too often for it to even be considered unfortunate. It's a jinx, I'd rather us get pummelled than befall Ls that aren't warranted, because it thoroughly undermines our gutsy efforts and that is unpardonable.
You can accept losses if we're well and truly beaten, without a whimper, however this is a result that feels even worse than a 5-0 thrashing because principally, we didn't deserve to depart Tyneside with nothing to show for it, other than a scornful penalty fiasco. We grind out gritty wins, so why can't we cling onto honourable draws? It's a complex that has to be straightened out, we've been an outstanding to date but along the way, unceremoniously, our game management past the 85th minute has been a concern and it has to be addressed.