Positives and negatives: Leicester City 0-1 Fulham
Written by Cameron Ramsey on 4th January 2023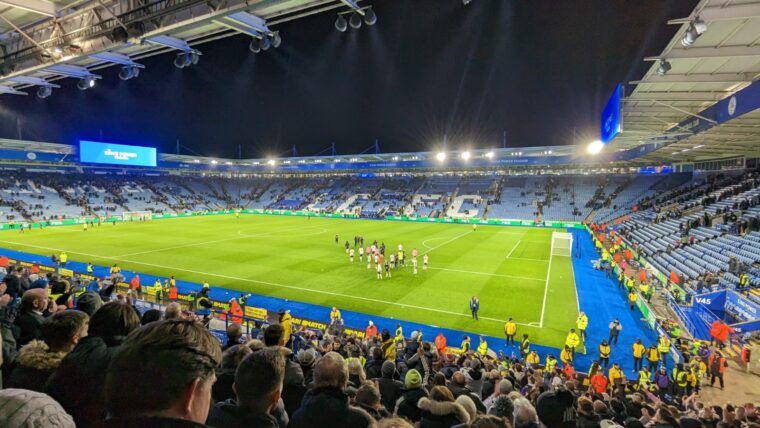 Start as you mean to go on. Fulham did the business in their first outing of the new year and Cam's got all the glorious details in full.
Tuesday nights are usually reserved for leftover bolognaise and drying delicates on the clothes horse, but this one – 3 January, 2023 – was absolutely epic. Our previous visit to the King Power Stadium was also a blockbuster; the game was riddled with plot twists and our latest was almost identical, barring the score line, of course.
Leicester City will surely bounce back; they've good reason to. Marco Silva's Fulham were held by the scruff of the neck, but we somehow wriggled free with another scalp on the road, unscathed. The Whites have evolved enormously in 18 months. They're gritty, hostile, and in meetings that would've been nailed-on Ls in years gone by, statements are being made.
We're seventh and we're punching well above our weight, but this is the season of the underdog and hopefully 2023 will be another magnificent year for all things Fulham. The weeks ahead of us aren't for the fainthearted, however the Whites will know what they're capable of, and so will our opponents. Let's get stuck in.
Positives
Three on the spin
That was quite possibly one of the toughest watches ever. Leicester will be livid; they'd smashed woodwork, dominated territory and yet, the Whites made it three wins on the spin, leaving everything out on the turf and that is an essential hallmark of a true Premier League side. It was nervy, it was horribly frantic but we had enough – just – to keep the Foxes from the door.
Unsightly victories are completely necessary; not one team in this division romps fixtures from one week to the next, but it's important to remember that it's Fulham doing the grinding, the hard yards for maximum reward and regardless of how far we're pushed, this team gets results at all costs.
Youri Tielemans's cultured right couldn't find a breakthrough, the hosts' exceedingly high block quarantined Silva's men throughout the entirety of the second half. It really was edge-of-the-seat stuff and after 18 games, with 28 beautiful points in hand, the Whites are flirting with European football and I'd say we're very good value for it.
Yes, we can't afford to get too far ahead of ourselves, it's foolish to even ponder the thought of Poznan away days but this team of ours is defiant, it's resolute and on Tuesday evening, as we did against Southampton, we found solutions in chaotic circumstances. It's victories like these which really build confidence. To beat an opponent such as Leicester amid an onslaught is hugely significant, as it proves without debate that Fulham trust what they're striving to achieve, and while our primary objective is to survive, we have to appreciate the magnitude of our performances of late because they belong in the big-time, and perhaps even beyond.
Willian's creative masterclass
Run it back to 2016. As the plot thickened, and as Fulham retreated to withstand immense pressure, Willian's spellbinding quality naturally subsided to accommodate resistance but the opening half an hour housed a vintage Brazilian masterclass, and if you didn't know any better, you'd have sworn you were taking in a Premier League Years classic.
Whenever Willian gets on the ball, it's big brain time and his assist for Aleksandar Mitrovic's sumptuous finish, which was indeed the winner, was ingenious. If Kevin De Bruyne or Mason Mount had manufactured it, pundits would be frothing at the gills. The weight and precision was unparalleled, Wout Faes was cut adrift as the ball glided into Mitro's midriff and as our goal-happy Serb fired us into the lead, our focus remained on the creator himself. It was mesmerising.
Before he devised the determining strike, Willian had also unleashed from the edge of the 18, sliding a low effort narrowly wide of the right post and his enterprise, in general, was constructive and expansive. 11-a-side pitches resemble scorpion cages in his perspective and that's why he's so, so effective in 10-yard bursts with and without the ball.
He and Tim Ream haven't taken notice of their respective ages, if anything, it's motivated them to aim for a higher standard and now, having another on the register, Willian's all-time assist tally in the Premier League is 40, and of the Brazilian representatives that have featured in the Barclays, he's second in the standings behind Liverpool's Roberto Firmino, who has 49 assists. As if we didn't know it already, Willian is still a certified baller and he's reacquainted himself to the toughest domestic division in existence in style.
Bernd's big saves
We can delightedly attribute this win to Bernd Leno because without him, Leicester would've almost certainly netted at least three. It's been said time and time again, Leno has to be one of the finest shot stoppers in the Premier League and at the King Power, he attained top marks with a series of otherworldly saves. The German heroically halted Harvey Barnes, he thwarted a sharp-shooting Jamie Vardy, his charge downs were immediate, his reflexes were elastic and his bollocks are forever forged in steel.
He was prepared to fling himself to the foot of each upright, he held his ground while attackers surged and he claimed crosses with astute judgement and awareness. Absolutely nothing was going to pass him, his exertions were exhausting but this isn't a man that rests when the going gets tough.
He is a proper 'keeper. It's a second clean sheet for him and the Whites over the festive period and Arsenal allowed him to leave for pennies. Our recruitment during the summer was considered, we laud Joao Palhinha's exploits, we're warming to Issa Diop's presence although Leno also been an incredible addition and we are seriously reaping the benefits of having a goalkeeper that's both completely committed and genuinely extraordinary.
Tete's all-action Tuesday
We're supposedly in the market for another right-back and if we do acquire one, they better be ready to knuckle down and study hard. Kenny Tete is performing at a level not many can replicate and Leicester's forward line, Barnes, Vardy et al, couldn't shake the combative Dutchman's relentless hustle. Injury set-backs are behind him, and long may it stay that way, because with each passing fixture, he's becoming an unbudgeable factor in Fulham's system.
He ventured the right flank with purpose, on the break he frequently overlapped to disturb the Foxes' structure and at the back, he didn't give his man an inch, whether it be Vardy, whoever, they were never more than a foot away from a stealthy slide tackle or a shoulder shunt from Tete.
While we're at it, how about those commendable do-or-die interceptions of his, eh? He must have gone to ground a dozen times to snip the danger from Leicester's attacks, right at the very last possible moment, and when he acted, there were no half measures. Tete was supercharged, full-blooded and he even got himself a swollen eye for his troubles.
Here's somebody you can trust, here's somebody that isn't afraid of the hard knocks, Kenny is flexing his Champions League credentials and at 27 years of age, with a clean bill of health, he's unearthed an assertiveness, a boldness of which Fulham are dependent. He was all-action on Tuesday night, a marauding insurgent that selflessly progressed and protected and he's another that's drastically improved within Silva's trendsetting regime.
Negatives
Mitro's Chelsea Banning
I'm surprised it's taken Mitro this long to accumulate five yellows and after the condemning caution was flashed in his direction late on at the King Power, Fulham are now without him for the highly anticipated clash with Chelsea in a week.
He'd tempted fate throughout the encounter, over-animated barges flattened men half his size, blue-faced remonstrations were bellowed and once Darren Bond had the chance to finally collar the objectional battering ram, he did so for the most innocuous infringement of the lot. It was never a yellow, a foul by today's deplorable guidelines, maybe, but it is a harsh punishment and now we're without our main attraction when the media circus comes to town.
If it were a straight red, I'm correct in thinking we would've been authorised to spare him for our tip to Hull in the FA Cup instead, no? I'm not quite sure of the stipulations, but it does appear as though we're going to have to thrust Carlos Vinicius into the starting line-up against them down the road, but that's hardly something to get caught up on.
Vinicius has been below par this season, we know that, but I was impressed with his outing against West Ham United in that mid-season friendly and if he can nut a few more bullet headers beyond either Kepa Arrizabalaga or Edouard Mendy, all will be forgotten. Children will want to be him in the playground, we'll all wear gloves, whatever the weather, and a petition for a statue will be drawn up and filed. This could be the making of you, Vini, that goal and infamous celebration at Marine AFC will fade in the glow of a derby day winner.