Positives and negatives: Fulham 2-1 Southampton
Written by Cameron Ramsey on 1st January 2023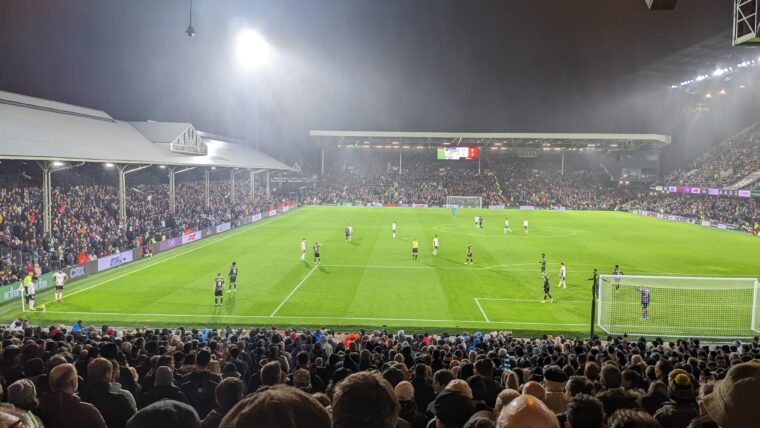 It may not have been in the swankiest of fashions, but Fulham ended 2022 in suitable style with maximum points and Cam's back to recap.
This time of year calls for reflection and Fulham's pre-game ceremony was dedicated to two greats of the game, Pele, and a firm club legend in George Cohen. A 1966 World Cup winner, eulogised alongside a three-time champion of the beautiful game. It really was a poignant, touching tribute to two great men that influenced the sport in their own uniquely distinguished way.
Nathan Jones' Southampton were in trouble before our meeting on New Year's Eve and on New Year's Day, as a tap this article up, the seasiders are in even deeper, hotter waters. The Saints are in disarray, they battled hard but it was never enough to suppress Marco Silva's soaring Whites, regardless of our out-of-sorts performance, and that doesn't bode well for their top-flight status.
2022 is history, we wished to enter 2023 in the best way possible and that ultimately meant three points. We got there. As 12am arrived, Fulham were seventh in the standings, ahead of Brentford and Chelsea, and whispers of a European tour adorned timelines. It's premature, achieving a top 7 finish is seismic but it isn't impossible. We're allowed to dream, in the past 12 months the Whites have topped tables, smashed records and won titles, so who knows what the next year will bring? Happy New Year, Fulham family.
Positives
Scrappy, happy dub
Admittedly, we didn't play very well at all and if we're being completely honest, Southampton were deserving of a point however, claiming all the spoils, despite it all, is a massive marker for Silva's side. Hard work inevitably pays off, we couldn't build momentum and golden opportunities were at a premium but when it really mattered, we capitalised.
If Scott Parker et al were in the dugout, as James Ward Prowse catapulted his free-kick beyond Bernd Leno, we would have folded and we would have invited the Saints to swarm in the closing stages. It wouldn't have ended in triumph. Silva's instilled a desire in his camp, an attitude that doesn't deplete in adversity and while Southampton shaded periods of the game, the Whites progressed with a greater purpose.
It was far from pretty, it was disjointed, scrappy, but even when things aren't necessarily going our way, we find solutions and that cannot go unnoticed. Heads didn't drop as the visitors pulled level, we regrouped, regained our collective composure and we eventually succeeded in our quest for three points.
We can be proud of the lads, for what they're achieving as a unit, because this club has come such a long way from where it was two years ago, languishing at the foot of the Premier League table without a shred of prospect or ambition. They've recaptured our interest and enthusiasm, we're compelled to back the boys no matter what, and they're are delivering.
So, we probably shouldn't have won on New Year's Eve, but who cares? These kind of results are the difference between survival and relegation, it takes courage and character to win matches in the English top-flight under testing circumstances and strikingly, Fulham are flying, rather than falling. This is a humungous dub and we should toast the team's can-do attitude.
Palhinha seals it
In one way or another, Joao Palhinha is always involved in Fulham's key sequences and this time, in the 87th minute, the badge abusing Portugal international was on-hand to steer home a dramatic winner. Screaming in at the back stick, Palhinha arced his posture to divert Kenny Tete's clever flick-on and within a split second, the fan favourite was Johnny Haynes bound, knee sliding towards his adoring public and it's plain to see that this man absolutely admires us, too.
It wasn't a vintage Palhinha outing, in fairness. He mistimed simple passes, he appeared to be slightly leggy, but glimmers of his revered quality still bled through and he saved his best 'til last. Last-gasp interceptions were reinforced by clinically manoeuvred tackles, the staple elements of his game remained, albeit at a lessened rate, and his temperament refused to subside.
Somebody had to take matters into their own hands, a win was at stake, and Joao is a figurehead that rose above the rest, quite literally, when he was propositioned. He's proactive, improvisational, and he dispatched a sure-fire header that lifted Craven Cottage into the stratosphere.
With J-Pally, we get protection, intelligence and every once in a while, limbs aplenty. He's a player, like Aleksandar Mitrovic, that feeds off the crowd. His objective is to entertain, he has endeared himself to the masses and he's easily the sturdiest defensive midfielder the capital has to offer. Already, Fulham is his club and to the same token, he is undeniably one of us.
Ream and Diop
These two, Tim Ream and Issa Diop, have forged a ridiculously cohesive partnership at the heart of our back four. Southampton were limited moving forward, simply because our two centre-halves constricted their final third expansion, and it's a collaboration that meshes new-found confidence with trustworthy knowhow.
Screening across our 18 yard box, Ream and Diop shepherded possession with a measured intent, as they shifted across, the entire fold followed suit and it was constant throughout proceedings. The American hit switches, the Frenchman brushed constructive passes into feet without fail, and if one contested in the air, the other filed in behind to mop up potential spillages.
It's an understanding that clearly gets results. In weeks gone by, Diop has flourished with consistency, he's challenged himself to establish himself and now, he's our defensive specialist, a deadeye doorman that denies entry and his right-hand man, on his left, is the overseer.
Ream should be used as a case study in schools. You should never doubt yourself and the 35-year-old is the reason why. He's unruffled, not even Che Adams could unsettle his self-control and following a relatively positive World Cup campaign with the USMNT, he's operating at a level that nobody could envisage. Tosin Adarabioyo has a serious task ahead of him if he's to dislodge either of our current centre-backs and that's a dilemma I and Silva, presumably, relishes. Healthy competition breeds outstanding efforts and that is how standards are regulated.
Cairney's still game
He may only be able to kick it for half an hour or so but Tom Cairney is by no means a spent force. Southampton, in the second half, overloaded the midfield to dampen Fulham's involvement and though Harrison Reed patrolled incessantly, the Whites had to reclaim control. Off the bench, fresh legged, there's only one guy that can rewrite narratives and he comes with neat flicks and divine dinks.
Almost instantly, Cairney placed his Nikes on the ball and orchestrated, he found destinations ingeniously, knitting and weaving possession into advantageous areas and with raking cross-field swipes and intricate give-and-goes, the skipper supremo enabled the Whites to cause sincere conundrums.
He somehow crammed a game's worth of industry into 30 minutes, he's a craftsman that understood the assignment and he always makes the grade. At 31, TC isn't over the hill and if he's going to feature in the closing stages as a supplementary, the Whites will continue scrutinise opponents until the final few seconds.
There's nothing second-rate or peripheral about Cairney, though. He still has an important role to play in Fulham's season and he's still a Premier League calibre playmaker. Utilising Cairney's expertise sparingly isn't indicative of his stamina or endurance, not really. Tom's deployed midway through the second half to distract and disturb, it's actually a cunning tactical exercise and it came to fruition against the Saints.
Praising Pereira's press
His performances frequently skim below the radar and it wasn't really any different against Southampton however, as he's a non-stop pressing machine that contributed to Fulham's deflected opener, Andreas Pereira is certainly deserving of recognition.
Our corner routine isn't discreet, it's been tried and tested on multiple occasions and just after the half hour mark, it finally worked, sort of. The ball floated towards Pereira invitingly and the Brazilian, perched on the edge of the box, volleyed goal bound. The strike cannoned through bodies and ricocheted off Ward Prowse, it was a stinging effort that deviated and Gavin Bazuna was stranded.
He simply had to have a go, it was the correct thing to do and even if it's been attributed to JWP as an own goal, you'll bet your bottom dollar that Pereira will claim it as his own. From the off, Andy-P stimulated a high press, he hustled Southampton, coaxing them into awkward situations and though he tires, naturally, his willingness to pursue is unquenchable.
I don't think he's ever dropped a stinker, not by my recollection, anyway. His deeds go undetected because he just gets on with it, no messing, and his output speaks for itself. 2 goals (call it 3) and 4 assists in 17 Premier League games isn't to be overlooked, it may not be the most prolific of returns but his work rate and yield in simply doing what he paid for is highly beneficial to Fulham's approach and he's the very definition of an unsung hero.
Negatives
Send James back
I'm not going to linger on this for too long, I can't really be arsed, but I think we can all unanimously agree that Dan James is a woeful baller and he should return to Elland Road immediately. He isn't invested, people talk of confidence, or lack of where James is concerned, and I think that's nonsense.
The bloke's just come back from a World Cup, he's a full-fledged international that's had more than enough time to settle in SW6 and each time he takes to the turf, he cuts a forlorn, dethatched stranger that doesn't listen to basic instructions. He held onto possession for inordinate amounts of time (get bloody rid of it), he actively sought danger, rather than evading it, and while he may have won the penalty, he was so, so disappointing but that's hardly surprising.
You've two more Welshmen on the bench in Harry Wilson and Luke Harris and for reasons known, we chose to throw on a glorified fly-half. He only deals in straight lines and even then, he's wayward. It just hasn't worked out for James, it's been a pretty miserable venture for the 25-year-old and we've really, really seen enough. Thanks for the goal against Manchester United but as Claude once said: "it's time to go!"
Mitro misses penalty
Embed from Getty Images
Can we stick Pereira or Willian on penalties, please? Mitro, we love you, but you can't take a decent penalty for buggery and I think it's time we pass the baton on. He definitely had far too long to think about it before he dropped the ball on the spot. Ideally, Mitro would've set his sights and detonated but those two-or-so minutes before the penalty area was vacated killed the Serb's conviction.
It happens, despite his indomitable tendencies, he's still human, but as he's shanked more penalties than he's netted this season, he's got to do the right thing and step down, even if it's only for the next few spot kicks we're awarded. I mean, Andreas spanked his past Ederson at the Etihad, so what are we waiting for?
Of course, it doesn't matter now the game's done and dusted, although it would've been nice to round off proceedings with a two-goal buffer and importantly, it tampered with my precious FPL points and that is unforgivable. So, if Fulham have a penalty, whether it's in the 15th minute or the 90th, Aleksandar has to be nowhere near it. It's nothing personal, it's for the greater good.