Positives and negatives: Manchester City 2-1 Fulham
Written by Cameron Ramsey on 6th November 2022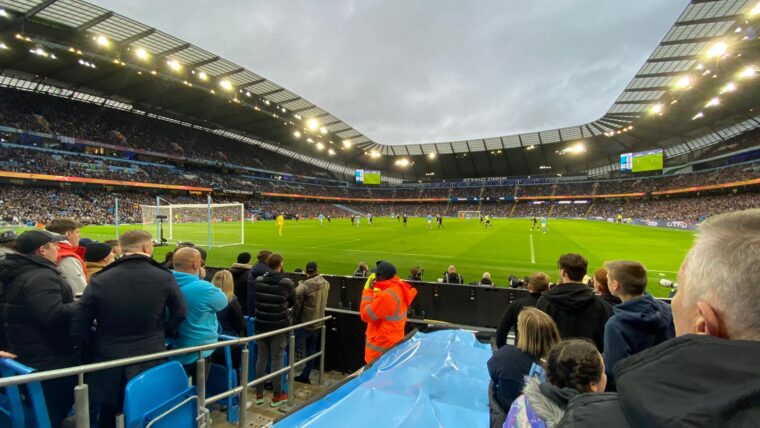 After enduring a five-hour coach journey, Cam recaps Saturday's spirited loss at the hands of a team that have the world at their feet.
We are annoyed that we didn't get a point against Manchester City, away, and that is properly bonkers. How are we, little Fulham, disappointed to not have taken something on Saturday afternoon when we all know damn well that a 5-0 spanking was expected beforehand. Pep Guardiola's Sky Blues have a frightening habit of blowing unassuming sides away at the Etihad, they regularly score 4+ goals at home and they oh so nearly fell short against Marco Silva's remarkable Whites. What a statement.
You really have to appreciate the magnitude of the occasion and how Fulham upped their standards to aggravate what can only be described as the best team in the world. Are Fulham worthy of Premier League football? Yes, without a slither of doubt, we are prepared to go toe-to-toe with heavyweights and we trade slugs regardless of the consequences. Whatever the result, the Whites are in this together and they departed Manchester with an amplified sense of pride and dignity.
Positives
Prouder than ever
Embed from Getty Images
This Fulham side is not afraid of anything and at the Etihad, the home of the current Premier League title holders, Silva's men asserted themselves upon proceedings to make Guardiola's superstars sweat profusely for three points. A thrashing was forecast, everybody envisaged a mauling before kick off however the Whites were defiant, they weren't to be intimidated by the Sky Blues' prestige and for 95 enthralling minutes beneath the customary Manchester drizzle, Fulham displayed a gritty determination that is prerequisite to survival, a courage that was undying, and it's a desirable attitude that we've become pleasantly used to.
Staving off the drop will always be our primary objective, the prospect of securing a top 10 finish is secondary, but if the Whites confront each and every fixture as they did against City, safety is certain. Fulham had to absorb City's pressure which came in waves, relentlessly, and though the hosts were cut down to 10 men midway through the first half, they were still readily capable of ripping us apart if they were enabled to do so and our structure, fortitude and dedication limited a free-scoring machine to minimal goal mouth action and that has to be commended.
Saturday's stubborn performance is a marker of just how far Fulham have come under Silva's stewardship. Early on, Fulham were visibly shaken, panicked in possession but as they warmed to the occasion, they regained composure and were collectively resolute. This is not a squad that has an identity issue, it is not estranged or disillusioned, it's a collaboration that's unfazed by affliction and though it was nervy in the opening minutes, our resolve was reassuring and we overcame stage fright. Fulham are competitive, they cause conundrums for opposing teams to solve and if we're able to frustrate established table toppers such as City, we can hold our heads up high, prouder than ever, because we belong.
Pereira's penalty poise
A former employee of City's bitter rivals Manchester United, Andrea's Pereira's reception the Etihad was far from welcoming and as jeers and hisses rang down from the home terraces, the Brazilian was granted an opportunity to silence the boos from the spot. Harry Wilson by clipped by Joao Cancelo and a penalty was awarded. Cancelo was given his marching orders and it was Pereira's responsibility to restore parity. He did, emphatically. Sending Ederson the wrong way, Andreas cupped his ear and soaked up City's disdain, the away end erupted in the distance and at the home of the champions, he'd got Fulham back on level terms and it was marvellous.
We've seemingly found an alternative penalty taker, Pereira's an all-round set piece specialist and he is enjoying a Premier League campaign like no other. In 14 outings, the 26-year-old has two goals and 4 assists, he's a catalyst within our attack and he deserves substantial plaudits because he also works tirelessly and selflessly off the ball to maintain Fulham's foothold in matchday matters. He embodies the underdog, resurrecting his career in the English game has been his overriding motivation and Fulham are benefitting from his perseverance.
Big Bernd moments
Embed from Getty Images
Our goalkeeping recruitment process has been studied in years gone by but the pick of the bunch is Bernd Leno. He's used to big occasions and in those games, even bigger moments occur and it was no different for the German stopper at City. A malleable shot stopper, Leno's reflexes are, as we know, outrageously sharp and particularly during the first half, his reactions were assessed from close range and he was the man behind a series of massive saves. We are going to be reliant on his expertise this season and following his exploits on Saturday, our goal difference remains respectable when it could've been bludgeoned heavily.
Having a 'keeper of Leno's quality instils confidence in defenders and our output's improved as a result. He's a handy distributor, an auxiliary sweeper, and he knows precisely where he has to be at any given moment of potential trouble. He's a stopper with perception, he sees the whole picture and his performance reinstated Fulham's relevance in the game. Without him, City may have been a few goals to the good before the break and though he guessed correctly as Haaland let loose from the spot at the death, he can't be blamed. Greasy surface, firm strike, he was agonisingly close to preserving a point but that's the cruel nature of football and I can't praise him enough for his trying endeavour. He'll dust down, move on, and so should we.
Kenny leashes Grealish
Although Bobby Decordova-Reid's stepped into the fullback role excellently in recent weeks, Kenny Tete's importance cannot to be denied and he had the measure of Jack Grealish throughout. Not a moment's peace was gifted to Grealish, Tete shadowed the England international scrupulously and he ushered the winger into cul-de-sacs, which nullified City's momentum along the right. Grealish's involvement was ominous, he's an expert in sizing his marker up and skinning them within a single breath but Tete wasn't fooled and the floppy-haired Brummie was stubbed out.
Making a telling impact on the break is never an easy ask against City but Tete's efforts were balanced. He supported expansively and he was constantly aware of his positioning, and he refused to let Grealish and his teammates have it all their own way. Kenny's another that's thrived within Silva's regime, he's rediscovered consistency in his outings and he wasn't out of place in the presence of greatness. For me, Tete is criminally underrated and he is essential to Fulham's procedure. Of course, BDR is a sturdy deputy but the Dutchman's built different and he's definitely designed for the rigours of the Premier League. Man City or not, King Kenny seldom wilts under the weight of expectation and he was a key performer on Saturday, yet again.
Diop's top shift
Embed from Getty Images
We learnt a great deal about our boys upon our trip to City and one player that's gone from strength to strength is Issa Diop. He's not a staple component within Silva's defensive department, he's redeemed himself after a horrible debut in the Carabao Cup and with Julian Alvarez and eventually Erling Haaland to occupy, the Frenchman stood up to the challenge to reaffirm his reputation as a nailed-on starter. Playig against City is a good barometer, levels of skill and dexterity are examined mercilessly and I'd say Diop's passed the test comfrotably.
He timed his tackles and interceptions perfectly, he anticipated City's counters and he set himself accordingly, it was a tough shift for the 25-year-old but in flashes, he made light work of the hosts' incisive attacking scenarios. He was sound in the air, calculated with the ball at his feet and he was a diligent watchman that held the line and stamped out jeopardy. Fulham are so much more convincing at the back when Diop's on the pitch, Tim Ream was exploited for City's opener but beside the veteran American is a player that's gradually developing into the trustworthy, functional defender that he's always supposed to have been.
Negatives
De Bruyne bought winner
Contentious officiating is a weekly cause for debate in the Premier League and Fulham were robbed of a deserved point because of VAR's inactivity. As it happened, I thought it wasn't a penalty and having watched the supposed infringement multiple times from various angles, I'm still aghast. Kevin De Bruyne is arguably the best player on the planet but come on, that is appalling. We're mystified by his brilliance in possession, the professional game is his playground and he gets maximum points for his theatrics, too. Firstly, Antonee Robinson was closing down the angle, it was an attempt to dispossess De Bruyne and the Belgian fabricated contact himself, it's blatant and flagrant.
De Bruyne trod on Robinson's foot, he felt contact and he tumbled like a sack of shit. The art of deception isn't lost on the City's twerking talisman and Darren England was persuaded. We can excuse human error but we cannot forgive technological discrepancies, not when the tools and equipment to overturn such decisions are easily accessible. The whole argument is farcical, football's subjective, the laws of the game shouldn't be ambiguous and yet, there'll always be controversy.
We're victims, it isn't the first time we've been ignored by Stockley Park and it won't be the last time either, but if it has happened at the other end, Tom Cairney being dubiously upended, for example, I'd like to see if the penalty would be waved away after inspection. It's a conspiracy, a bone of contention and I know we seem to harp on about favouritism and selectiveness almost every single week but that's how I see personally see it. It reeks of preference, special treatment for Crude Oil FC and inferior teams like Fulham simply aren't respected.
Vinicius bottled it
Embed from Getty Images
Blimey, if this guy is seriously Aleksandar Mitrovic's back-up, we are done for. Carlos Vinicius is a terrible footballer, he has the first touch of a bumper car, the top speed and urgency of a hearse and he was peripheral right up until the moment he was hauled off for Cairney. He won't get many chances to prove himself this season, not when Mitro's available, and the Brazilian was awful against West Ham United and he was atrocious against Man City. Absolutely nothing he tried came off, he was ridiculously containable and he was chasing shadows. It's easy to attest that it was never going to be routine for Vinicius, not against City, but strikers will still get openings – slim or otherwise – to effect games and he is clearly out of his depth at this level.
Whenever he got anywhere near the run of play, he bottled it. Shrugged off, overpowered, the 27-year-old was completely subservient, he's a big bloke, and I think we've all seen enough of him to have gathered an informed opinion. I don't care if he's got John Stones, Nathan Ake and Manuel Akanji to withstand, he's not up to it, neither is Dan James and neither is Kevin Mbabu. With the World Cup only a matter of weeks away, it's possibly too late/unnecessary to recall players such as Rodrigo Muniz and Jay Stansfield but both would do a far better job than Vinicius and that's an undeniable fact.