How do Fulham get anything against Man City?
Written by Jack Stroudley on 3rd November 2022
Jack Stroudley looks at the near-impossible task at hand this Saturday as the Whites take on the champions.
I don't like using the term "free hit" for a game of football, but unfortunately, this weekend is one of the few times it could be valid. Fulham head up to Manchester City this weekend for their final away game before the World Cup, a nearly guaranteed defeat along which, along with train strikes effecting the country, will probably result in fewer fans going up than usual.
I've been to the Etihad three times and seen Fulham lose a combined 11-1. However, is there any way that Fulham can come away with a Diomansy Kamara-esque smash and grab over the Premier League holders?
Our opponents
Embed from Getty Images
Where to even begin with Manchester City? Their squad is arguably the most stacked in the world with quality and depth in every position. That said, it only feels right to start with a certain Norwegian cheat code Erling Haaland. He's already managed to bag 17 goals this season in just 11 appearances; there's a question mark in regards to his fitness, but even if he doesn't play his backup is the more-than-capable Julian Alvarez who has settled into Premier League life well.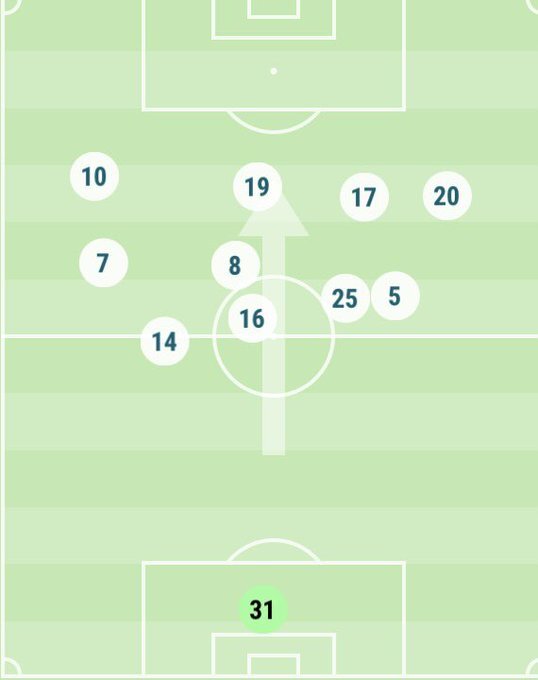 I've attached Manchester City's average positions for their game against Leicester last weekend and it truly is grim viewing for Fulham. Every single outfield player bar Aymeric Laporte spent more time in the opposition half last weekend than their own (and even the Spaniard is on the border!) Every attacking threat City have is frightening with De Bruyne, an enthused and in-form Phil Foden, Jack Grealish, Riyad Mahrez and Bernando Silva all at Pep's disposal this weekend.
I don't want to sit here and just talk about how good Manchester City are, but it's impossible not to; they're yet to drop a point at home all season scoring a combined 27 goals in those six game. Is there anyway Fulham can cause a shock?
How do we prepare?
Embed from Getty Images
I've cast my mind back to last season during the FA Cup fixture, throughout the first half we were very much in the game and even took the lead through Fabio Carvalho. I remember thinking at half time if we can keep it at 2-1 we are very much in this (we all know what happened next). After the game City fans tweeted about how impressed they'd been with Fulham's first-half display. The way we approached that game was the same as we approached every game last season – with no fear.
We pressed City when possible, tried to play out from the back, created opportunities when given the chance and overall gave City a good test for 45 minutes. If we want any luck of getting a shock result from this game then we need to do the same again.
In terms of attacking personnel, it's a shame Bobby De Cordova-Reid is absent for this one as I think him and Tete doubling up would've been our best chance on the right-hand side to both create chances and try and limit Manchester City. Because of that, I'm going to go with Harry Wilson on the right and Willian on the left. While Willian may not offer us a lot of defensive stability and tracking back, he offers us an unpredictability. He's been impressive over the last month or so and his dribbling ability, the way he can drag a man to offer space as well as quality from set pieces is something we will need if we want any chance.
Wilson has had a slow start this season, he's obviously had to deal with an injury and maybe is trying to regain match fitness and sharpness. But, he is a talented player with lots of ability, knows Mitrovic well and can always pop up with a goal or an assist. Similarly to Willian, we'll need him at his best if we want any chance of getting a result.
The final verdict
Embed from Getty Images
It's going to be tough, we all know that. City's tenacity and relentless nature going forward are just two reasons why people claim they are the best team in the world. But Silva and his side showed in patches last season at the Etihad that we can compete against the best on our day. This season has exceeded expectations so far. We couldn't…. could we?