Positives and Negatives: Leeds United 2-3 Fulham
Written by Jack J Collins on 24th October 2022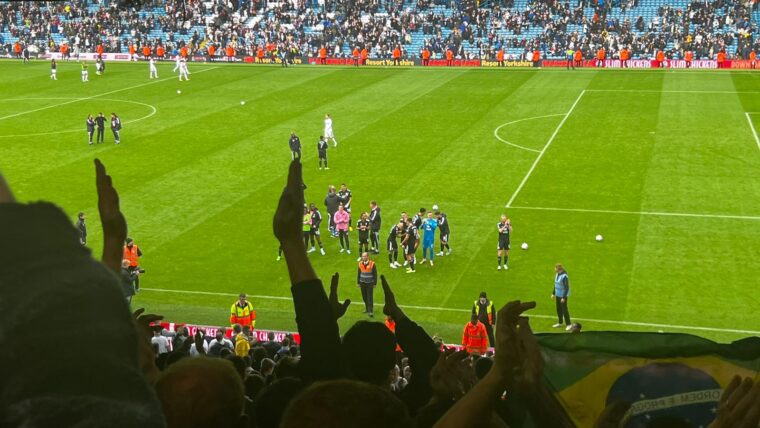 With CamRam on Dad duty (and firstly, a huge congratulations to Cam and his lovely wife Lucy!), Jack Collins steps into the breach to look at the ups-and-downs from what was a stunning result in Yorkshire that moved the Whites up to seventh (!) in the Premier League table.
Elland Road hasn't been a particularly happy hunting ground for Fulham of late. You have to go back almost eight years to December 2014 to find our last win in Beeston, when a solitary Hugo Rodallega goal was the difference between the two sides.
But that didn't matter on Sunday, as Fulham took the game to Leeds, and recorded the win, which means that in October the Whites have already equalled our tally in the win column from our last attempt at a Premier League season. That's a positive in itself, but there are plenty more to pick from.
Positives
The irrepressible Harrison Reed
Embed from Getty Images
Fresh off the back of his second league goal of the season against Aston Villa, Harrison Reed could well have added a third in the opening minutes of this one, having a strike brilliantly blocked on the line by Marc Roca. His presence though, was keenly felt throughout the entire game – not only with a stunning assist for Willian's goal that put daylight between the two teams – but also in the centre of the park, where his tireless workrate off the ball and ability to drift into the right areas in possession meant that Leeds couldn't really lay a glove on him.
Reed's relationship with Palhinha is the bedrock of this Fulham team – the Portuguese provides the anchor, and off him Reed buzzes around putting out fires and winning possession over and over again, returning Fulham to the front foot on a regular basis. The freedom that Reed is now afforded by a defensive bastion of the quality of the Portuguese has added further strings to his bow, and if Gareth Southgate isn't paying attention yet, he should be.
The mazy dribble that meant Reed ended up on the assist list was something to behold. Composure, vision and determination in absolute spades, with the final pause to evade Luke Ayling on the byline perfectly timed to make a goal inevitable from the pullback. It's a mark of Reed's game rounding out even further, and whilst this World Cup will come too soon for Harrison to profit from his form this season, it's surely only a matter of time before a debut international call-up is in the offing for our diminutive, dominant number six.
Brazilian boys balling
Embed from Getty Images
When Andreas Pereira and Willian both signed in the summer, there were plenty of eyes rolled across the board by other Premier League fans – not least by Manchester United and Arsenal supporters – but both are thriving within Marco Silva's Fulham system. It's a mark of our head coach's ability and setup that he has been able to incorporate and improve two players who many had written off at this level, but major credit needs to be given to both that they have joined the club, got their heads down and proved their point.
Let's be fair – neither are perfect. In the first half there were plenty of gaps behind Willian that Leeds looked to exploit, and only another very good game from Antonee Robinson in that channel stopped more damage from being done in those areas; while Pereira was guilty of spurning a gilt-edged chance to give Fulham the lead when one-on-one with Meslier – telegraphing his shot instead of either teeing up the onrushing Harry Wilson, or even feinting to go round the keeper, which seemed the better option.
But we don't demand perfection. Willian's mesmeric ability on that left hand side caused problems all game long, with most of Fulham's thrust fed through him in one way or another, and his goal capped off what has been a truly brilliant week for him in a Fulham shirt. Meanwhile, Pereira's dead-ball ability caused havoc in the penalty box for Leeds on numerous occasions. But he is no mere specialist with nothing else to offer – he hassles and harries, draws fouls, leads the press and leaves everything on the pitch, and he has quickly become a keystone of the way that this side play.
Attacking patterns of play
Embed from Getty Images
Talking of which, something that's really caught the eye of late is the variation that Fulham can deploy in the way that we attack. We're a long way from the one-dimensionality that meant we only scored 27 times in the league in 2020/21 – a total that we're already close to matching with our 22 goals in 12 games. In fact, if we were to keep this rate of scoring up, we're currently on course to notch 70 this season.
This comes from Silva's inventiveness in the final third. Simply put, this Fulham side know how to attack. Whether it be through first-phase set piece deliveries (like the first goal), second-phase reworks (like the second), late runners arriving in the box for byline cutbacks (like the third), early crosses from deep, flatter crosses from wide, scything counter-attacks through the middle or long-range attempts, the variation in Fulham's testing of opposition goalkeepers has been a joy to watch, and means that opposition managers are still guessing which way we're going to hurt them.
It's not bad for a team 'over-reliant on a target-man who can't cut it in the Premier League'. Oh, and that fella's joint-second in the Premier League scoring charts, if you were wondering.
Negatives
Defensive frailties remain
Embed from Getty Images
There's not all that much to complain about, but coming off a really good clean sheet on Thursday night, it was a shame to see our tendency to concede big chances and sloppy goals returning at Elland Road. The first goal is a bit of a mess all round. Yes, Leeds get a bit lucky with the looping deflection, but Robinson's slip allows Jack Harrison way too much time, and he should probably have scored himself. Tosin should probably do a little bit better with winning that header at the back post as well.
There were a few very heart-in-mouth moments in the second half, especially at 1-1, and too many of them were of our own making. Aaronsen's cute chip which narrowly landed over the bar came directly from a Mitrovic pass back into a dangerous area that went straight to a Leeds player. The late goal that briefly set nerves on edge comes from a muddle on the edge of the box that Joe Gelhardt forces his way through, and a narrowly wide strike from Luke Ayling came from switching off at a free-kick.
There is always an element of risk-and-reward with the way that Fulham set up under Marco Silva, and there can be absolutely no doubt that we remain one of the most entertaining sides in the division. In fact, there's obvious shades of Kevin Keegan's 'if you score two, we'll score three' philosophy within this side – but equally, it would be nice to win games by more than a one-goal margin a little bit more of the time.
One final positive
Embed from Getty Images
With that said though, nobody can doubt the spirit and endeavour of this Fulham team. Not since the Roy Hodgson days have we seen a Premier League incarnation of Fulham possessed with this self-belief and obvious joy in playing for the shirt. The club is united, fans are daydreaming, and Marco Silva has built a team that not only plays to each others' strengths, but also plays for each other as well.
Three unbeaten, back-to-back wins, and Everton up next at the Cottage. There's absolutely no reason we couldn't make that three wins on the spin, even with the Toffees in resurgent form under our old nemesis Frank Lampard. Bring it on – these are heady days.