Can Marco add a second manager scalp against Leeds?
Written by Dan Cooke on 22nd October 2022
Dan Cooke looks at the prospect of Fulham being able to ring the death knell of two managers in two games.
We all knew that October was a big month for the Whites. A poor start to it has been recovered after our thumping victory against Villa. The football was wonderful, and the vibes in the ground were immaculate. 100 miles away in the East Midlands, the atmosphere in the Leeds United end was toxic. Players were booed off at half-time, substitutions were met with disgust, and the final minutes of the game saw them chanting songs about Marcelo Bielsa. To top it all off, they were blanked by Jesse Marsch after the game, as he walked off the pitch without acknowledging the travelling fans.
Momentum
The mood in the two camps couldn't be more different. Our win against Villa pushed us up to ninth, whereas Leeds sit in 16th and are only out of the relegation zone by virtue of their goal difference, without a win since August. The momentum is well and truly in Fulham's favour.
There's a real opportunity for Marco Silva's team to go to Elland Road and play on the front foot. We know that Leeds are about high intensity, in-your-face football, but that's what Fulham have been this season too. If we can go up north and match that intensity, and let our quality shine through, three points are on the table.
A good start may be essential on Sunday. Everyone knows that things can get raucous up in West Yorkshire, but with the toxicity that has been building after recent results, an early goal, and a bright start, may have Leeds fans turning on their players rather than spurring them on.
Mercurial Talents
Despite the chaos, there's talent in their team which has the ability to hurt us. Luis Sinisterra is still raw, but there's an exciting player in there, who likes taking on defenders, and loves a shot on goal. Brenden Aaronson burst onto the scene at the start of the season, and has somewhat cooled off. However, his intensity, and ability to pick the ball up between midfield and defensive lines is dangerous, and Palhinha will have to work hard to keep him quiet.
Embed from Getty Images
Finally, there's Rodrigo and Patrick Bamford, who have been interchangeable as their leading man. While they've struggled to put the ball in the net, they are two smart forwards, who will make life really awkward for our back line; don't expect us to be afforded the amount of time we had in possession against Villa.
They're a dangerous side going forward. However, so are we, and we have our own talents to match. When considering both of our attacking abilities, and questionable defences, it's unlikely that we'll see a game like the last time our fans made the trip up to Elland Road in 2017, when we were treated to the most dismal of 0-0 draws, before schlepping back to London.
Sacked in the morning?
It is not unthinkable that a favourable result for Fulham on Sunday could see Jesse Marsch given his marching orders. They would be winless in eight, with a game at Anfield to follow. The growing friction between fans and manager is never a good sign, and like Villa, Leeds fans will see Fulham as lesser, and won't accept another loss.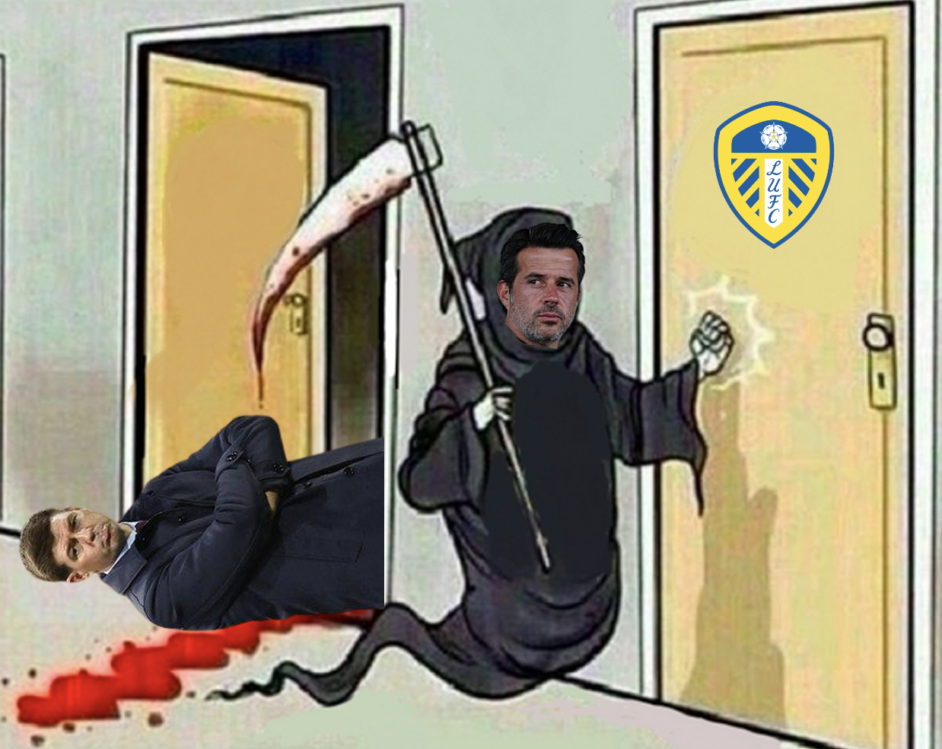 After the fallout from Thursday's game against Villa, we're in a situation where Marco Silva could turn into the Alan Sugar of managers. Having seen off Steven Gerrard already this week, to be the final nail in Marsch's coffin would be quite remarkable.
I probably don't need to remind you that the next manager we face after Leeds is Frank Lampard. We couldn't see a hat-trick… could we?