Positives and negatives: Fulham 2-2 AFC Bournemouth
Written by Cameron Ramsey on 16th October 2022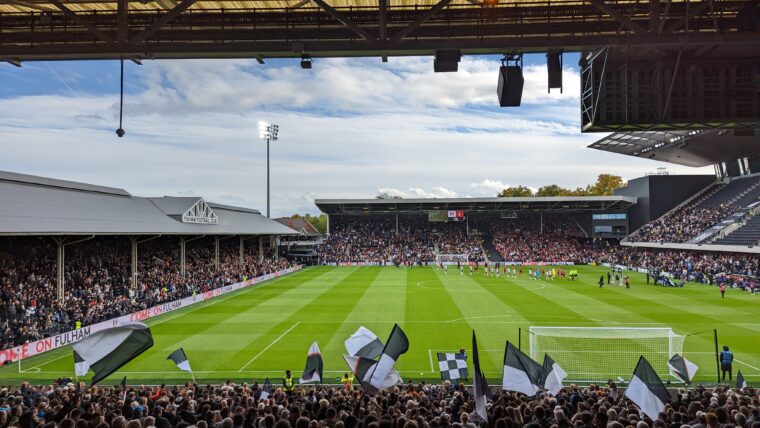 Fulham have another point on the board, Cam is at the keyboard, so all is well as far as we're concerned and matchday 11 can't come soon enough.
I guess, now that neither Fulham or AFC Bournemouth are associated with Scott Parker, we can both be friends? We and Saturday afternoon's visitors are better off without him and a draw, all things considered, is a massively beneficial result for both clubs. Gary O'Neil has steadied the Cherries, they're no longer likely to be tanked 9-0 and they took the game to us, quite literally from the off.
We were stunned, Marco Silva's Whites had to adapt to the fast-paced nature of Bournemouth's counter attacks and once we'd negated their enthusiasm, a gripping encounter ensued. Whenever we meet, in the Championship or Premier League, we love to share the spoils and we shouldn't be irked or dismayed. With Aston Villa up next on Thursday, we've an opportunity to better our collective performance and I expect us to go hell for leather for the W. In the terraces and on the turf, let's remain focused and motivated, together.
Positives
Subs changed outcome
Embed from Getty Images
Something was amiss before the half-time break and if Fulham were to get themselves back into the game, Silva had to ring the changes. Harrison Reed, in complete fairness, didn't step out of line, he was his usual robust self, but in the final third his presence was wanting and the less said about an incredibly disappointing Dan James, the better. That, however, is where Tom Cairney and Willian Borges come into view and to the pair's utmost credit and acclaim, they restored method and intent in Fulham attacks, which were heavily frequent as the second 45 progressed.
He may not necessarily cover as much ground as Reed but what Cairney does offer is vision, a calming simplicity, and when he's required to dispatch those killer passes there's nobody better to call upon. TC interlinked with both fullbacks, roaming across the middle third to help possession reach its destination without obstruction. He's Waze, a navigator, and he also administered his fair share of hard tackles to relinquish Bournemouth's spells on the ball, so he wasn't just a creator, he was a disruptor as well.
Willian's brief appearances this season haven't set the world alight. He's 34-years-old and can't burst into action as freely as he could do during his Chelsea days but his intelligence both on and off the ball is still as sharp as ever, it simply needed to be awakened. The Brazilian's license to support without being constrained to a sole position enabled Fulham to weave possession into promising areas, punchy give-and-goes manipulated the Cherries' defensive structure and with TC in close contention, the Whites were stirring. At least one of the two has to start against Villa, balance and nerve was reinstated under their influence, so perhaps Silva has to shake things up to prevent Fulham from becoming stale.
70% Mitro bags
It's so, so true. Having Aleksandar Mitrovic on the pitch, at full fitness or even 70% capacity, is a massive bonus to Fulham as he lifts the collective standard, tenfold. Visibly, Mitro was ever so slightly off the pace, he didn't contest aerials as ruggedly as expected and his stride was cumbersome but, even in fatigue, the ever-dependable Serb still manufactured result-altering instances and from the spot, having won and taken the penalty, he notched his seventh Premier League goal of the campaign to level the scoreline.
He was speered by Jefferson Lerma, apprehended against his will, and as Graham Scott delivered justice, Mitro made no mistake. Neto fell hopelessly in the opposite direction, flashbacks of Wolves away were cast aside, his penalty was full-blooded, not half-hearted, and while his ruthlessness in front of the target waned with near misses and speculative efforts, Aleksandar wasn't going to be overcome by weariness from 12 yards. This is a striker that's personally offended by being left out, he wants to feature in every minute of every game but that brings its own issues. We have to keep Mitro fit, we have to keep him hungry, because it's obvious that without our forceful No.9 leading the line, Fulham are dysfunctionally tame.
Beaming for Diop
Embed from Getty Images
With Tosin Adarabioyo, Tim Ream, Shane Duffy and Issa Diop to choose from, Silva's options at centre-half certainly aren't on the dumpy end of the height spectrum. They're towering figures, and the latter of the aforementioned quartet opened his account with a stately header within a melee. Given his hardships at West Ham United Last season, I'm beaming from ear to ear for the lanky Frenchman, because these significant moments will reignite his stuttered career.
At 6'4, Diop should be getting on the end of Andreas Pereira's gorgeous corners, and I doubt it'll be the last time we see the defender put bonce to ball, either. He has previous, he scored 8 goals in 121 outings for the Hammers and for a centre-half, that's a particularly healthy return and he's odds-on to boost his overall tally for the Whites. Primarily, Diop definitely needs more minutes, there's cobwebs to brush off before he's fully up to speed, but I also want to touch on the accuracy of his 60-yard switches. Diagonals for days, it's like Joachim Andersen never even left, and if he's got that kind of brilliance in his locker, playing out from the back won't be a problem if Diop's eyes are trained on expansion, far flung or shortened.
Negatives
Soft goals shipped
Drawing level twice indicates offensive exertion but at the back, as Bournemouth sliced through our entire squad within 60 seconds of the game's commencement, our seriously weak defending has to be inspected because we can't continue to ship soft goals, not in this unforgiving environment. For both of the visitors' goals, Fulham were flatfooted, fettered by absent or ill-equipped fullbacks, and the Cherries capitalised systematically. Elementary triangles, straightforward pullbacks, the Whites were breached by the basics and in 8 of our 10 Premier League meetings, we've conceded two or more goals. A favourable goal difference, perish the thought, could be our last hope if things turn sour later down the line, so we have to tighten up and we have to find solutions.
Perhaps Silva's yet to settle his defining selection. With Tosin making way Diop, we could be on the verge of seeing regular rotation as Marco identifies a functional central pairing, and the jury's still out. Ream and Tosin cooperated excellently in the Championship, although deficiencies have started to form against Premier League opposition, so the only way we're going to paper over the cracks is through trial and error. Our fullbacks are nailed on, Kenny Tete and Antonee Robinson are shoo-ins but in the weeks to come, central defensive alterations are anticipated. 20 goals conceded in 10 games isn't a very good look, and though we're sitting pretty on the surface, mid-table, our defensive fortitude's a legitimate cause for concern.
How many crosses?
Embed from Getty Images
The final 15-20 minutes of the game were dominated by Fulham, we were turning the screw, on the hunt for a winner but despite the fact we absolutely peppered the Cherries' penalty area with 37 crosses over the course of 95 minutes, we weren't able to break through for a third time. Our final product was imperfect, balls from the left bashed backsides, digging out purposeful dinks and dabs from the right was a joyless task, everything we tried was in vain but at least we never let up. We weren't able to get ahead, frustrations were undisguised, and now we have to channel irritation for the better.
We've faults to iron out. We're far from secure at the back and in the final third on Saturday afternoon, we were impotent. An extra second of concentration would make all the difference, we'd registered 24 shots in total yet we netted via a header and a penalty, and as proceedings shifted in our favour, we couldn't cash in on our 69% possession and our numerous crossing scenarios. Bournemouth were under fire, they had to pull together to withstand the bombardment and that will relieve the seasiders. Neto wasn't tested enough and our aim from the byline and the touchline was pissed.