Positives and negatives: Fulham 1-4 Newcastle United
Written by Cameron Ramsey on 2nd October 2022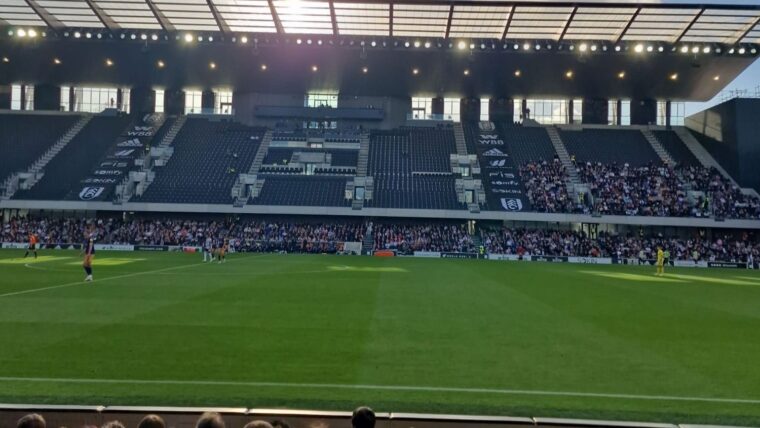 Cam picks the bones of Saturday's defeat and looks at what's next.
The last time Newcastle United scored four goals away from home was in 2019, at Craven Cottage, funnily enough, and the last time Fulham lost 4-1, they went on to win seven consecutive league games, so you can stew on this spanking however you will, because things are bound to get better. Eddie Howe's Toon are not pretenders; they're the real deal and they're worth their league position but to the same token, so are Marco Silva's Whites. As I write this, Newcastle are seventh, Fulham are eighth, and I'm determined to sweep this result aside but alas, needs must.
It was ugly, it was a blow to the system, but in the Premier League drubbings will occur, not one single team other than Manchester City are exempt from that reality and Fulham, as we know, are most definitely prone to dropping clangers every once in a while. As long as this doesn't become a trend, we really shouldn't give a toss about this loss although as we're all creatures of habit, we're hardwired to basically dissect everything so that's exactly what we'll do.
Positives
Second half drawn
Embed from Getty Images
We have to take something in good stead from Saturday's heavy loss and if we're scratching for reasons to be cheerful, we can be begrudgingly pleased that we somehow drew the second half 1-1. The first half was a write-off, damage limitation was paramount and under immense pressure, weathering wave after wave of swift Newcastle counter attacks, Bobby Decordova-Reid nodded a shallow consolation in 89th minute, courtesy of a well-weighted Neeskens Kebano cross. That was nice, I guess… right?
It's ironic that in a game with nothing to shout about whatsoever, Fulham's fans still sounded a wry cheer to muffle the jeers, and though it's not even close to resembling a last laugh, it's kind of settling to embrace a second half showing that was far more resilient (if you can label it so) than what was ungraciously trothed up in the opening 45 minutes. This positive is a massive reach, I know, but it's better than nothing and I don't want to promote a sudden tide of depression, especially after our first seven games.
Negatives
Chalobah kills occasion
Mistimed, honest challenges can be excused but Nathaniel Chalobah's sudden rush of blood to the head cannot be pardoned and I don't want to see his name anywhere near a team sheet again. Fielded as a supposed solution to Joao Palhinha's absence, Chalobah's inclusion wasn't well received and it soon became damningly clear that the midfielder was completely out of his depth and upon his deserved dismissal, many lamented Silva's reasoning behind the player's involvement. We are short of capable holding midfielders, Palhinha's influence is so crucial and if we're genuinely relying on Chalobah to deputise, we may as well be playing with 10 men from the start anyway.
Chalobah was horrendously late, his studs left the surface and were raised, and if his momentum was any greater, it could've been a leg breaker. He isn't prepared to withstand the pace of the Premier League, he barely featured during last season's title push and if we genuinely think he's going to cut it in the top flight, we need to think again. Tom Cairney restored a semblance of control, so why couldn't we have entrusted him to instead? Many, including myself, even toyed with the idea of deploying Issa Diop in front of the back four alongside Harrison Reed, and that's a possibility I would entertain if it meant we didn't have Chalobah trundling after lost causes in his motionless lethargy.
Silva has to make a statement to his squad. He can't have passengers and he certainly can't have players pissing on his game plan so this is the perfect time to swing the axe, because in all of Chalobah's recent appearances for the Whites, the former Chelsea man's been an embarrassment and that's putting it lightly. The loss can be directly attributed to Chalobah, with XI men on the pitch, I'm sure the narrative would've been evenly poised and while we didn't regroup before the break, all blaming fingers point towards the one shamed man of the moment.
Fulham's futile fate
Embed from Getty Images
With one less man, Fulham had to navigate the remaining 85+ minutes defiantly if they were to stunt Newcastle's advantage but it wasn't to be. Minutes after Fulham were downsized to 10, the Toon opened the scoring via Callum Wilson and as the Whites were chasing the game in more ways than one, Silva couldn't steady his team's weakened composition and it was one-way traffic for the remainder of the first half. Fulham were exceedingly vulnerable being a man down, sides that are having to stave off opponents with maximum personnel naturally wilt as the game progresses but there also has to be a change in attitude and evidently, the Whites weren't ready for the impending bombardment. Like lambs to the slaughter, Fulham's fate was futile.
Swathes of open space along the channels emerged, we were outmanoeuvred in the centre of the park too, so as Newcastle approached our penalty area, goal-scoring opportunities arose ceaselessly and they were devastatingly ruthless. Miguel Almirion's peach was the pick of the bunch, it really was a sublime finish, and as Bernd Leno gathered the ball from his goalmouth, Fulham's afternoon was practically irreparable and ten minutes later, Longstaff made sure our plight was guaranteed. With a three-goal deficit to relinquish, there really was no way back for Silva's discouraged men and no matter how we tried to exact a contingency plan, the Magpies had cunning answers.
Fulham imploded, they encountered a Newcastle side that are aspiring to frequent European competitions in the not-so-distant future and it's a stark reminder that the Premier League is the planet's most unforgiving division. We've begun the season superbly but we have to remember that, like Saturday afternoon, we're going to be on the sharp end of results such as this throughout the campaign, without warning, but it's the undignified manner of this defeat which is sobering. Fulham were submissive in every aspect, they believed the game was dead and buried before the interval but honestly, that's absolutely correct.
Kurzawa's debut stinker
As far as full debuts go, Layvin Kurzawa's was the very definition of a stinker. At Paris Saint-Germain last term, the Frenchman only participated in nine minutes of first-team football, there's cobwebs to brush off, that's a given, however the 30-year-old left-back's reintroduction to an actual matchday line-up was undesirably underwhelming and it's a less than flattering endorsement. So much was expected of Kurzawa, he was PSG's first-choice left-back for years on end, he's been capped 14 times by Les Bleus, he's been starved of competitive football for so, so long and I can't help but feel he suffered from a substantial stage fright episode because he was hooked off in first half added time after fading away.
It did appear as though he'd been knocked, he was moving gingerly as he departed play, but I'd put that down to a severe lack of match practice and he definitely felt the relentless physicality of the English game. He was on the wrong side of Almiron as the Paraguayan set his sights on the top left corner of the net, he didn't track runners consistently along his respective flank and if we say there's always room for improvement, even for world-class professionals, secondary figures such as Kurzawa have serious work to do and if he's to acclimatise and refine his personal game, tough lessons will have to be learned and plenty of pep talks will have to be had.
On the opposite side, Kevin Mbabu was also dysfunctional, with Kenny Tete and Antonee Robinson out of action, Kurzawa and Mbabu had to make an impact but they're not at the required standard just yet, and I say that because I'm confident they will both bounce back, because they are both accomplished players that have competed at the heights of club platform football, in the Champions League and beyond, and with further minutes in the weeks ahead, their experience and underlying capabilities have to translate to the Premier League, a competition that's specifically designed for players of their dormant standard.