Is Tosin under pressure?
Written by Dan Cooke on 26th September 2022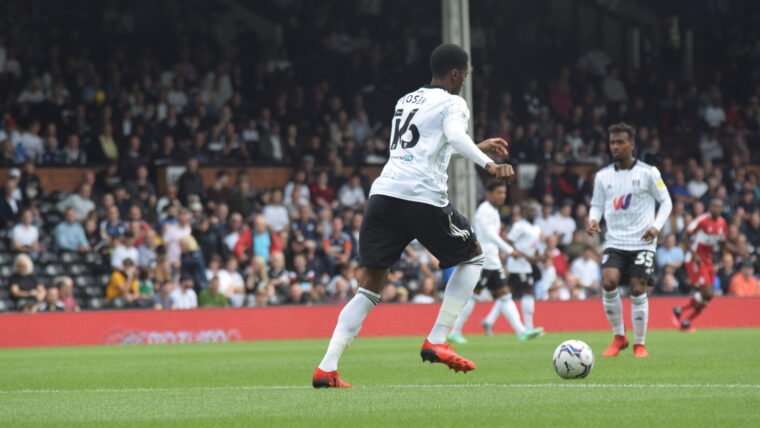 Dan Cooke assesses the performances of Tosin Adarabioyo this season.
Our game against Forest was the continuation of what has been a wonderful start to the season. However, one moment in particular has sparked debate and also triggered a wider inquest, focused on one of our ever-presents for nearly three consecutive seasons – Tosin Adarabioyo. There's no consensus on whether his attempted clearance, which fell perfectly into the path of Lewis O'Brien, was poor decision making, poor positioning, or just unlucky. I'm not entirely sure myself, but I will say that I think there are others who are also at fault for that goal, so it feels unjust to lay all of the blame at Tosin's presumably very tall door.
Questions are being asked
Regardless, it's the wider inquest that I'm most interested in. Last week, a guest on a reputable football podcast said that he believes that while Fulham continue to play Tosin, we will continue to leak goals. The journalist doubled-down and said that Tosin's performance against Arsenal was "an example of how not to play at centre-back" and that he was "particularly awful" in our previous Premier League season.
Granted, these are the words of just one man, however, I have definitely noticed that there are changing sentiments towards our rangy number four from within the fanbase. Tim Ream was the focus of a lot of praise in the Championship, and has been once again this season. In my opinion, this praise is absolutely justified, but a part of me feels that this praise is also due to the significantly lower expectations we have and lower standards that we hold our veteran American to. 
As fans, we expected our man-bunned Missourian to be slaughtered; "the best predictor of future behaviours is past behaviour" and all that spiel. So, the fact that he has more than held his own, means he has been performing far above the level we anticipated. 
Embed from Getty Images
Conversely, we expect great things of our former Manchester City man. Despite what the journalist said, as Fulham fans we know that Tosin's debut Fulham season was impressive, and his partnership with Joachim Andersen was one of the few highlights of that dreadful year. The effect of this, is that it has raised expectations.
Knowing that Tosin is a Premier League footballer, we anticipated a near flawless Championship season, and furthermore, expected him to comfortably outperform Tim Ream. Flawless it wasn't, but if not for that final game against Sheffield United, we would've been the equal most miserly defence in the league.
Despite that, some questions were raised after a couple of costly mistakes and shaky performances. These questions were simmering away in the background, but have really boiled over this season. Tim Ream has been our best centre-back, which because of our lower expectations of him, means people deduce that Tosin must be having a disastrous start.
I'm not certain that it has to be so black and white. I do think Tosin has slightly underperformed, but these concerns are exacerbated by Tim Reams's over-performance. 
What is undeniable is that we're shipping goals. 11 goals conceded after seven games is a worry, and if it wasn't for the fact that we were banging them in at the other end, we'd be looking a lot like the 18/19 and 20/21 Fulham vintages.
Tactical tweaks
So, why is Tosin struggling? Well, I have a theory, which I've previously mentioned on the pod and the Whiteboard.
This year our centre-backs have been provided with much more protection; Palhinha and Reed have been harrying, hassling and hounding oppositions' midfielders and forwards. They've plonked themselves in front of our defensive line, and like a pub bouncer on matchday, have not let people wearing opposition shirts in.
Above is a really typical shape to find this Fulham side in. Our back four are quite narrow, trying to not allow any space through the middle, our wingers supporting the full-backs, and Mitro and Pereira pressing higher up the pitch. The key thing is our two men circled in yellow, Palhinha and Reed, patrolling that space just in front of our defence. At times last season, there was no-one at all protecting our centre-backs. Opposition teams would find themselves in situations where they could run directly at Tim and Tosin, and it left them exposed, needing to make last ditch tackles – something that Tosin, with his greater physicality and athleticism dealt with slightly better. He's a defender that likes to be engaged in a battle, he's not afraid to make tackles and he backs himself in a foot race against most players.
This season, our midfield duo have largely prevented that scenario from arising. In order to run directly at our centre-backs, they have to beat one, or both, of Palhinha and Reed, which is no mean feat.
The question then becomes, if Tosin is now being protected better, why is he struggling more?
Playing to his weakness
I think the answer to this question, is the same as the answer to the question "why has Tim Ream been so brilliant?" Their roles have changed. Whereas in the Championship, they were racing around trying to stop rampaging counter-attacks, this season they've been a lot less engaged, focusing on tracking opposition runners and reading the play. There's a lot less active defending going on, a shift away from tackling opposition runners and towards things like interceptions.
Tim Ream leads the entire league when it comes to interceptions (27), and has made more than double the number Tosin has (13). This is the American's strength – his ability to read the game. He lacks the physical stature of his counterparts and so has had to compensate for this by understanding and reacting to what he sees going on in front of him. A skill he has honed over his many years of professional football.
Conversely, in the past, Tosin has been able to use his physical traits to potentially make up for poor positioning or decision making. However, his role now relies so much on these two immeasurable traits, that it has seen him struggle.
Take Liverpool's second goal on the first day of the season. The still below is the moment that Alexander-Arnold sent the ball into the box.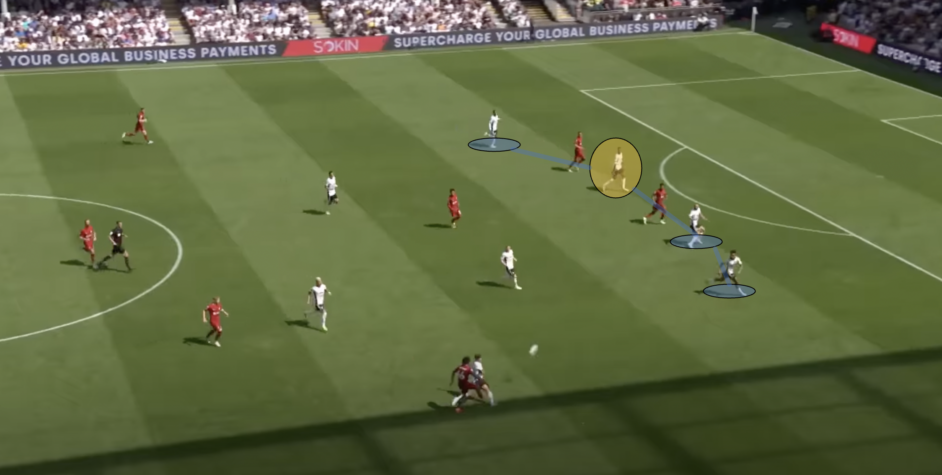 Similar to the Arsenal example, Fulham's defence are quite narrow, dealing with two Liverpool players. There's not a huge amount of danger here, even with a perfect delivery, neither Núñez nor Salah are really accessible. However, I'm sure we remember what happened next…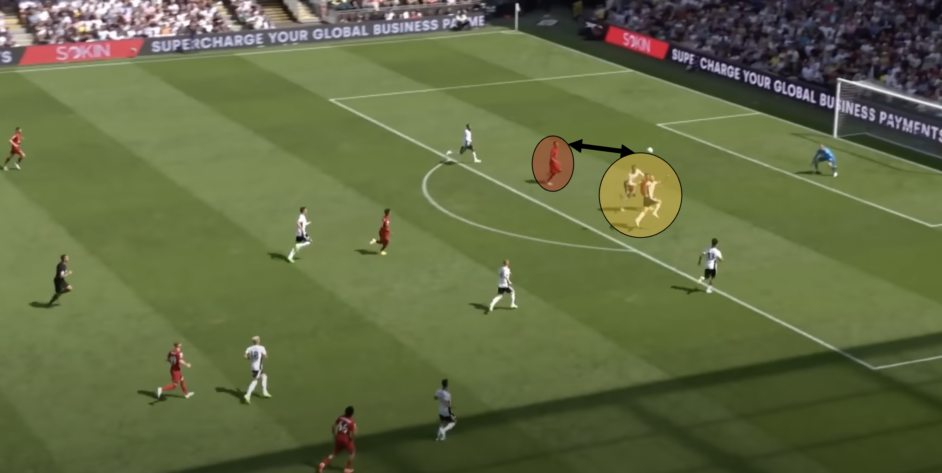 Tosin, perhaps as a result of his natural tendency to be an active defender, instead of tracking his runner (Núñez), he gets drawn towards the ball, intent on winning the header. He doesn't win the ball, but his partner does, putting it perfectly into Núñez's path – which is where Tosin should have been.
This is just one example, but there have been a few, where Tosin has not tracked his man, or has made a rash decision. I just think that how we currently defend, does not match with how he is used to defending. Whereas, it's absolutely perfect for his American partner.
The verdict
I still think that Tosin is one of our biggest assets – a home-grown, 24-year-old centre-back, who we bought for pennies (1.5m pennies). He has the ability to be a fixture in this side for years to come, but if he were to move on, I imagine he would command a significant fee.
However, I understand that these points don't mean that he's undroppable. It's hard to write this without bias because I really do believe in Tosin, and I agree with Peter Rutzler's tweet above, this is a man who has the potential to be capped by his country.
Personally, I think the errors that have slipped into Tosin's game come down to a lack of experience, and a change in style. So right now, my stance would be that Tosin has credit in the bank, and we know that at his best, he is a fantastic ball-playing defender.
Giving him the time to adapt, grow, and improve is something that I think will pay off in both the short-and long-term. His ceiling is high, and if we want him to reach it at Fulham, we need to trust in him and help him get there.