Analysing the effectiveness of Andreas Pereira
Written by Sean Guest on 8th September 2022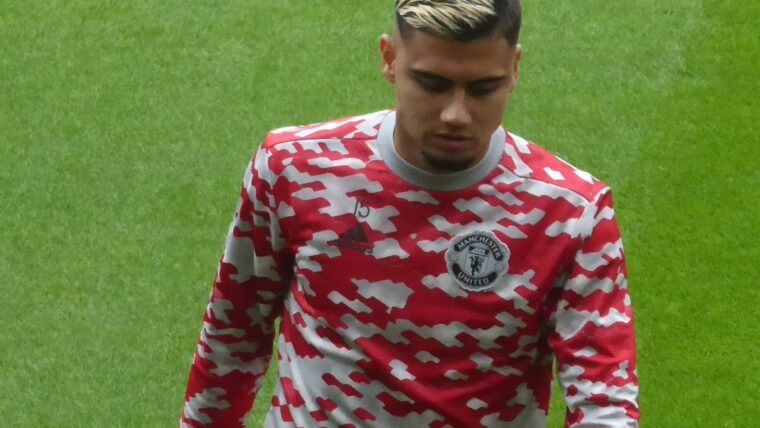 Sean Guest gets knee-deep in numbers to assess our Brazilian's first half-dozen games.
Of all the players Fulham signed this summer, Andreas Pereira might be the most intriguing. Handpicked by Sir Alex Ferguson himself, he never quite fulfilled his potential at Manchester United and has spent the bulk of his career to date on loan at clubs like Valencia and Lazio.
Ferguson isn't the only manager Pereira's impressed though. Louis van Gaal, Jose Mourinho and Ole Gunnar Solskjaer all gave him opportunities at Old Trafford, while, according to the player himself, Marco Silva was a "key factor" in him signing for Fulham.
And it didn't take long to see why. Our high press in the opening game of the season against Liverpool utilised the 26-year-old's energy and effort levels to great effect, prompting praise from pundits and fans alike.
Since then, Pereira's performances have been hit (Brentford) and miss (Wolves), so let's take a look at some of his strengths and weaknesses to see how he can become a more consistent contributor.
Embed from Getty Images
The good
As Peter Rutzler of The Athletic pointed out over the summer, the data from Pereira's best run in the United team (2019/20 season) illustrated that he's "adept at breaking up opposition moves".
According to FBref.com, he has the fifth most pressures of all Fulham players (84) through the first six games. 39 of these pressures have come in the attacking third (joint first, with Mitrovic), while 40 have been made in the midfield third (fourth best). Although his work rate in these areas has been commendable, there's still some room for improvement here too, as his hustle has thus far resulted in a pressure success rate of 29.8% and three tackles won, numbers you would expect to see improve throughout the season.
Peter also highlighted Pereira's ability as a "progressive passer", something we've seen plenty of through the first six games. He's currently third among all Fulham players for progressives passes (15), while he leads the team in key passes (12) and is fourth for both completed passes that enter the final third of the pitch (14) and completed passes into the penalty area (three). What's more, he's currently second in shot-creating actions (17) while leading the team in xG assisted (0.8).
Pereira's also very capable of advancing possession with the ball at his feet and is currently third in carries (147), second in progressive carries (19) and third in carries into the box (three). These numbers are undermined slightly by his dribble success percentage (33.3%), but teams like Fulham need players who can run with the ball and after just six games Pereira's already right up there with the likes of Neeskens Kebano and Antonee Robinson in that category.
Embed from Getty Images
The bad
One key area in which Pereira needs to improve if he's to be a success at Fulham is end product. While he's been known to net the occasional screamer (check out the absolute worldie he scored against Brentford in preseason last year), over the course of his career he's scored just 16 professional goals while struggling to offer a consistent goal-scoring threat.
That's been the case this season too, as despite registering the third most shots (seven) and shots on target (two) and the fourth-highest shots on target percentage (28.6) of all Fulham players, he has an xG of just 0.2, which is sixth best on the team.
As his heatmap, courtesy of SofaScore shows, one of the reasons for this is the fact that he touches the ball far less than those who play in similarly advanced roles in the opposing team's penalty area. So far Bobby Reid has had 24 touches in the box while Kebano has 14 in two fewer games, compared to Pereira's eight. This observation is reinforced by the fact that his average distance, in yards, from goal of all shots taken is 24.6, while Kebano (15.8) and Reid (10.7) have a tendency to shoot from much better attacking positions.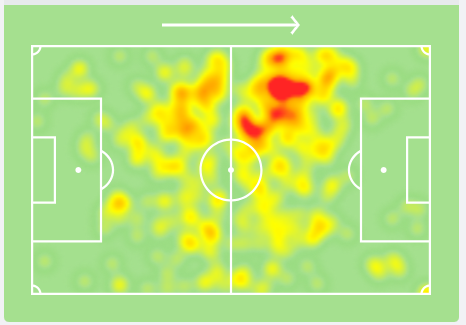 Pereira's other clear weakness is giving the ball away. Coupled with the low dribble success percentage mentioned above, he has already been dispossessed seven times this season (third most among Fulham players). He's also made 15 mistakes while trying to control the ball (second highest) while recording a passes received percentage of 73.6. Given that he has been the target of 197 passes already this season (second only to Mitro), his ability to improve this figure is going to be essential to Fulham's chances of retaining possession.
And while this might not be a huge issue yet, it's also worth noting that Pereira has taken 17 of Fulham's 21 corners this season, as well as nine free kicks – more than any other outfield player – resulting in just one assist.
Embed from Getty Images
AP + TC: the perfect blend?
Despite the areas of his game that need improvement, it's already clear to see why Marco Silva decided to bring Pereira to Craven Cottage this summer. Not only is he showing that he may be able to fill the hole left by Fabio Carvalho thanks to his energy levels in the high press and ability to advance the ball, he also works well in tandem with Tom Cairney.
Cairney's already been subbed in for Pereira four times in our opening six games, and while the latter offers a higher workrate early in games when we're looking to press, the former provides more stability late in games when our opponents' xG increases exponentially. His ball retention, for instance, is far better. In significantly fewer minutes, it should be noted, Cairney has only mis-controlled the ball three times to Pereira's 15, while his passes received percentage is higher too (91.2 versus 73.6).
Like Pereira, Cairney hasn't touched the ball a great deal in the opponent's box, but his shot-creating actions per 90 isn't dramatically lower (3.14 vs 3.20) while he too has registered an xG of 0.2 in addition to a superior average distance, in yards, from goal of all shots taken (14.4 vs 24.6). He doesn't progress the ball like Pereira through carries (five vs 19) or passes (188 vs 675) but he has a surprisingly high successful pressure percentage (66.7 vs Pereira's 29.8) which is extremely useful when Fulham are attempting to be compact late in games.
Embed from Getty Images
Over the course of the season Marco Silva may come to trust Pereira more in close, late-game situations. But for now, by using him in tandem with TC, he seems to have found a fairly effective stop-gap solution.