In profile: Carlos Vinicius
Written by Jack Stroudley on 1st September 2022
Jack Stroudley looks at our newest potential attacking recruit.
Embed from Getty Images
It's no secret that Marco Silva and Fulham have been after a back up forward to Mitrovic after Rodrigo Muniz confirmed a loan move to Middlesbrough for the season. Silva has reportedly turned to another Brazilian to fill that void with Carlos Vinicius who is supposedly on his way to Craven Cottage. The fee is around £5 million for the former Spurs forward. Whilst not impressing at Spurs, I thought I'd take a look online to see the type of player we can expect and give my opinion on him as a signing.
The fact file
Embed from Getty Images
Vinicius has featured for ten clubs over the course of his career and was first given regular game time while on loan for Real Sport Clube in Portugal in the 2017-18 season. He scored 19 league goals that season, which caught the attention of Napoli who took the punt on him. Despite this, Vinicius never made a league appearance for the Italian side, and was sent out on loan twice while in Naples to Rio Ave and then Monaco.
He impressed Benfica while on loan, who paid €17 million for his services. Vinicius featured regularly in the 2019-20 Primeira Liga season making over 30 league appearances and scoring 18 goals. The 27 year old was then sent on loan to Spurs a season later but he never truly impressed for the North London side scoring twice in the Europa League against Ludogorets, a hat trick against non-league Marine and one league goal away at Aston Villa. Vinicius was loaned again for the 2021-22 season, this time to PSV Eindhoven where he scored 6 league goals in 23 appearances.
A deeper dive
Embed from Getty Images
Firstly, I have attached his polar chart thanks to Soccerment, this shows his strengths and weaknesses when going forward. It shows that he is above average for touches in the box as well as shots. His non-penalty goals stats are also relatively promising as well. The remainder of his attacking game is very poor, however, showing limited ability when dribbling or passing the ball.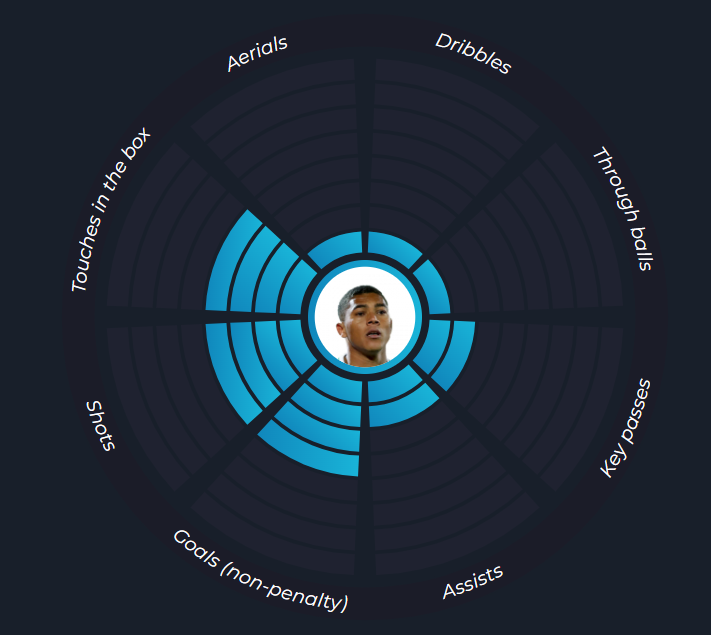 When looking at Vinicius's shots per 90 he has averaged between 2-3 over his last four seasons (bar a dip when at Spurs). I have also found his shot map from that season on loan at Spurs which shows a player who plays mostly as a target man with limited mobility to create chances outside the box.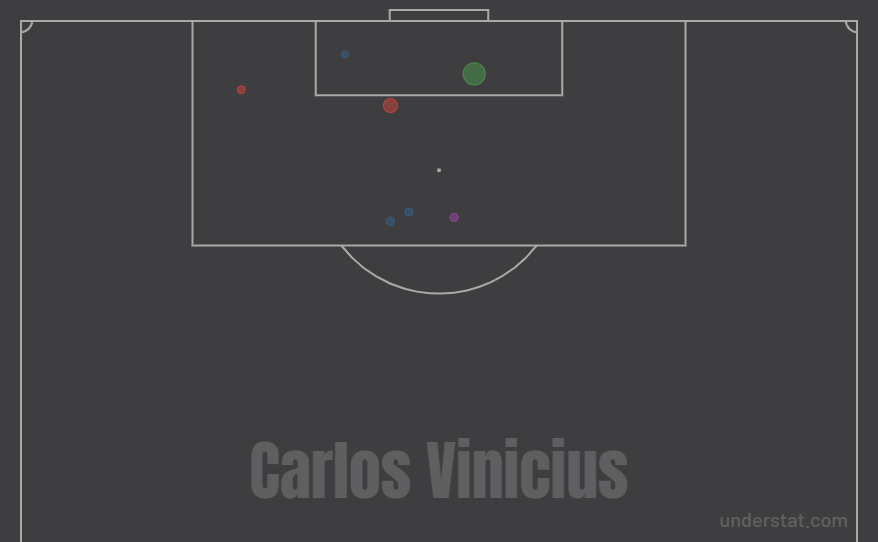 The Spurs stats should also be taken with a slight pinch of salt, as Vinicius was never going to overtake or replace Harry Kane, so was limited in minutes and struggled to stamp his authority on that Spurs side.
Yes or no?
Embed from Getty Images
It's tricky, we are obviously in need of a back up forward but do I think Vinicius is the man? I'm not sure. He doesn't necessarily offer a different option to what we already have and at 27 has never really stamped his authority on any side. While you can't argue with the £5 million price tag, we have been linked with Ben Brereton Diaz and out of the two I would much rather the Chilean.