Positives and negatives: Fulham 2-1 Brighton and Hove Albion
Written by Cameron Ramsey on 31st August 2022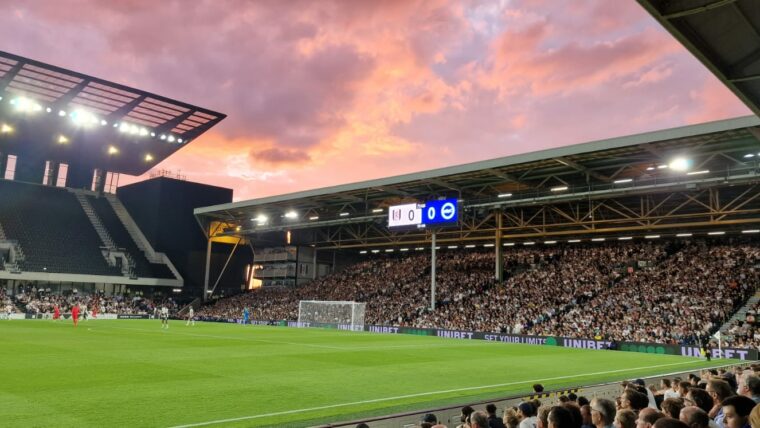 Unreal Tuesday night scenes. Cam recaps a memorable encounter under the lights at the Cottage that epitomised Marco Silva's Fulham perfectly.
We'll say this time and time again but that is a massive, massive win. With Tottenham Hotspur up next, followed closely by Chelsea, Fulham had to react following Saturday's narrow defeat at the Emirates and they did so, with nerve and courage, against a highflying Brighton side that had picked up 10 points in 4 games.
Graham Potters' Seagulls are organised, they're stubborn, and before their trip to a rocking Craven Cottage, they'd only conceded a solitary goal. This was billed to be a very difficult test, and it certainly was. Fulham had to resist, they had to stifle a very well-drilled outfit, and with a buoyant home crowd behind them, they claimed a breath-taking victory to take their overall points tally to 8 in 5 matches.
Fulham are ahead of Brentford in the standings, we are a point better off than Chelsea, and while it still very early on in the schedule, this team is going to war and will not surrender without feud. Silva's Fulham are on a mission and we are joining them, step by step, stride by stride, to ensure our Premier League credentials are appreciated and respected by all who doubt them.
Positives
Fulham's guts and balls
Embed from Getty Images
Sustaining our Premier League status will not be an issue if we continue to confront every single fixture with the same bollocks brandished on Tuesday night. The victory against in-form Brighton was not down to individual brilliance, no, it was because the entire squad fought tooth and nail to secure a vital win, and that tenacity has been bred into the team by Silva himself. As clarified after Arsenal, the Whites are not here simply to make up the numbers, to guarantee three points for the opposition, we are here to cause a stir and if teams take themselves seriously, they'll know that Fulham, Silva's Fulham, will battle to defend their worth and dignity. The Whites were goaded (Potter's overachievers sharpened sticks and jabbed) but defiance is a by-product of Marco's philosophy and the more the Seagulls circled, the more aggressive we became.
Across the fold, a compliment that is depleted on paper, the Whites rallied as one and suffocated the visitors for large periods, constricting their influence during the second half. The Whites were gutsy at the back, Tim Ream and Tosin were pressed, but our regular spinal pairing paraded more than enough backbone to withstand wave after wave on the parameter of their 18-yard box. Last-ditch challenges stunted incision, our wide options, both offensive and defensive, cooperated synchronously to hamstring Brighton's surging wingmen, cohesion between departments was present and the burning desire and attitude brandished in heated moments on the banks of the Thames proved to be a bridge too far for the seasiders.
Fulham charged into combat, screaming. The Premier League's gulags infested with scarred warmongers that have slug it out countless times in the name of honour and superiority, but Brighton's hardened bruisers were simply no match for our undaunted warriors. Fists up, trading sucker punches blow for blow, the underdogs stole the show and that is a narrative that will become commonplace this season. As the Whites evolve as a unit, as their fortitude strengthens, we will clash with many sides with glowing reputations to uphold… and they will leave distraught. Silva has convinced his team that they are competitive, he's reassured them that his predecessors were painfully wrong about the club's relevance and now, with a seat at the big boys table, Fulham are making their presence known with big dick energy.
Mitro was immense
Morons that know absolutely nothing about football would've laughed in your face if you said Aleksandar Mitrovic would have 5 goals in 5 games in the Premier League. But, luckily for us, we know exactly what the Serb is capable of and blimey, words are being eaten on the group chats. As a leading target man (the only opposing outfield player that's scored against Brighton this season so far) Mitro is in a class of his own and as a committed teammate, an ally that doesn't understand how to down tools, his contributions at both ends of the turf were immense.
I've never seen an out-and-out attacker labour as tirelessly as Mitrovic does within both penalty areas. The 27-year-old, alive to Neeskens Kebano's cross-come-shot, diverted the opener at the back stick. It was the definition of an opportunist's finish. We all know he can bag, we all know he demonises defences, but what really intrigued and impressed was his insistence to preserve the dub alongside Ream and his associates. From set-pieces, Mitro picked up strays and as Brighton turned the screw, the strapping striker morphed into a supplementary centre-half, shielding and screening to relieve tension and strain from the Whites' valorous defensive ranks. He stopped at nothing to grind out a hard-earned triumph and if that meant he had to vacate his usual surroundings for unfamiliar territory, he obliged unconditionally.
We have a team blessed with leaders, exemplars that have risen from previous lows to the current highs and Mitro's guidance amid adversity, as well as during purple patches, has been profound. He represents our club with an undying esteem, he is a mentor and role model both on and off the pitch and we, his people, are forever indebted to his loyalty. I don't think I've ever admired a player as deeply as Aleksandar. From kissing the badge to emphatically netting goals and all that rests in between, he typifies what Fulham truly is and against Brighton, he left everything out on the turf and his efforts – in relation to a striker's primary duties – were unconventionally assertive.
Joao and Harrison secure midfield
Picture this: Joao Palhinha and Harrison Reed are both hard-nosed detectives, they're both working in tandem to wheedle-out disorder but neither of them are the 'good cop'. As a partnership, Palhinha and Reed are nasty fuckers. They're persistent, and they will overstep the letter of the law when necessary to restore peace and order. Hell-bent on retribution, our Portuguese sergeant endorsed a ruthless streak, coming out on top in 11 of the 15 duels he was involved in, and our red-headed bounty hunter got his hands dirty, their cooperation stemmed Brighton's control in the middle of the park and if trespassers broke through, our little and large duo abruptly intervened without search warrants.
Yellow cards have hovered over Joao's head so far this season, his animation's warranted caution in games gone by although remarkably, the guileful 27-year-old escaped punishment. Crunching tackles rained down in congestion, shirts were yanked and heels were clipped but his and Harrison's combined enterprise was cunning and their understanding of one another is drastically improving. Their relationship once the game gets underway is feisty, they feed off each other's boldness and that has transformed Fulham's fortunes. The Whites suppressed the Seagulls centrally, protagonists such as Alexis Mac Allister and Leandro Trossard weren't capable of inflicting issues consistently because they were shackled and quarantined by our buccaneering No.6 and his ceaseless comrade.
We've a very capable in JPally and the Ginger Iniesta, however the season is going to sap both of them physically and mentally, so alternatives are going to have to feature at some point and with the close of the summer transfer window nearing, reinforcements could still emerge. Creativity may not be abundant, perhaps our midfield could benefit from a No.8's influence but our current pairing's connection is exclusive and if we are to welcome additions, I can't seem them ousting either Palhinha or Reed from the starting line-up. Stability is essential, forming familiarities will be the bloodline of survival and with these two patrolling ahead of our defensive line, Fulham's safety is surely secure.
Robinson on a rampage
Embed from Getty Images
Last term, Antonee Robinson's space within these articles was solely reserved in the negatives but this season, as we've experienced so often, the left-back's name's nestled within the positives on a weekly basis and it is fully merited. Plenty have redeemed themselves thus far, and Jedi's dependability along the left has been enormous since the start of the campaign, and he continued to astonish against Brighton and their fleet-footed wingbacks. 8/10 outings are the norm for Robinson, a reformed scapegoat that has the beating of his man and his markers running scared.
Marauding at a pace only he can attain, Antonee drew Fulham out of worrisome positions and relinquished our guests' counter attacks within the flick of a switch, a swivel of the hips, and with unobstructed lanes to traverse, the USMNT fullback rampaged. This is a player that scolds, his afterburners omitted white flames as he charred chalk and his enlivened exploits were apparent throughout, non-stop, for what felt like 1,000 minutes, including a century's worth of added time. He interlinked effectively, he unleashed favourable crossed into feet and he never relented on the offensive or in retreat, not once.
He was virtually everywhere and even then, he wasn't caught in no-man's land as Brighton hit the counter. Robinson's positional awareness has been treated to an upgrade, his management on the ball's had a major glow-up he rarely shanks simple passes into the advertising boards and his first touch sticks. This, in itself, is a tremendous expansion of his ability and at 25, he's going to broaden his technical horizons even further and that is frightening. Solly March and Joel Veltman are highly practical, versed participants at this level but our blitzing left-back eclipsed them both, and I daren't think they'll emerge from the darkness just yet. Antonee committed, he perpetrated, and when he had to strap himself in for turbulence at the back, he weathered the storm and cracked like a lightening bolt in response.
Negatives
Ref's disgraceful evening
Thomas Bramall officiated his first top-flight fixture in Tuesday evening and the incompetent novice shouldn't take charge of a professional sporting event ever again. Premier League debut or not, the referee was most certainly a wanker and I hope the FA scrutinises his evening to within an inch of redundancy because his rule – for want of a better word – over matters was misinformed, inept and downright disgraceful.
He and his secondary officials were incapable, almost reluctant to communicate over simple infringements and when proceedings were fraught, he and his hapless colleagues didn't exact proper process or protocol. As a collaboration, Bramall and his equals were grossly inadequate, and how often have we and other fan bases said that about Premier League officiating? Even with innovative tools such as VAR, they're still somehow hugely under-equipped.
Not that it really matters now, but Brighton's penalty was as contentious as they come. It all boils down to intent; was BDR making a conscious decision to clear his lines, without knowledge of Pervis Estupiñán's position, or was the contact deliberate? For me, the coming together was completely accidental and in fact, it appeared as though Estupiñán bought the decision but either way, I suppose there was uncertainty so what do I and many others know, eh? This isn't a biased fan's point of view, Brighton also had there fair share of shite decisions, therefore it's a balanced opinion on Bramall's conduct and truthfully, it's possibly the worst I've ever witnessed. We had to endure an ice age of additional time, obvious fouls and infractions were ignored and it's not even as though he was favouring one team in particular because both sides were blue in the face with his negligible verdicts.