Positives and negatives: Arsenal 2-1 Fulham
Written by Cameron Ramsey on 28th August 2022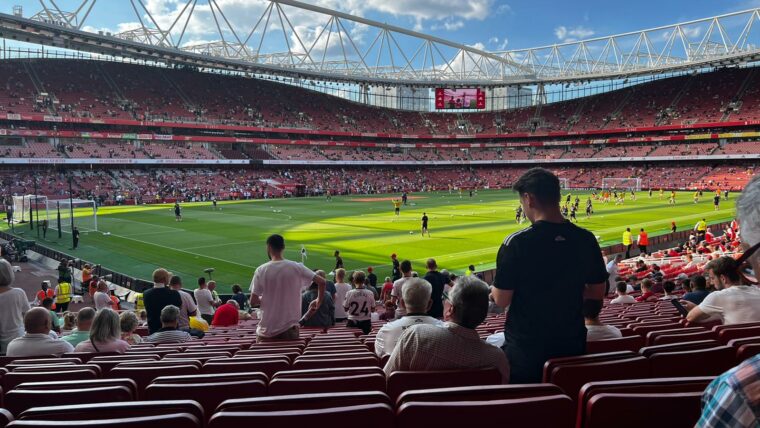 Cam looks back at a valiant defeat at the Emirates as the Whites fell to the league leaders.
Don't be disheartened, Fulham fans; we may have come away from the Emirates with nothing of value where points are concerned, but our tails shouldn't drag behind us. What we witnessed against Mikel Arteta's light bulb-clutching Arsenal was a performance of genuine substance from Marco Silva's Whites.
There's so much to digest. The Gunners 100% start hasn't been blemished, but we genuinely presented them with their toughest test so far. We weren't to be mistreated by Arsenal and if we continue to accost games with the same conviction, we will resist relegation and we will cause upsets. Tuesday evening's the destination, and as we do after every stumble, we go again.
Positives
Mitro's 100 mark
Embed from Getty Images
People that know absolutely nothing about football will say Aleksandar Mitrovic isn't cut out for the Premier League but in the 56th minute, in front of Fulham's fine following, the indomitable Serb swept home his 100th Fulham goal, silencing Emirates as well his critics, yet again. A century of speaker-box celebrations in 181 outings for the Whites is a ridiculous return, the figures simply speak for themselves, and as Mitro pounced on Gabriel Magalhães' negligence in the penalty area, differing opinions were swiftly scrunched and shoved up rectums.
Napping when Mitrovic is prowling isn't advisory and Arsenal's Brazilian centre-back was the latest victim to fall foul of our merciless hit-man's exploits. Trapped under a poor touch, Gabriel failed to rid impending danger and Mitro barged through the defender like an enraged sheriff bursting through a saloon door.
It was an unerring display of dominance, Gabriel was rolled and smoked, and as Aaron Ramsdale darted from his line to lessen the angle, Aleksandar planted the opener into the bottom left and now, even more so, doubters and sceptics are chowing down on humble pie, baked and served by a man that dines on slack-jawed ridicule. Mitro cheffed Gabriel on primetime television, triple figures have been activated, and after decimating the Championship, our lethal number nine's poised to terrorise the planet's most demanding division.
Leno's sharp stopping
Returning to North London, Bernd Leno recognised the magnitude of the occasion and he wasn't to be swallowed up by crippling expectations. Arsenal boast one of the Premier League's deadliest attacks, a front line comprising Gabriel Jesus, Bukayo Saka and Gabriel Martinelli has dismembered opposing defences without remorse and 'keepers shudder at the sight of the Gunners' stealth, but Leno's an exception. Fulham acquired a tremendous shot stopper from Saturday's opposition, the German's defiance between the sticks thwarted multiple clear-cut opportunities and though he ultimately picked the ball out of his net twice, conceding wasn't detrimental.
Standing his ground, muddying his palms, calling the striker's bluff, Leno was quite literally our last line of defence and if we didn't know so already, the Whites have a seriously sturdy guardian in Bernd because without his razor-sharp reflexes, Arsenal certainly would've been ahead by some way at the break and there would've been no coming back.
A rogue deflection brought the equaliser, he was sandwiched within a melee as Gabriel prodded a last-gasp winner, there are occupational hazards that walk hand-in-hand with being a professional goalkeeper but you cannot fault Leno's commitment during an encounter where personal emotions could've smothered his composure. Facing friends, ex-colleagues, a stadium filled with 60,000 supporters that he once represented, these are all factors that could have spoiled his concentration but contrastingly, Leno's vigilance and attention was constant and he isn't accountable.
Cairney reaches landmark
Another of our household heroes also reached another commendable milestone because in the 69th minute, as Neeskens Kebano made way, Tom Cairney's Fulham outings ticked over to 250 and that, given his previous injury spates, is an incredible achievement that needs applauding. Amid lengthy periods on the physio's bench, months on end, TC has managed to pull on the famous jersey 250 times and in those many, many appearances, our ingenious master craftsman's sealed promotion with game-defining strikes at Wembley, he's suffered the misfortune relegation, and as many reputable faces have come and gone, the 31-year-old's still a highly significant component and his experience at this level is invaluable.
This season, Silva will deploy Cairney more sparingly, 20-minute cameos will be frequent, but his importance to match matters will remain. We've a midfield department embellished with internationals, innovators that impact games uniquely, although there are none more talented than TC and that isn't up for debate.
Tom's controls tempo and devises opportunities with a perfectionist's intuition and that is precisely why he has a major role to play in the coming weeks and months. Cairney's come this far under various managers and regimes, he's battled uncertainty and he's revelled in the limelight, a mainstay through thick and thin. 250 appearances for the mighty Whites, giving his all for the Fulham, what a remarkable accomplishment.
We're no pushovers
Embed from Getty Images
So, Fulham have finally fallen to a Premier League defeat but let this be clear: we are no pushovers. In years gone by, at the home of the division's in-form team, the Whites would have crumbled to a drubbing, a monumental thrashing would've befallen a bruised group however, Silva's side are made of tougher stuff and it really showed. Initially, Fulham soaked up immense pressure and as the minutes progressed, our involvement developed from tentative to assertive, a slight power shift that promised a surprise goal midway through the second half.
Compositionally, this season's Whites are drilled, our back four and middle third are harmonised and moving forward, our approach is balanced, everyone understands their individual duties and core standards have lifted throughout the fold. Antonee Robinson has elevated his game, Tim Ream's rebirth has revolutionised his reputation, there are players within the camp that have been here before and they are unrecognisable. Fulham's form in our opening four games has been combative, we've upped the ante, we've been aggressive and against Arsenal, in demanding circumstances, Fulham projected a rebellious statement of intent.
There's no space for passengers in Silva's top-flight compliment. Those that have joined this summer have been cherry picked meticulously; Joao Palhinha's a glowing example of Fulham's revitalised attitude and pre-existing figures such as Harrison Reed, Kebano, Bobby Decordova-Reid and so on have eyeballed affliction to prosper in an environment that takes no prisoners. The Whites are going to lose, we know that, we're going to feel the sharp end of contentious VAR decisions and we're going to have to scrap for every given point that's available but in defeat, we have to be brave and this team is laden with courage. The Gunners were made to sweat for the dub, the manner in which they claimed three points was far from convincing and that's because Fulham didn't submit or conform to the predicted narrative. Fulham were confrontational and this season, albeit early on, the Whites are a different breed to what we've known before.
Negatives
Leave it to you
We were a goal to the good with 25 minutes to go, defeat came at its cruellest, but I can't begin to berate Fulham's overall performance because, as stated, it was more than acceptable. I've scrimped on the negatives this term to date because honestly, I'd say we've barely put a foot wrong and if I were to nitpick, it would be an empty reach.
So, for interactive purposes, I'll leave it to you. If you have a reasoning, comment on Twitter, Facebook, wherever you find this article and we can deliberate its validity. This week, even while holding an L, the Whites deserve to be saluted and on your Bank Holiday Sunday, Monday, that's precisely what we should do with a drink in one hand and a hotdog in the other.