Positives and negatives: Wolverhampton Wanderers 0-0 Fulham
Written by Cameron Ramsey on 14th August 2022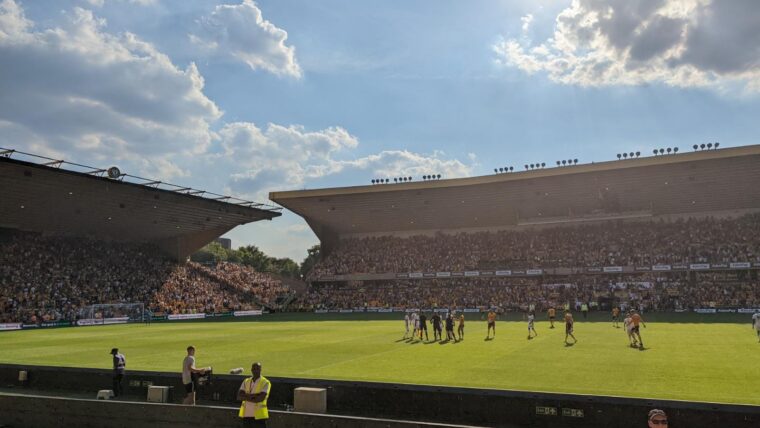 Cam sifts through the pros and cons of yesterday's goalless draw at Molineux.
It could've been a victory but let's not kid ourselves. A point against Wolves, a side that wanted to bounce back after an opening day defeat, is massive and the positives outweigh the negatives here. Marco Silva's Fulham locked horns with Bruno Lage's Wolves on the hottest matchday known to man and a draw was maybe the ideal outcome for both clubs. Amicable Iberian relations were preserved in 35-degree heat.
You would've snatched at a point at Molineux before kick-off – don't pretend you wouldn't – and with two points secured from two Premier League meetings, I'd say we're already breaking the mould with a squad that isn't even full strength, either. There are plenty of reasons to be cheerful, so why don't we explore them a little further?
Positives
Defence stood firm
Embed from Getty Images
That collision between Tosin and Marek Rodak in the first half had me hyperventilating, but on balance, Fulham actually withheld Wolves' offence with comfort and as our starting defensive line hasn't changed since last season, we have to commend the boys at the back, and that goes for Rody as well. I feared the worst during the days leading up to Saturday's meeting at Molineux; visions of Pedro Neto running wild and Adama Traore steamrolling through bodies brought on cold sweats in the middle of the night. But, barring the odd scare in the opening stages, the Whites regrouped defensively to constrict the hosts' free-formed attack to just one registered strike on target.
Hwang Hee-chan rotated with Neto and Morgan Gibbs-White across the final third, so the Whites had to adapt to differing challenges both out wide and centrally, and though Wolves attempted to dismantle Fulham's structure, our guard refused to decline. As a unit, The Whites were defiant and the more Wolves huffed and puffed, Silva's defenders grew all the more stubborn.
Our central partnership of Tim Ream and Tosin continued to cooperate fabulously. As he was against Liverpool, our American centre-back was nothing short of first-rate – a spent force reborn. Silva's transformed the 34-year-old into a pillar of authority; a pitiless drill sergeant in his footballing twilight, and as he barked orders his colleagues remained vigilantly obedient. I'm beginning to think that in reality, Tim is integral, not subsidiary. On the right side, Kenny Tete was pushed to his limits by Neto, but he didn't tap the canvas and on the left, as we'll cover in greater depth momentarily, Antonee Robinson was immovable.
Silva believes we've got adequate options defensively and as we haven't seen a terrible amount of Kevin Mbabu and Shane Duffy, I'd say we're definitely prepared. We're yet to even unleash Issa Diop, too. Initially rash, as we settled into proceedings across the park, we advertised a solidity that wouldn't have existed under previous management and we stood firm as a complete collective.
We're kept in safe hands in the technical area, and we're also accomplished, increasingly so, on the other side of the chalk with personnel that lifted us to where we are now. This season, Fulham are going to be competitive and we're going to be extremely tough to break down. Bernd Leno's on the bench, Rodak's between the sticks, this is a clean sheet that will boost egos in a really beneficial way because now, inside competition's been sparked indefinitely.
Robinson didn't surrender
With each passing minute he's experienced in the Premier League, Robinson's rapidly developing into a full-back that seemingly can't put a foot wrong, and if I'd said that a year ago I probably would've had a gun pressed to my head in front of a digital camera under a singular swinging light.
There is no way anybody could've convinced me otherwise, but in the Midlands, out on the left, the USMNT representative lived up to his international status with a tireless performance in energy-sapping conditions. He eats Duracell batteries for breakfast and during the water breaks, he downed off bottles of kerosene, because for 97 exhausting minutes, the man was flying.
Shadowing Jonny Otto, chaperoning Daniel Podence down blind alleys, conveniently away from CCTV, Robinson mugged his opposite numbers in broad daylight and sped off with one primary objective: to relieve pressure. A highwayman who wouldn't surrender his territory, the 25-year-old left-back accosted his opposite numbers and he made them sweat double as he demanded ransom.
Of course, we're only a couple of weeks into the campaign but we've witnessed two stellar outings from Robinson, and while opinions are difficult to change, I'm very pleased with his overall application and long may his performances continue. With Ant manning the left at both ends of the turf, Fulham are aggressively driven.
Neeskens and Bobby shine
Embed from Getty Images
With our two favoured wingers, Manor Solomon and Harry Wilson, out of action for the foreseeable, Neeskens Kebano and Bobby Decordova-Reid will have to hold down the fort, and to our glowing delight, they both conducted themselves with purpose and intent.
On the left, Kebano shimmied and shook himself into fortuitous positions and on the right, while drifting off the flank, Decordova-Reid antagonised Wolves's defensive line and with a swift turn of pace in the 18 yard box, he even drew the foul that won us a penalty. Throughout the encounter as Wolves attempted to overload the channels, both Bobby and Neeskens retreated without delay to aid our full-backs and it's satisfying to recognise that doubling up is prevalent at both defensively and offensively. Out wide, Fulham were expansive and as Jonny and Rayan Aït-Nouri set about their defensive work, our wide men asked unexpected questions.
Party tricks and flicks were exhibited by Kebano, BDR pivoted off the shoulder and went agonisingly close to breaking the deadlock from corners in each half, both players displayed variation on the break and urgency while maintaining Fulham's shape, and they are both making their cases known for regular first-team action.
Fulham are supposedly in the market for a winger to soothe our injury woes out wide, and while I'll agree that we certainly need further additions, Neeskens and Bobby are doing remarkably well as tried and tested deputies. Our DR Congo winger's confidence is soaring, taking his marker for a dizzying ride is all he gets out of bed for and we know what our Jamaican protagonist is fully capable of in the top flight. Two years ago, BDR was our top scorer and though he may not see an much game time as he did during the 2020/21 campaign once those on the sidelines regain fitness, I'm certain that he and Schaffer77 will hurl themselves into combat whenever they're selected, sparingly or otherwise.
Palhinha's midfield rule
His introduction to Premier League matters was profound when Liverpool came to town, and in his second dance with the English top flight, Joao Palhinha had Wolves's midfield third on strings; a master of puppets that extinguished danger and evoked brilliance. It's so obvious, Palhinha is without question the club's most talented footballer and that isn't even up for debate.
In a central department inhabited by Ruben Neves, Leander Dendoncker and Gibbs-White, it was our Portuguese mediator that ruled the roost and called the shots, and he did so whilst extracting urine and bringing it to bubbling point. I get the feeling Joao is going to be a nemesis for most this season; he's sound in the air and he's unforgiving on the deck, and when those domineering qualities are interbred with a silky suaveness in possession, rivals are going to surface and more often than not, he's going to humiliate them in front of sell-out crowds.
Now Harrison Reed's been gifted the freedom to really get stuck into the dirty work, Palhinha's our heavy-duty shock absorber. If Reed is cut adrift, JP soaks up the strain and he's unbelievably good at making complex defensive labour appear stupidly easy and routine. I don't think I've ever known a player to time challenges as perfectly as Joao does, he cuts across his man like a guillotine and the contact is ridiculously clean. It's as though they never saw him coming, all 6'3 of him. He's Dettol; 99.9% of the time his protection's guaranteed, even germs like Gibbs-White can't survive. And when he's applied to virtually any surface (even dry terrains like Craven Cottage), JPally makes all the difference when the going gets tough.
Jay's Premier League bow
Embed from Getty Images
And so, another Fulham youngster's blooded in the Premier League and I couldn't think of a more deserving prospect than Jay Stansfield. With notable faces out of contention, Stansfield's impromptu stab at senior football got underway in the Black Country in the 83rd minute, as he entered proceedings for Kebano. The 19-year-old's fledgling career at Fulham has been blighted by injury setbacks but for our U23s, the striker's been a revelation and his top flight debut was such a welcome sight for all to behold. We may have signed him from Exeter City but make no mistake, this lad is one of our own and he's real a credit to our celebrated project at Motspur Park.
Jay can play through the middle as a leading striker and he can also operate out wide due to his mobility, and with Aleksandar Mitrovic heading our attack as expected, the teenager roamed the flanks with enthusiasm. Stansfield's effect wasn't radical, but his efforts were evident as he hounded opposing ball carriers, and while in custody of the possession, he utilised his teammates responsibly and he also manufactured avenues for Fulham to explore on the counter.
He wasn't drowned out or caught in the headlights; Stansfield has graced Silva's matchday squad previously in the Carabao Cup and he's never looked out of place, so why should a late cameo – even in the PL – be any different? I genuinely hope Jay's permitted even more game time in the coming weeks, because he's a rookie that's destined to enjoy a rewarding career and I truly want him to make his own name at Fulham, whilst upholding his family's. If Marco sees what we see, he won't be disappointed.
Negatives
Mitro spurns penalty
He won't need to be told – let's make that clear – but for a striker that's fresh from a clinical brace against Jurgen Klopp's Reds, Mitrovic's cooling off period may have come at the wrong time. Late on, Fulham were awarded a penalty after BDR was felled by Aït-Nouri and with three points up for grabs, there's only one man that was going to step up and rattle home the winner from 12 yards. Mullering it at Jose Sa's midriff at 1,000mph, Mitro instantly clutched his cranium in disbelief because in a split second, a dub on the road was spurned and the game hinged on that singular moment alone. The Serb's record from the penalty spot is far from persuasive; he leathered one home against Liverpool in our opener but virtually every time he stands over the ball, score or miss, the 'keeper goes the right way so his routine is clearly predictable.
Other than making MGW shit his Pampers, and the botched penno, Mitro's afternoon was unusually quiet but then again, he's only going to act upon the service he receives and there was very little productivity for Mitro to feed off. Still, should we really give a toss? No, and if I'm going to twist this positively, Mitrovic will be stewing over his outing all week leading up to Brentford and he'll graft to set the record straight – and that's a promise. If Aleksandar doesn't fire one week, the repercussions are fatal in the next fixture and that surely doesn't bode well for the Bees.