Away Day Planner: September 2022
Written by Dom Betts on 1st August 2022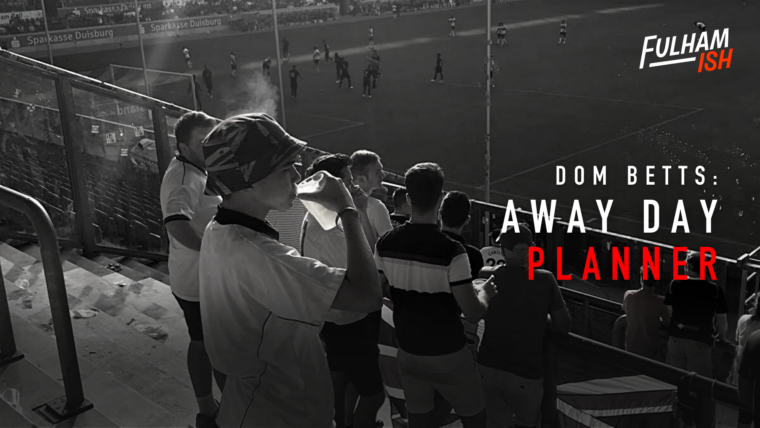 The away days are stacking up – here's Dom with all the info on our September trips.
Much like August, our away trips consist of a Midlands trip and another game in North London. 
Spurs (3rd September)
Embed from Getty Images
This is a chance to scratch a new stadium off your list, as we finally get to visit the new Spurs stadium, having previously gone to Wembley and watched it behind closed doors on Sky. 
Trains: The nearest National Rail/Overground stations are White Hart Lane and Northumberland Park served by Liverpool Street and Stratford respectively. They are both a short walk from the ground.
Tube: The nearest underground station is Seven Sisters on the Victoria Line, however it's a good 30 minute walk away from the ground. 
Where to park:
There is no parking available at the stadium itself for supporters and a Controlled Parking Zone (CPZ) is in operation on matchdays, which extends up to a mile away from the ground. Within this zone, only local residents who have a parking permit and blue badge holders can park legally.
So, if you are coming from outside London and need parking I'd suggest parking somewhere like Enfield Town and getting the train in.
Where to drink: 
The Antwerp Arms, 168-170 Church Rd, N17 8AS. This normally has a good mixture of home and away fans if you're looking for something in the close vicinity of the ground.
Liverpool Street – In recent years when we visited Tottenham's old ground at White Hart Lane a lot of fans tended to drink around Liverpool Street at places such as Hamilton Hall or The Ball before getting the overground train across to N17. 
Nottingham Forest (16th September)
Embed from Getty Images
This one is on a Friday night, because of the cricket on the Saturday. That might cause some headaches for some people. 
Trains: (London St Pancras International – Nottingham) & (Newark North Gate to London Kings Cross)
Journey time: 1 hour 45 minutes
Adult: £45.10 (£21.50 + £23.60)
Adult with a Railcard: £29.30 (£14.15 + £15.15)
Child: £22.55 (£10.75 + £11.80)
The last train back from Nottingham is at 21:58, so if you wish to make it back on the same evening, a better route back for previous evening trips to the City Ground has been to share a cab to Newark North Gate and make the 23:05 back to London from there. Taxis cost usually £40 so only around £10 each if sharing.
Where to park:
The council operates a car park on match days on the Victoria Embankment, located near to the cricket ground. They charge £5 but it is only a two minute walk to the stadium.
There is a relatively new, secure multi-story car park at Nottingham Railway Station which offers match day parking at £4 all day. You enter the car park via Queens Road.
The council also provides parking at their Eastcroft depot (NG2 3AH) at £4 a car. The depot is a 10-minute walk from the City Ground, located just off London Road (A60), opposite Hooters. The entrance is signposted with banners and is manned by security guards throughout the match.
Where to drink: 
Hooters, 1 London Road, NG2 3AS. Being the only one in the country (I believe one in Salford is on its way though), why wouldn't you want to visit on your away day to Nottingham?
City Centre. Most will let away fans in, none near the stadium tend to (however I managed to get into the Trent Navigation Inn on our last visit). The closest in that regard is The Meadow Club which is the Notts County Supporters Club.