Who is Bernd Leno?
27th July 2022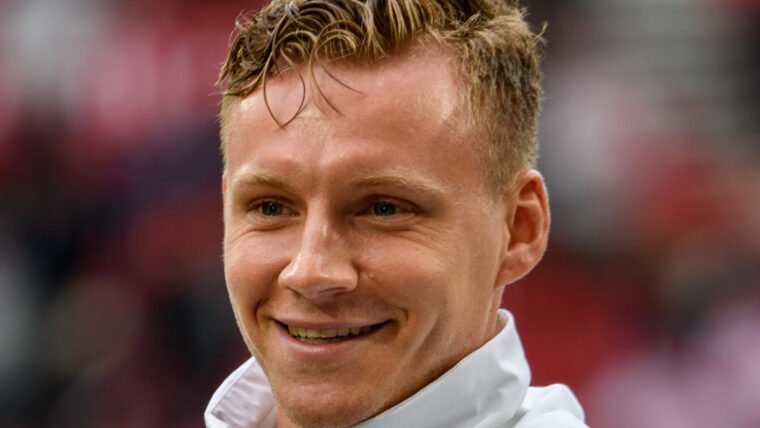 With Arsenal's German shot-stopper close to signing for the Whites, Matthew Aris takes a look at our mooted new man between the sticks.
After an up and down season last year, Marek Rodak seems to now be out of favour at Fulham and a new number one appears imminent. Arsenal keeper Bernd Leno seems to have drawn some excitement from the fanbase as a potential replacement, but is this justified and what can he bring to this new-look Fulham side?
Rise to North London
Embed from Getty Images
Leno was born near Stuttgart in Germany. He then joined Stuttgart in 2009, progressing through the youth team ladder before getting a loan move to Bayer Leverkusen in 2011. There, he became the third goalkeeper in Bundesliga history to keep three clean sheets in his first three matches. After that, it got even better for Leno, as he became the youngest German goalkeeper to play in the Champions League. The five-month loan became permanent in November of that year. This would lead to the German making more than 300 appearances for Leverkusen across seven seasons.
Leno's good form led to Arsenal purchasing the shot stopper for £22.5m in summer of 2018. He was initially used as a cup goalkeeper, featuring many times in Europe. However, after Petr Cech's frequent injuries and eventual retirement, Leno become the Gunner's number one. He has made more than 100 appearances for Arsenal, including 15 in the Europa league. He was runner-up in Arsenal's player of the season award in 2019/20 and was part of the FA cup winning side that year. He has since lost his place under Mikel Arteta after he opted for the youthful Aaron Ramsdale as his number one.
He has only featured a handful of times for his national team, mainly due to the longevity and excellence of Manuel Neuer. He has featured in Euro 2016 qualifiers and the 2017 Confederations Cup, but has never started in a major international tournament.
What does he add?
Embed from Getty Images
Marek Rodak has had a lot of support from Fulham fans after graduating from the academy, but is there a reason to upgrade? The statistics show that during Leno's last full season, 2020/21, he was a top 10 Premier League goalkeeper. He is great sweeper keeper, frequently coming out of his box and claiming crosses. His great command of his penalty box would allow Fulham to be much more secure at the back and concede fewer goals from crosses.
The German frequently out-performs his expected goals conceded as well, meaning that he lets in fewer goals than would be expected given the quality of chance he is up against. This will be vital for a side towards the lower end of the Premier League, as we saw with Alphonse Areola during our last top flight campaign.
On the other hand, Leno's distribution, especially longer passes, is quite poor. He has one of the lowest pass completion rates for 40+ yard passes in the league. He also has a very short average length of pass.
Given Marco Silva's preference to play out from the back, this shouldn't be a dramatic issue, but it could render the long ball outlet to Mitrovic less effective, making it simpler for the opposition to anticipate our structure of play. 
Hit or miss 
Embed from Getty Images
On first look, Leno seems a good addition to the backline and will most likely save us in some games this season. It could spell the end of Marek Rodak's time at Fulham although I think most fans would agree that there is no room for sentimentality at this crucial juncture. 
For a relatively cheap fee of £10m and a pay cut reportedly being taken, the financial side seems favourable as well.  The upsides heavily outweigh the few downsides; therefore, I think Leno would be a good pick-up for the Whites.