Fans are being priced out (again)
Written by Sammy James on 10th July 2022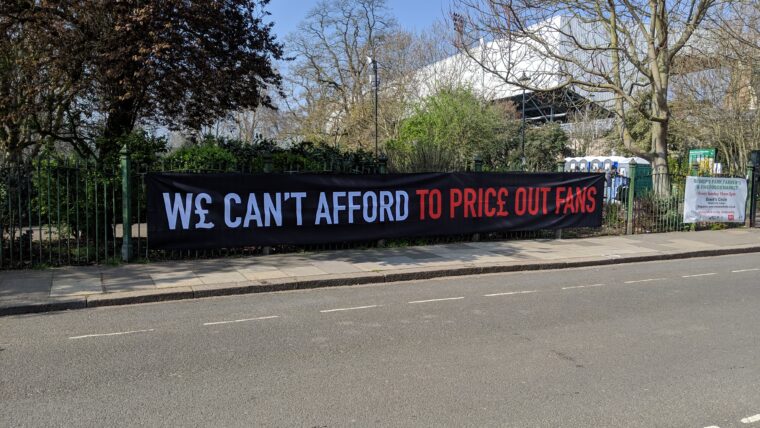 With Fulham's latest ticket prices once again causing widespread outrage, Sammy James shares his thoughts on the astronomic ticket costs at the Cottage.
Oh Fulham, you truly know how to kill the party. Two months on from the most joyous season in a decade, here comes Premier League Fulham with eyes wider than their stomach with another fantastically shite off-field decision to pop the mood balloon.
On Friday, Fulham announced the individual match-day ticket prices for the opening game of the season against Liverpool. As you'll see below, adult tickets in the Hammersmith End are £65, and in the Putney End a whopping £70. If you dare to sit in the new Riverside Stand, you could be paying as much as £100 for a ticket.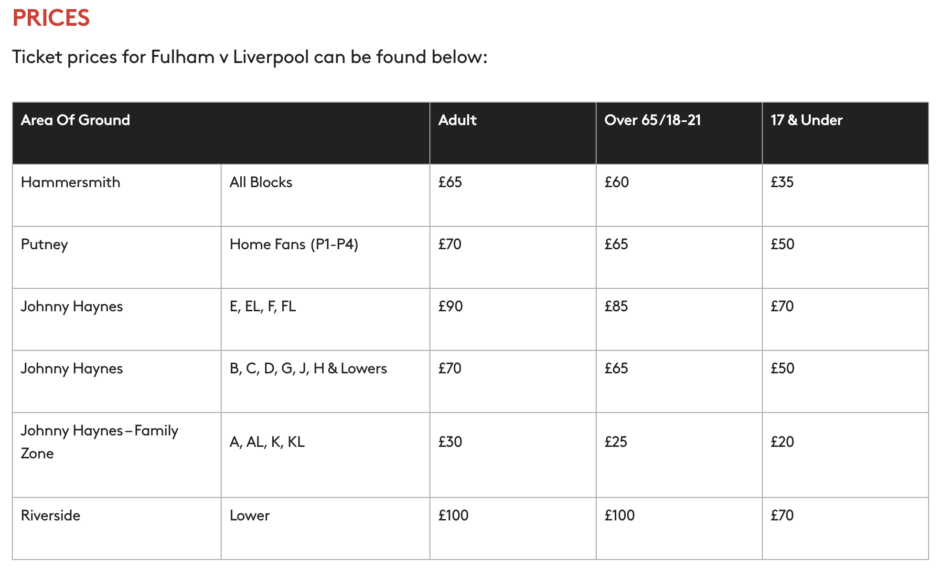 As you'd expect, the reaction from Fulham fans and many fans outside the club has been one of dismay. A lot has been made, particularly in the press, of that aforementioned £100 price point in the Riverside; I guess "HUNDRED POUND TICKETS" is a pretty eye-catching headline.
Personally, I have always cared about the price of the cheapest ticket rather than the price of the most expensive, but in fairness, these latest prices are beyond the pale in all classes.
Been here before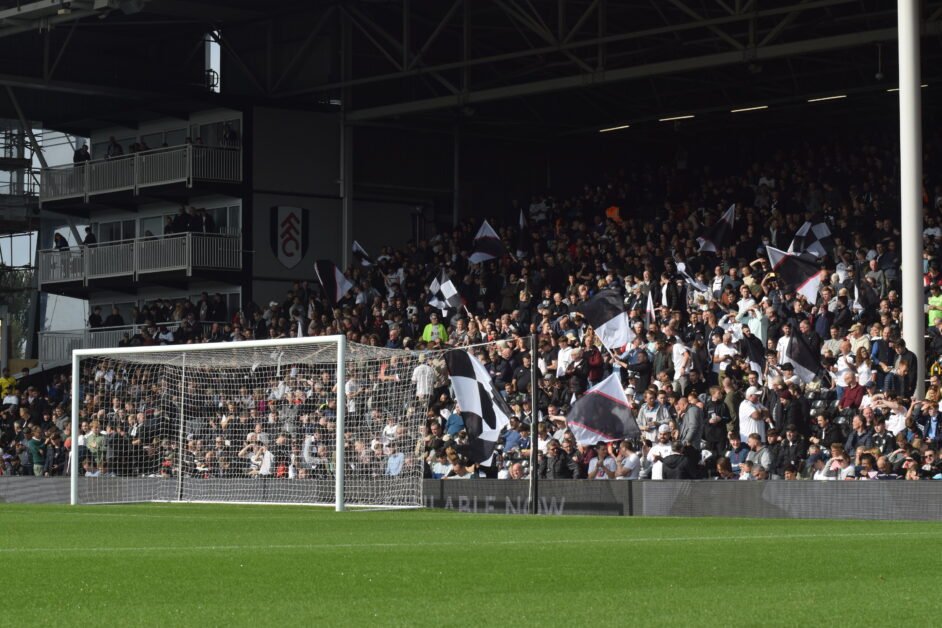 For myself, and the others who are long in the tooth at Fulhamish, pricing is a sore and well-covered subject. During Fulham's ill-fated 2018/19 Premier League campaign, we watched with dismay as the cheapest tickets for nine out of nineteen league games were priced at £55, whilst nine more were £45. Only one game, Burnley, was priced reasonably at £25.
Realising that endless complaining on Twitter was getting nobody anywhere, I spontaneously launched Stop The Greed, a ticket price protest during the match with Manchester City on Saturday 30th March. Initially, the plan was to crowdfund £200 for one banner, and then within a day we'd unexpectedly raised £1000. We had to hastily close the fundraiser simply because we didn't know what we would do if we received any more.
A lot was made of that protest, both positive and negative. A few people accused us of organising the protest as a marketing exercise for Fulhamish. I dispute this massively, but I do appreciate it wasn't all executed perfectly.
I think what those people forget however, is that none of us had ever done that before, and that any mistakes were out of negligence, not calculated planning. The scale of what we undertook was so much bigger than any of us anticipated.
Whilst I do think Stop The Greed was successful (the point of a protest is to be heard right?), overall the whole experience was exhausting, time-consuming and not something I look back on with a huge amount of fondness.
True impact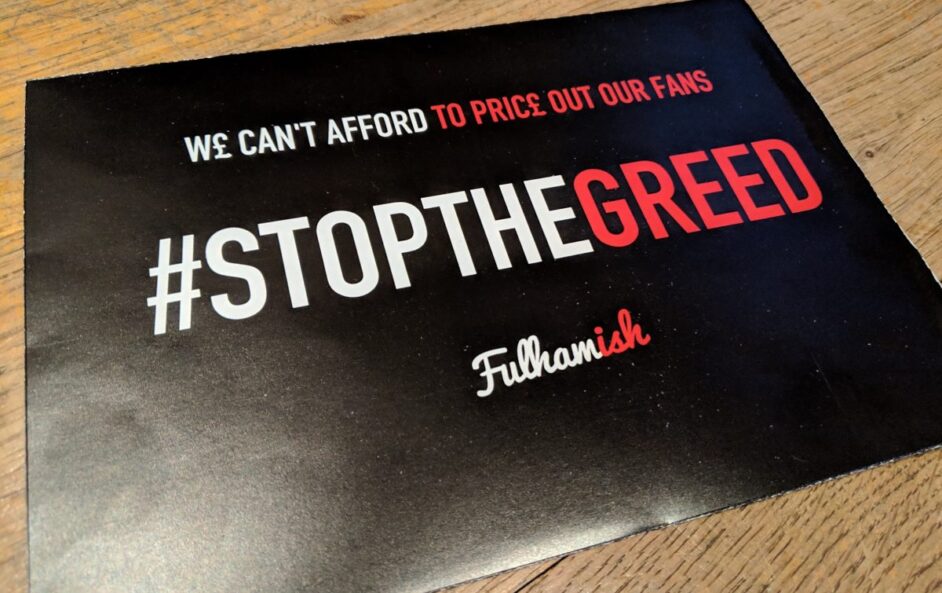 Because of the way Fulham's yo-yoing seasons have fallen with the recent pandemic, the true impacts of that protest couldn't be measured until now. Had the widespread fan condemnation really altered the thinking for the upper ranks at FFC?
Ticket prices naturally fell in 2019/20 because we were back in the Championship. Despite promotion back to the Premier League in 2020, there was no way to gauge price differences due to nearly all games being behind-closed-doors. 2021/22 was another Championship season, but with promotion once again secured, this has lead to a litmus test when the first glimpses of Premier League prices in 2022/23 were made available.
As we've now seen, despite that widespread anger, it seems that the club has ploughed on with their alienating strategy regardless. It's another indication that all the Fulham hierarchy really care about is meeting revenue targets, with little care for those already in the community, or the seeking of new members in the future. All the negativity towards pricing has completely fallen on deaf ears.
Greed is greed, sorry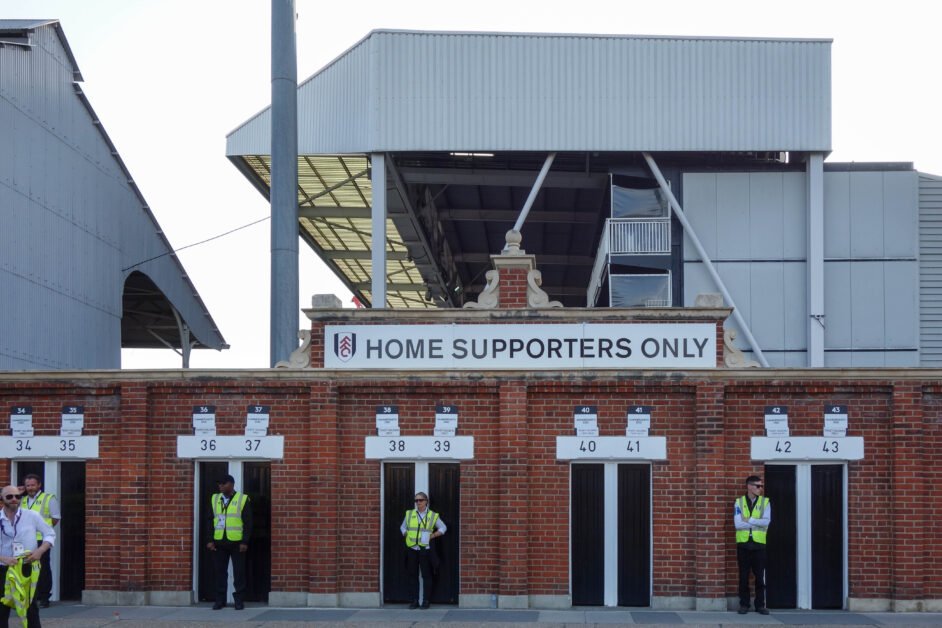 I heard from numerous sources about how the ownership HATED the fact the word "greed" during the protest three years ago. They saw it as an affront to the generosity they've shown by pouring hundreds of millions into funding this team during the past decade.
That argument for me proves a lack of empathy with the end customer. It should not be OUR problem what you've invested in the club. If I call a large company and complain that my bill has shot up, I don't expect to hear about how the majority shareholders lost a load of cash recently.
They may be correlated, but you can't expect ordinary people to empathise with a £20 ticket-rise to soften the losses of a billionaire's play-thing. Particularly when most of us know that ticket revenue is a drop in the ocean compared to the income received via broadcasting.
Season ticket prices are reasonable
Despite all the complaining above, I will happily state on-record that season ticket prices at Fulham (new Riverside stand aside) have been very reasonable for a number of years. The fact that the club sold out 15,000 season tickets in a matter of days is testament to both the sensible price point and exceptional on-pitch performance delivered by Marco Silva and his team last year.
Clearly, the strategy that Fulham are adopting is to tie as many season ticket holders down at sensible prices, then charge top whack for individual match tickets.
If FFC were up front about this, it might be slightly more palatable. I'm sure there's plenty of people who would have bought a season ticket if they knew. However, Fulham are so needlessly opaque at communicating with fans.
One only has to spare a thought for fans who stumped up £50 for a membership, which offers a £5 discount per match, only to find out how extortionate the full cost would be afterwards. Paying £50 to save a fiver on a £70 ticket sounds like a plan a certain ex-chancellor would have cooked up.
From a business perspective, I can see the logic of having cheap season tickets and expensive individual tickets, but here are three reasons why I believe it's a short-sighted policy…
Football is emotional: people go to a football game, they fall in love with the club, and become repeat customers. Pricing out those customers at source denies the club of potential fans, potential revenue, and a potentially growing fanbase.

Atmosphere: less than two months ago, Marco Silva went on the record praising how the atmosphere during the promotion-clincher against Preston was something we

needed

to replicate more often at Craven Cottage.

Given that each place in the Premier League is worth £2.2 million, isn't it worth trying to fill the ground with genuine Fulham fans that will back the team, rather than tourists and away fans that will sit on their hands? Even if a bouncing Craven Cottage only improves the team's league position by one place, that's an incredible return on investment.

(For reference, dropping the circa 3,000 individual match tickets by £15 per game would cost £850,000 per season)

Differing situations: During the initial protest three years ago, we had so much correspondence from Fulham fans who for a wide variety of reasons, couldn't justify a season ticket. Whether it was family reasons, financial reasons, re-locations or work clashes, there were a multitude of explanations for why season tickets just weren't feasible or affordable.

Are the Khans happy with making these true, lifelong Fulham fans feel like being part of their club is out of their reach?
Walk the walk
Shahid Khan is a man who, as far as his press releases go, seems to understand the club. Buzzphrases like "being a custodian" have generally meant he seems to have a positive rapport with the wider fanbase (much more than his son has anyway).
On this issue though, Shahid and those he employs have massively misread the room. In the midst of a cost of living crisis where family bills are reaching the stratosphere, expecting Fulham fans to pay £65 for behind-the-goal tickets is a giant miscalculation. They might claim that it's a simple case of supply and demand, but what choice do we have over the club we support?
Friday was the first day in a long time, where I found myself truly debating my love for the club. Fulham for me always felt like somewhere that did things a bit better and classier than the rest. Somewhere that looked out for their own. In the past 12 months we have seen numerous times that this is a club that rallies together in both the good and the dark times.
However, watching the club alienate loyal supporters (again) in the hope of chasing easy tourist cash feels me with a great sense of unease.
Whereas three years ago I thought there was genuine hope that the fanbase could rally together and change viewpoints. All I personally feel now is apathy, and that is a dangerous relationship to adopt.
---
Four misc points that didn't really fit the article…
A friend of mine tried to cancel their membership on Friday after hearing about the ticket prices, and was told by the ticket office that "memberships are non-refundable". Seems dodgy…
Why on earth are Putney End tickets £5 higher than the Hammersmith End? Surely this is just an admission that away fans will get in there. The club's ticket office is a shambles, and they haven't got a scooby doo who is a genuine Fulham fan and who is a profiteering tout. As with the loyalty scheme that doesn't work, the whole thing needs scrapping and re-building from the ground up.
Charging these prices when the facilities in most parts of the ground are shambolic just rubs salt in the wound. For £65 I don't expect to stand in a puddle of piss at half-time.
The Fulham Supporters Trust will be speaking to the club soon and asking them about these price rises. Their work at holding the club to account is invaluable, and you should consider joining if you haven't already.