A tribute to Brian McBride
1st July 2022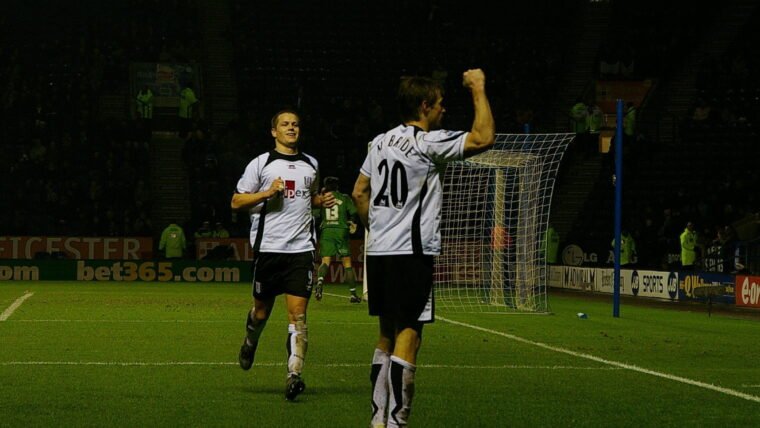 In his debut piece for Fulhamish, Greg Forbes looks back on the life and career of Fulham's iconic USA international – and club captain – Brian McBride.
We kick-off this trip down memory lane at McBride's bar at Craven Cottage. The bar, named after the American sharpshooter Brian McBride, serves as a lasting reminder of Brian's contributions to the club in his four-year stint.
There are a few reasons why I've chosen to take a deep dive into Fulham's history with Brian. First and foremost, he was my first favourite player at the club. I distinctly remember opening a packet of Match Attax back in 2007 and going wild at the sight of a 2007-08 star player card adorning an image of the beast himself. A more valid reasoning is just how fascinating McBride was to watch. As many of us know, Brian was as strong as an ox and possessed incredible intuition as a forward. This is best evidenced by scoring 145 goals through 449 appearances in a career that totalled six clubs in England, Germany and the USA.
Before we reminisce on his glory days, let me transport you back to Saint Louis, where it all began for Fulham's number 20.
Playing for club and country
For footballers in the States, the pathway to turning professional is through the collegiate soccer system (don't worry, I mention of such an awful term again).
Brian was a standout for his intercollegiate varsity sports team, the Saint Louis Billikens of Saint Louis University. While he was within the collegiate setup, Brian received his first international cap for the USMNT as an amateur, which is simply unbelievable.
Starting 89 games, he set career records for goals and assists, with 72 and 40 respectively. He concluded his career as a Billiken with two nominations as a First Team All-American (the highest collegiate accolade) and was named MVP of the Great Midwest Conference on three occasions.
Following his graduation from the university, Brian briefly played for the Milwaukee Rampage in the US's second division. He scored 17 goals in 18 games, and even more impressively, set his teammates up for a further 18. Evidently, McBride was a cut above the rest.
Destined for the major leagues
In 1994, Brian received an opportunity to play professionally for VFL Wolfsburg, then in 2. Bundesliga.
It's common knowledge that in the modern game, many Americans travel overseas to progress their career in Germany, with the likes of Christian Pulisic, Giovanni Reyna and Ricardo Pepi all making massive strides for the American game in Central Europe today. Bu this trend was only starting to grow around about this time, and Brian's move to Germany was made even more comfortable by fellow US international, Mike Lapper, also being at the club.
McBride's journey in Wolfsburg was short-lived, having only scored two goals in 18 matches for the club. A highlight during this time was undoubtedly a goal against FC Bayern Munich II, which helped VFL reach the semi-finals of the DFB-Pokal.
Embed from Getty Images
With the inception of Major League Soccer in 1996, McBride cut ties with Germany and was selected first overall in the 1996 inaugural MLS draft. The Columbus Crew reaped the rewards of their first selection, having secured the services of Brian for no fewer than eight years. In 190 appearances for the Crew, he scored 77 times and assisted on a further 40 occasions.
McBride's time in MLS was fluttered with volleys, headers and the odd smash-and-grab tap-in that even the Hammersmith End would be proud of.
Just look at McBride's beautiful turn and volley, notching the Crew's first ever goal in Major League Soccer:
By the end of his eight years at Columbus, McBride had gathered seven All-Star nominations, the 1998 MLS goal of the year award, the 2003 MLS fair play award, and a medal as the star of the 2002 Open Cup-winning Crew side.
During his time with the Crew, McBride gained attention from England, specifically from David Moyes, who first acquired the services of the American back in 2000. At this time, Moyes was the manager of Preston North End and he signed McBride on loan. He featured in 10 games, scoring just one goal. Though statistically speaking his time at Preston doesn't appear successful, the loan was hindered by injuries, notably a blood clot acquired in his first game.
Embed from Getty Images
In 2003, with Moyes now the manager of a struggling Everton side, he brought McBride back in on loan. Brian himself admitted that the signing was heavily influenced by his time at Preston, with Moyes always having a bit of a soft spot for him. McBride's period at Goodison Park was far more successful. He scored four goals in eight games, even scoring in his debut with a beautiful finish whereby he was played through on goal and placed the ball into the bottom right corner of the Spurs net. Moyes's Everton side escaped relegation with a 17th placed finish and while the club attempted to sign McBride, their offers were rejected by Columbus Crew.
England awaits
But McBride was destined to return to the UK permanently. In January 2004, Fulham bought McBride's rights from the MLS for a healthy $1.5m (approximately £800,000). The 31-year-old was approaching the twilight of his career – or so you'd have thought – but there was evidently a lot left in the tank.
Embed from Getty Images
He made his debut for the Whites as a substitute against Tottenham Hotspur at Craven Cottage. The love affair struck gold from the off, as McBride netted the winning header in a 2-1 victory. That same season, he featured in 18 games, scoring five – including a well-struck shot versus former club Everton from outside of the 18-yard box.
The following season, in the 2004/05 campaign, McBride played a 37 times, scoring nine. In just a season and a half he proved his worth, displaying an incredible leap and strength in the air. He was also consistently deadly in the box, scoring a wealth of one-on-one goals.
The next campaign saw McBride increase his seasonal total to 11 from 39 games. His work ethic and desire to give everything earned him a number of contract extensions, which would see him continue plying his trade at Craven Cottage for a further two years.
Embed from Getty Images
2006/07 was arguably his best campaign, domestically speaking. He scored 12 league goals, making him Fulham's top scorer for the season. His contributions that year were crucial in securing our place in the Premier League as we finished 16th with 39 points. McBride was by far the best player that season and was awarded that honour by the fans accordingly. At the end of the season, McBride's legacy at the club was cemented as he was handed the captain's armband.
McBride's final season didn't go exactly as planned, as he dislocated his kneecap after scoring against Middlesborough in the third game of the campaign. He did, however, return to the side and produced several spectacular performances to help us secure our survival as part of the great escape. He returned to form first against Everton in a pivotal fixture, where his header (who'd have guessed eh?) was earned a 1-0 victory. He then scored in two further fixtures, once against Reading and once versus Birmingham City, earning us six more points. His efforts were once again rewarded with the Fulham player of the year award.
In 154 appearances for Fulham, McBride hit the net on 40 occasions and assisted a further four times. When I look back at key games in his time by the river, I remember his demolition of Norwich City in 2005 when on two occasions the ball was slipped through to him and then he dispatched it with ease.
Another important contribution was against Arsenal in 2006, when he opened the scoring by connecting on a sixth-minute corner from Claus Jensen to put the Whites 1-0 up. In what was an exciting back-and-forth affair, Fulham ran out eventual winners 2-1 to end a 40-year drought without a win against our North London rivals.
Embed from Getty Images
Last, but not least, McBride's last goal for the club in a 2-0 victory over Birmingham City. The echoes of Clive Tyldesley describing Bullard's pitch-perfect delivery into the box, which was expertly headed into the back of the net by the American followed by sheer elation in the stadium is something that's hard to forget.
In 2008, McBride returned to the States, with a burning desire to play for his hometown team, the Chicago Fire. This desire was reciprocated by the Fire, who moved up the pecking order by offering forward Chad Barrett, a first round draft pick in the MLS SuperDraft, and more cash. McBride went on to compile 72 appearances for the Fire, scoring 21 goals and assisting six. Fittingly, McBride scored in his final appearance in the MLS with a niche backheel finish before receiving a standing ovation from the Toyota Park faithful.
An international phenomenon
McBride was also a constant within the USMNT for many years. He made his professional debut on March 25, 1993, and amassed an impressive 95 international appearances, scoring 30 goals. That's an average of a goal every three games.
McBride participated in the 1998, 2002 and 2006 World Cups. He was the first American to score in multiple World Cup competitions, doing it consecutively in 98 and 02.
McBride won silverware in his home country when the USA hosted the 2002 CONCACAF Gold Cup. This infamous tournament incorporates North America, Central America and the Caribbean. McBride, somewhat unsurprisingly, scored four goals in the tournament, finishing as top scorer and thereafter collecting the MVP and Golden Boot awards. The US ran out eventual winners, defeating Costa Rica 2-0 at the Rose Bowl in Pasadena.
A tip of the cap
Brian McBride's legacy is permanently etched in the history of this club. A fan favourite both inside and outside of Craven Cottage, he was stupendous for every club he played for, giving nothing but 100%. A magnificent forward with an intricate eye for goal, McBride gave Fulham fans around the globe something to cheer for every time he stepped on the pitch.
From the Fulham Faithful, we thank you for the heart, the goals, and the entertainment.
With thanks to transfermarkt.co.uk for the statistics detailed within this article.