What determines a successful transfer window?
Written by Dan Cooke on 30th June 2022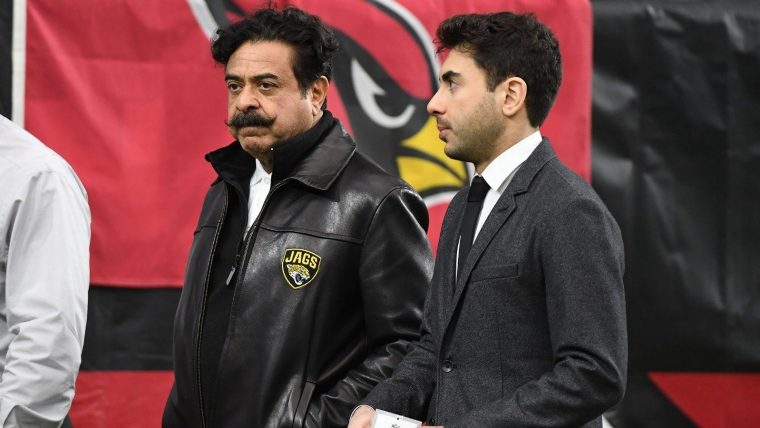 Dan Cooke takes a look at what lessons can be learned from previously promoted teams and the difference between those who were relegated and those who survived.
After three successive relegations, it feels like a sense of panic is creeping in amongst the Fulham fanbase. There are numerous debates about how many players we should sign, and crucially, whether we are doing our business too late.
So, I have compiled a list of every transfer made, how much they cost or if it was a loan and how many days before deadline day they were completed. So let's get stuck into it.
How many players should you sign?
Something Fulham have often been criticised for is for signing too many players after getting promoted, to which, as fans, we retort that those reinforcements were needed to strengthen the squad. In the past 8 years, the split is exactly 50/50 between dropping straight back down to the Championship and staying in the Premier League (12 relegated, 12 survived). If we look at how many players have been signed…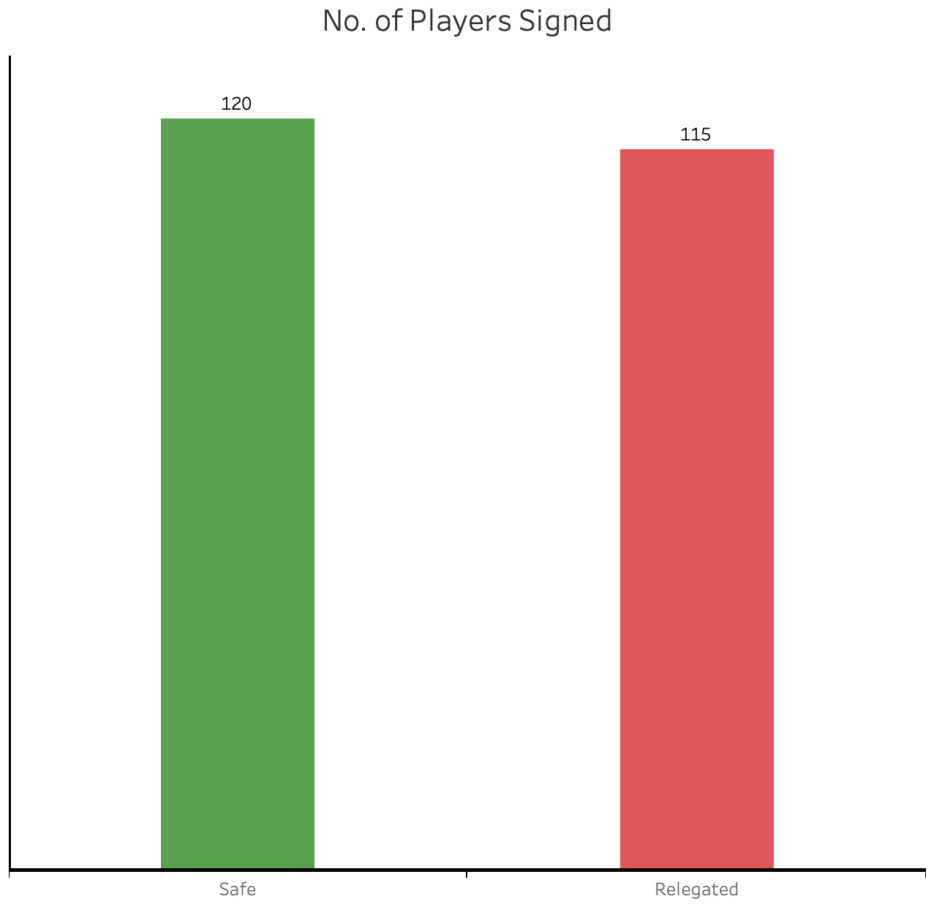 It's pretty much a dead heat. Over 8 years, promoted teams average close to 10 signings in the Summer Window. The range is between 5 and 16, with 14 of the promoted teams signing between 10 and 13 players.
Essentially, nothing here appears to say that more is better when it comes to transfers. 6 teams signed 12 players, 3 were relegated, 3 weren't. The jump between the Championship and top-flight appears to always be growing, and clubs know that they need to recruit to try and compete.
So if it's not about quantity, maybe it's about quality?
How much to spend?
If all teams are signing a similar number of players, then comparing the amount clubs have spent may give us a better picture. Football romantics, look away now.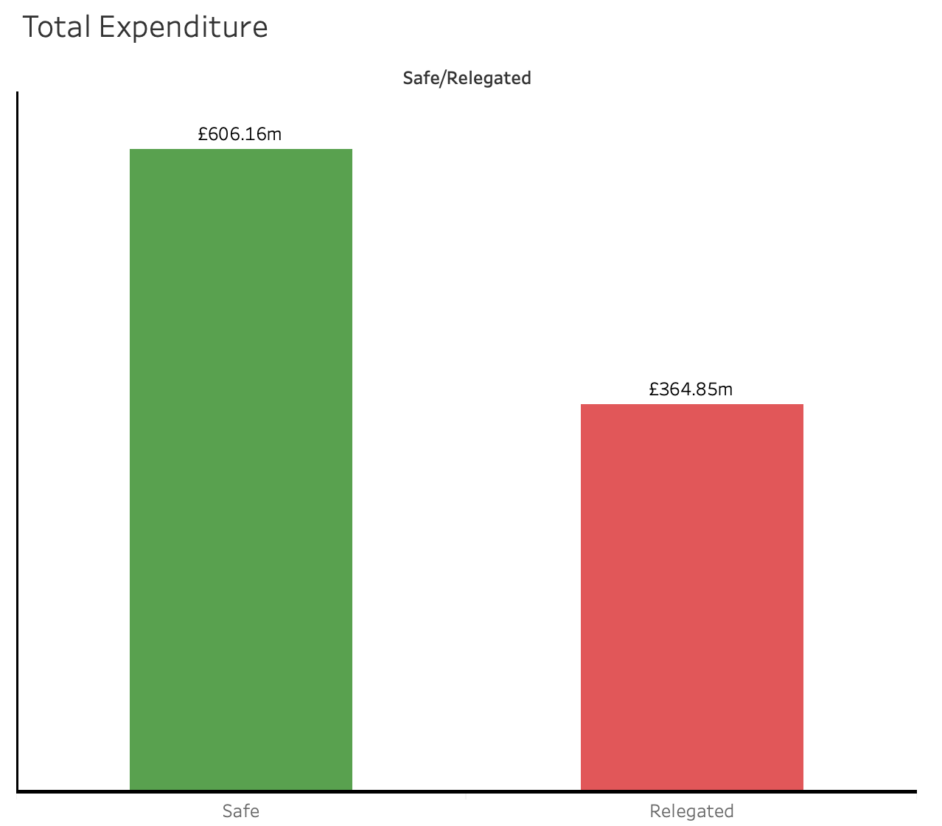 Despite signing almost the same number of players, teams who survived spent 1.7x more than relegated sides. This is quite a significant difference; relegated sides, on average, spent £1.44m less per transfer. When you include the average number of players signed, this means that teams who survive spend £14m more per window. Across 8 seasons, this says quite a lot.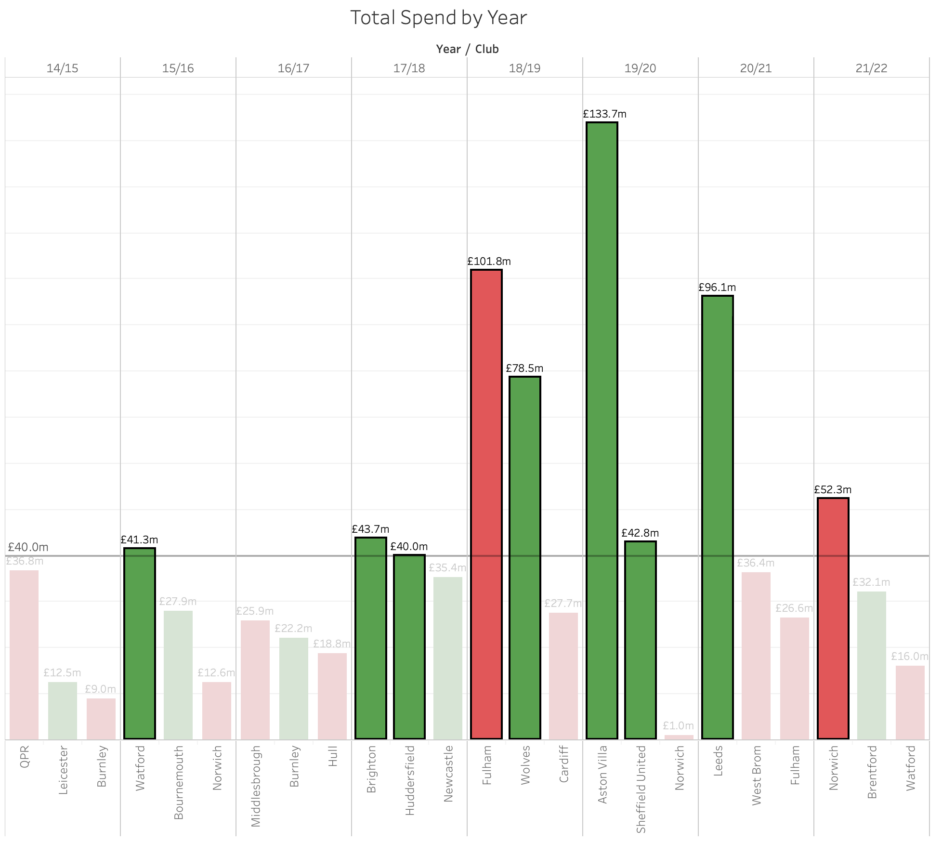 9 teams have spent over £40m after getting promoted, 7 of them stayed up. This means that close to 60% of surviving sides have breached that £40m mark, whereas 83% of relegated sides spent less than £40m.
To grossly oversimplify, a higher spend means you're buying players of a higher calibre, which means you are more likely to stay up. Fulham are clearly an exception to this rule, but it seems that we shouldn't let that past trauma dissuade us from spending this window.
To Loan or Not To Loan?
This is another thing Fulham have been criticised for; too many loans, trying to plug gaps in the squad. The data suggests these criticisms are valid.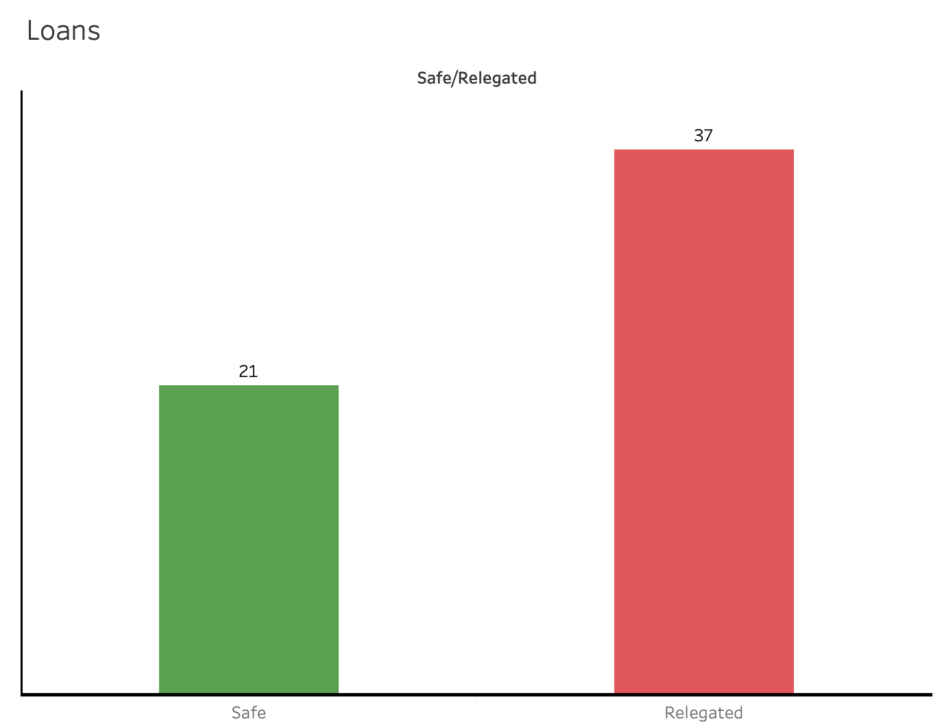 History tells us that relegated teams fill up their squad with more loanees. Knowing what we now know about transfer expenditure, this makes sense. Relegated sides tend to spend less, so how do you sign players without paying a transfer fee? Loans.
Whilst they appear to be a good way to balance out your squad, too many loans suggests that unfortunately your ticket to the Premier League was a return, not a one-way journey.
Is Early Business Better?
Once again, something Fulham have been lambasted for, mainly by our own fans this time. As we all know, Fulham love a deadline day signing. Intuitively, doing your business earlier in the window does feel better; you have time for the squad to get to know each other and to adapt to the playing style, meaning you are prepared for the first game of the season.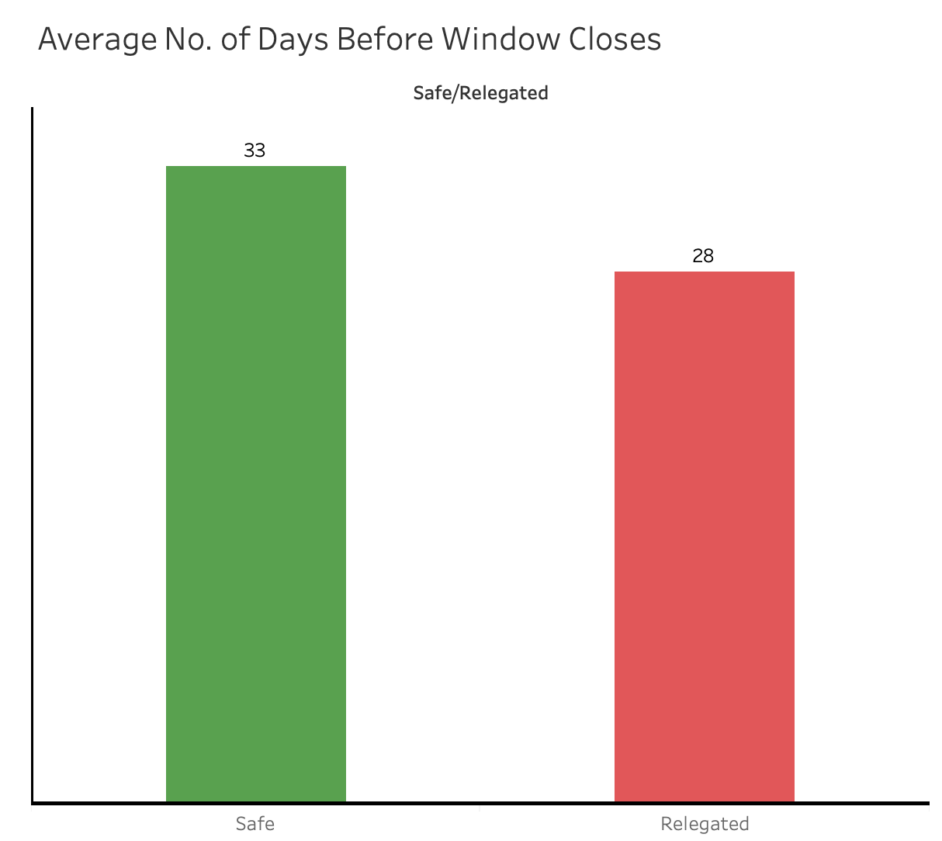 Looking at the above, relegated sides, on average, are doing their business later in the window. However, only 5 days later, which across a whole summer, doesn't feel overly significant to me.
I therefore decided to look at it from a different angle, and looked at how many players the two categories signed in the final week of the window.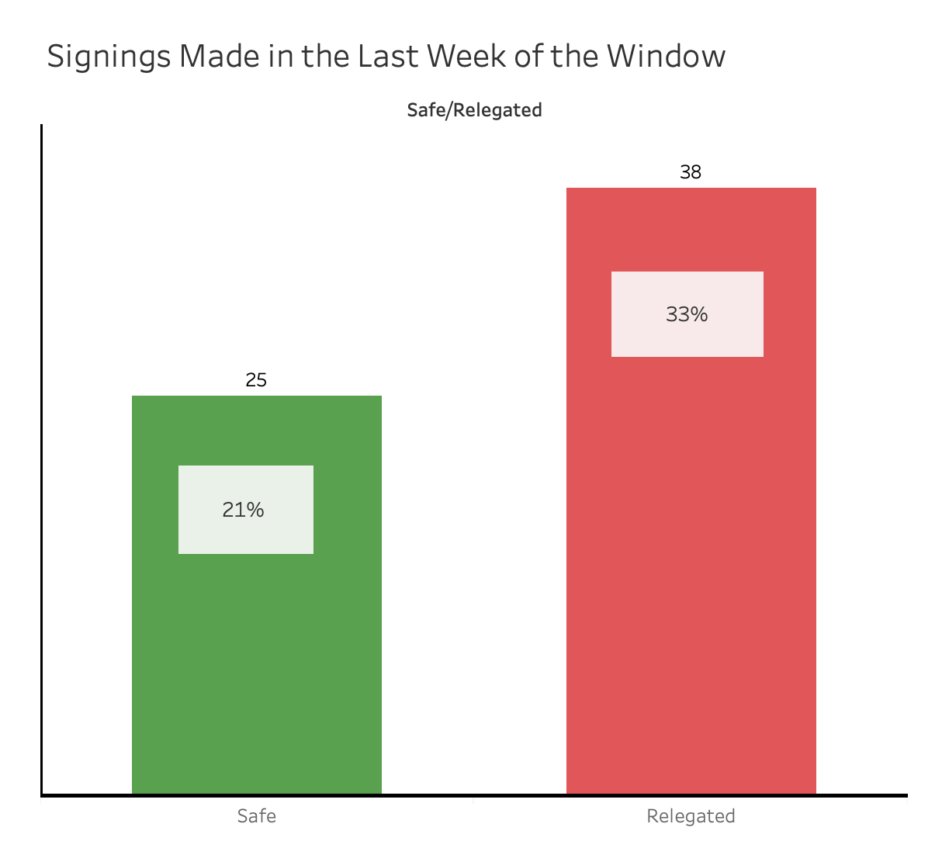 This now paints a much clearer picture and suggests that the perceived wisdom rings true. Relegated teams are signing more players in that last week of the window. In fact, A third of all of their signings are made in that last week, compared to a fifth for teams who stay up.
We've seen it with Fulham, a poor start to the season is followed by panicked signings, desperately trying to improve the squad. Lesson to be learned here is that if you're singing a lot of players in that final week of the window, your Premier League days are numbered.
In Summary
This wouldn't be a data-focused football article without a scatter plot, so I've made one. Along the bottom we've got the number of players each team signed, plotted against the total amount they spent.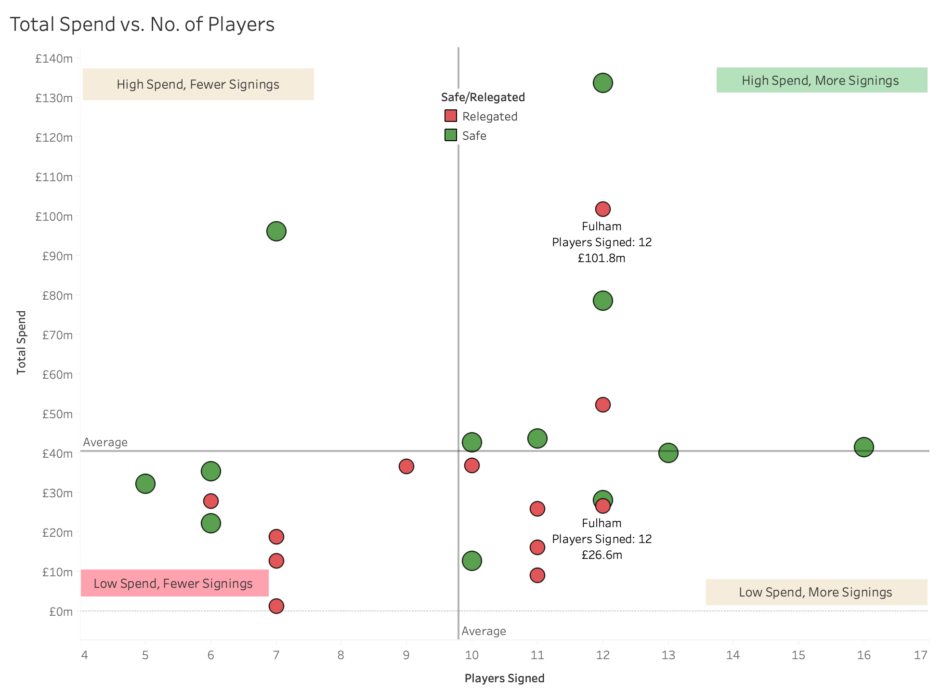 This simply reinforces what we've already seen. Across the "Players Signed" axis, we can see a mixture of relegated and non-relegated sides, with no clear trend. What instantly stands out though, is the dominance of the green dots as the total spend grows higher. If you want to survive, you've got to spend.
I've labelled where Fulham's past two top-flight seasons sit. Both times we've signed 12 players, which is slightly above average, but had two wildly different expenditures. Our 18/19 season is a real anomaly, the only team to have spent over £52m and not stay up.
This, however, serves a great reminder, especially for those involved in Fulham's recruitment. Reading this article, it sounds like the formula is easy – spend money, stay up. We know that's not true, and we've proved it in the past. However, the past 8 years suggest that the approach in 2018/19 was more likely to be successful compared to what we did last time. 11 promoted teams have spent less than £30m, 8 of them were relegated; those aren't great odds.
So what do Fulham need to do?
Spend spend spend – The more money you spend, the more likely you are to stay up. However, it's not a guarantee, so you still have to be smart.
Don't overdo it on loans – Relegated sides tend to be made up of more loan players. This ties into the above, spend money; don't skimp out by overloading on loans.
Don't leave it late – History suggests that the teams who panic and make late moves in the market, are the same teams that get dumped back into the EFL.
Over to you Fulham…