Why Silva won't play five at the back
27th June 2022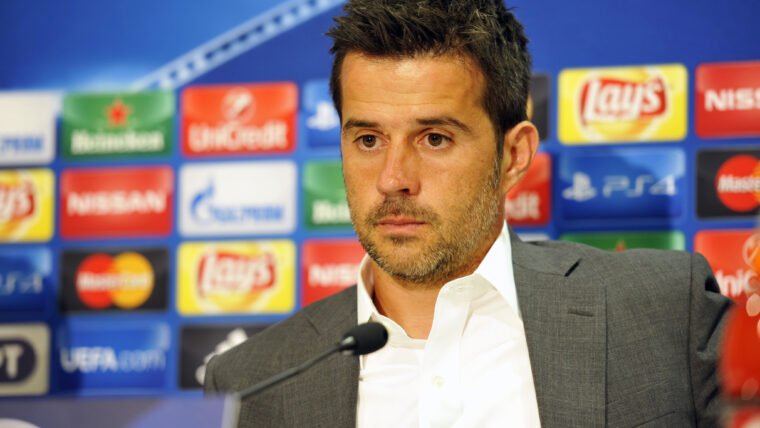 Evan Lorendo returns to tell us not to expect a return to a super defensive line-up this coming season.
I'll say this straight off the bat: I fully expect that once this is published, Silva will go with five in defence – it's just the way things go.
There's been a lot of talk about Marco Silva moving to a three CBs and two wing-backs next season in the Premier League. In one of their videos explaining Silva's tactics at Watford and Everton, Tifo even mentions that he occasionally plays five at the back.
Conventional logic states that with five at the back, we are likely to concede less than if we play our traditional 4-2-3-1/4-3-3 system.
But it isn't going to happen next season. Silva will stick to what he is used to running.
The TL;DR comes down to three things:
Silva doesn't have a successful history of playing five at the back
We don't have the players to play five at the back
It makes us weaker to play five at the back
Below is a walkthrough of why I think he'll stick to what this team knows. 
An unsuccessful history
When I started thinking about this for next season,, it was out of concern for letting in goals. In reality, this is very much a result of the scars of Parkerball.
I did want to know what Silva ran in previous seasons, so I started to look at his previous clubs.
Fast-forward to a few (too many) hours of research later, and I went back as far as I could to look at box scores from previous Silva teams and the results they got with each formation (either four or five  at the back).
Estoril 2011-2014 and Sporting 2014/15
Embed from Getty Images
Line-up graphics on box scores are quite a new phenomenon, so as a result, I was unable to get reliable line-ups other than the names. I did cross-check the listed line-ups against the players listed position for about 10 games. For every single game at Sporting I came across, they played four at the back.
I did the same thing for a handful of games at Estoril, and maybe found one game (that they lost) where Silva played five defenders.
In reality, it is tough to tell for the bulk of these, so I think it's fair to leave his games in Portugal out of the count.
Olympiacos 2015/16
Embed from Getty Images
Silva's Pajtim Kasami-led Olympiacos squad ran riot the next season in the Greek Super League. They cruised into first with an impressive 28-1-1 record.
From the best that I can tell, Silva stuck with a 4-2-3-1 militantly throughout the season and never played three at the back.
This was also the team that beat Arsenal 3-0 away in the Champions League.
He oddly quit at the end of the season and stayed out of coaching for six months.
Hull 2016/17
Embed from Getty Images
It's a bit disingenuous to label this as the whole 2016/17 season for Silva, as he took over a struggling Hull side in January 2017.
It was the first time that I found that he trotted out a back five, but it wasn't right away.
During his Hull stay, Silva started a few habits that would follow him to his other stops in England.
He brought in players that he knew from previous clubs
His teams rarely drew
And after a series of bad results with his preferred 4-2-3-1 he tried a back five for a few games
For the first point, one of his first moves as manager of Hull was to bring in Omar Elabdellaoui, his former right-back at Olympiacos, on loan.
For the second point, his record for the 20 league games he managed was 6-3-9. This team really went for it and would rather give up goals than play for the draw. At the end of the day, the gap to keep the team up was just too large.
Thirdly, it was after a string of bad losses that Silva tried a back five. In all fairness, the back was really solid (especially with a recency bias): David Marshall was in goal, a back three of Michael Dawson, Curtis Davies, and a young Harry Maguire, plus wingbacks Elabdellaoui and Andy Robertson.
Granted, that team had many injuries and not everyone was available every game, but you would think that would be a solid enough defence to get points and stay up.
While deploying a back five during the middle of his tenure at Hull, Silva ended up with a 2-0-3 record using it. From a points-per-game perspective, Hull got 1.2 when playing five at the back and 1.15 with a back four.
However, besides there being no draws with the back five, the games were all close wins or bad losses (like the 7-1 defeat to Spurs on the last day of the season).
Watford 2017/18
After leaving Hull, Silva bounced back to the Premier League within a few weeks when he joined Watford.
Despite lasting only 24 games, Silva continued keeping with his trends of drawing games below the Premier League average and swapping to five at the back after a poor run of games. (He was not at Watford long enough to bring in former players).
Nathaniel Chalobah did start the first five games before sitting on the bench the rest of the season.
After a run of poor results, Silva went to five at the back for eight games before reverting to his preferred 4-2-3-1 in his final few games.
He finished with a record of 3-1-4 while deploying a back five. Interestingly, this is the only time he drew a game with this formation. I actually think that this is important to repeat: Silva's teams are well below the average for games drawn. This is especially true for the periods in which he plays five at the back.
As we all know by now, Everton made eyes at Silva and he got caught looking upwards. By the end of January, Watford let him go.
Everton 2018/19
Embed from Getty Images
Silva eventually made his way to Everton and actually completed his first full season in the Premier League.
There is not a ton to say about this season other than the fact that he started to lean more to his 4-2-3-1 system (or 4-3-3) while Everton finished eighth on 54 points.
They did play a few games in a row with five at the back, but after going 1-0-2 during the spell, Silva quickly reverted to his preferred system.
He also kept in touch throughout the season with a young left back out on loan at Wigan by the name of Antonee Robinson, who he wanted to bring into the first team fold (per Robinson at least).
These were bright days for Silva and Everton, though they were not to last.
Everton 2019/20
Sometimes teams get off to a bad start. After 14 points from the first 15 games, Silva was let go.
Silva rolled out five at the back twice, losing both games.
Everton axed Silva in early December after losing 5-2 to Liverpool.
---
Overall record and points-per-game by formation
Just looking at his time in the Premier League, Silva ended up with an average of 1.06 points per game with five at the back, while getting 1.25 by playing four.
Granted, this is purely an analytical approach, but I believe there are other reasons why we should not try five at the back next season.
We don't have the right players
Good managers play systems that match their personnel. Fulham's squad currently is not set up in a way to play five at the back. For a start, we only have two centre-backs. And one will be 35 in October. To be safe, you need at least five at the bare minimum, if not six. 
I think we will have a hard time finding two centre-backs before the season starts, and that's only dealing with depth and not counting bedding into the team and learning the system.
If the purpose of five at the back is to be a bit more defensive, at this point the lack of CBs makes it more of a liability.
Embed from Getty Images
Wing-backs is also an issue. While I think Robinson could play as a decent wing-back, I am not as sure about Tete, especially the toll it takes on you getting up and down the pitch for 90 minutes.
I just don't believe we have the depth there either. Granted we can recruit players this summer, but it seems that out-and-out wing backs are more expensive than traditional fullbacks.
Most of the time in central midfield, you need really strong and technical players, with a back five. To be honest, I don't think we have the all around talent required. We can bring it in over the summer, but that would also mean that we need depth there as well.
It makes us weaker
It's often said that teams playing with five at the back in recent seasons have a better chance of staying up. But I think teams, after staying up a season or two, find themselves in a relegation scrap that they just can't win in the long run.
There are two main issues I see with this: we have to give up too much to make the formation work and there's too much of a gap to overcome with the current squad.
We give up too much
With five at the back, we can either play with three central midfielders or five forward players, but not both.
If you are going with three in the middle, that means that you are counting on all your width from the wing-backs. It also means you are playing with two up top.
This begs a couple of questions: who is partnering Mitro (and who do we have as back up)?
And more importantly: what are you doing with Harry Wilson? Yeah, the 19-assist, terror on the right Harry Wilson. Do we try to play him at wingback (NO!)? Do we play him centrally where he isn't as good (God, I hope not!)?
Embed from Getty Images
If you play with three up top, say Solomon (we can hope), Mitro, and Wilson. That means we can only have two in the midfield. I love TC and Reid, but they can't control a game in the Premier League on their own.
We honestly don't have the right jigsaw pieces for five at the back to be successful. 
Wrapping it up
Let me be clear: let us play the way we played when we won the league.
This isn't a Slavisa team just throwing bodies forward and our recruitment has been much better. I think it is entirely possible to build a team in the 4-2-3-1 formation that we've been using.
Sure, it might mean that we play with two sixes. That's ok; we can work around that. It may mean that we need more production from the left wing and whoever replaces Fab. I can see that being OK.
Let's go with what we know, and that's sticking to what got us promoted.